R.T. Neary
War and the tragedies involved: A thoughtful reflection from my youth

By
R.T. Neary
December 7, 2022
My father's much-delayed bonus as a World War I army veteran was used to pay for a visit by his five living children and their mother to his and her birthplaces in Ireland. It was an experience both thought would remain with the children for their lifetimes.
These were hard-working immigrants, who had lost one child to illness, and they wanted the others to know and value their Irish roots. They were exactly right. It certainly did.
World War II was on the horizon as the Nazis rose to power in Germany, and Fascism threatened all of Europe. Ireland was peaceful, though, and most of the country was still made up of those family farms of their youth. While life was primitive, traditional Catholic values were esteemed. Third-class passage was booked from Boston on the Cunard Line's RMS Laconia.
John J. Neary's hardscrabble life was one which resulted from the circumstances of his birth and upbringing in the land which sent millions across the Atlantic because of their poor living conditions. He was wont to say that he had brought to these shores little more than "the broad of his back."
John was the youngest of seven children. His mother died as a result of his birth, leaving his father to rear them in a thatched-roof limestone home with a stone fireplace for cooking and heating – all on a dirt floor. Candles provided the extent of their lighting, and water was obtained from a deep well a short distance outside. As a young lad, he left the farm, crossed the Irish Sea to England, and then he worked in a coal mine and assorted jobs in order to earn enough for passage across the Atlantic to America. He never lost his love for those roots in Ireland, however.
Our summer in the Olde Sod of our forebears proved to be a never-forgotten education with some beautiful lasting memories. The rural way of life with its hardships and everyday toil by these Irish peasants, combined with their deep-seated Roman Catholic Faith in God made a deep impression. This background was what clearly had given all who emigrated to these shores the strong character which was pre-eminent in the accomplishments of so many of them.
A while back, I brought home from the giveaway table at the senior center a copy of the Mar/April 2016 World War II magazine, mine for the asking. Needless to say, I was spellbound when I started reading the cover story about the tragic sinking of a vessel by a Nazi U-boat on Sept 12, 1942. More deaths, over 1600, were incurred by this U-boat torpedoing than to any other Allied vessel in the Atlantic during WW II.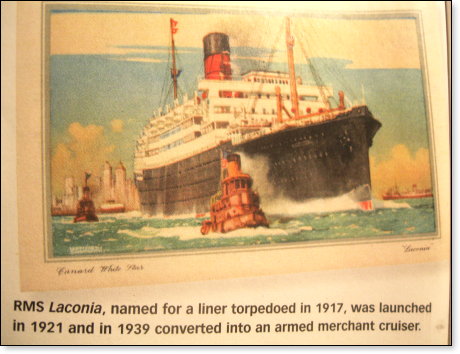 The story was truly an eye-opener as the torpedoed vessel which was pictured was the RMS Laconia. The RMS Laconia was that liner on which our family had sailed from Boston to Queenstown (Cobh) on our voyage to Ireland and return. This unescorted former Cunard White Star liner during WW II had been mounted with five 8-inch guns, becoming a legitimate wartime target. It was a proverbial sitting duck.
Among the men, women and children on board were 1800 Italian POWs, who were being transported to England for the duration of WWII. The total number of Italian prisoners lost in that Atlantic tragedy was staggering – more than one-half of the casualties.
German Admiral Doenitz had his life spared later by the Allies at the Nuremberg war trials. However, although the Nazi U-boats undertook rescuing efforts of Laconia passengers from the sea, the act led to their being bombed by Allied B-24 bombers on sighting them. Donitz after this incident ordered a cessation of any rescue attempts through the end of WW II. Many Allied leaders recognized the B-24 bombing attack during the Laconia rescue as a major mistake.
The well-written story with all its twists also did bring to mind that my two older brothers were among 10 first cousins eventually to wear our nation's uniforms during the ensuing WWII. Sadly, the remains of one cousin are on the bottom of the Atlantic Ocean, the result of his ship being the victim of a WW II Nazi U-boat's torpedo. Little did I know then that my next ocean crossing would be on the Pacific as a soldier going to the Far East during the Korean conflict.
Obviously, there have been many growing-up years in the interim, but the youthful visit to live out some of what shaped my parents' meagre upbringing has done much to frame my thinking patterns to this day. Later, as a Merchant Marine officer, I would travel more than a quarter million miles on the world's oceans and eventually visit over 50 countries on 5 continents. The thinking patterns which emerged from that youthful trip across the Atlantic, and these subsequent life experiences, have understandably led to serious reflections. They far exceed all the college and university lectures I was asked to absorb in earning three higher level degrees. Even conferences and conversations with U.S. Senators fall short of the youthful impressions of the simple day-to-day survival living of those Irish relatives. They had faith that God would provide for them, and that THERE IS A GLORIUS HEREAFTER for those who follow HIS pathways. This is a heritage that brings great pride.
The work done by the magazine titled World War II was superb, an unexpected eye-opener and also a very sad tale. The multitude of emotions elicited by reading about the attempted rescue of survivors by the Germans, and the subsequent bombing of them by the United States' B24 Liberator bombers showed war at its worst.
History too often evokes a multitude of emotions, which interrupt one's ability to look only at the edifying side of any part of your life. The tragic loss of life that marked the end of the HMS Laconia is one that puts living out one's own life to its fullest in perspective.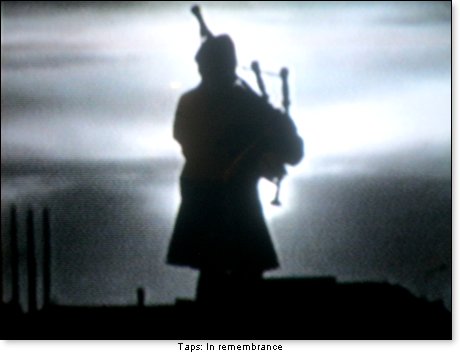 © R.T. Neary
---
The views expressed by RenewAmerica columnists are their own and do not necessarily reflect the position of RenewAmerica or its affiliates.
---