R.T. Neary
Mark A. Milley – another Biden-era disgrace

By
R.T. Neary
October 18, 2021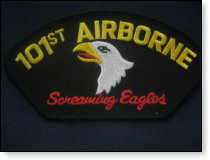 The 101st Airborne is one of the U.S. Army's divisions whose pride is based on adhering to this nation's highest ideals. Those who ever served in its ranks take pride in its history.
The division distinguished itself on June 6, 1944 assaulting Normandy's beaches, while others in its ranks glided or parachuted behind the German army's lines. Some of the latter never made it to the ground alive because they were floating targets. Trained Nazi troops were awaiting them while dug into solid earth.
The "screaming eagles", as the l01st is known, would pay a heavy price on June 6, 1944, and they suffered many casualties later in the Battle of the Bulge, where they held their ground under withering fire from Nazi troops and armor.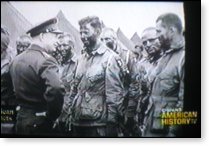 General Eisenhower himself, had bid some of these men Godspeed before they left England, knowing that they were the heart and soul of this D-Day effort. It did prove to be the military turnaround of the bloodiest war of all time.
Pride of serving in this division is an eternal one, as it characterizes the highest virtues within the human body and soul. To have been trained in its ranks was assurance of learning the highest quality of soldiering for many GIs who later did so.
A man by the name of General Mark A. Milley has been very much in the news in 2021. On his right uniform shoulder is affixed the insignia of the 101st Airborne Division.
Very few people would be focused on this because the man is so be-decked with a plethora of ribbons and insignia – far exceeding what is worn normally. He more resembles a USSR field commander after the Russian victory at Stalingrad in World War II.
His not being a WWII veteran, one with curiosity would ask him – although obviously impossible – what battles was he involved in with "the screaming eagles"? A follow-up might be: What was the geographical locale and who were the enemy forces? If true valor was shown by him, then it deserves acclaim and admiration.
However, that right shoulder patch of Gen. Mark A. Milley of the 101st Airborne Division has been exploited by him to the hilt, as his secret conversations with foreign Chinese military leaders was a breach of the highest military codes. He disgraces so many truly honorable men who gave their lives for the principles that the 101st Division represents.
Those of us who trained under that proud insignia of the 101st, immensely respected the many soldiers who had worn it on their shoulders from Normandy and across Europe into Germany.
A few of the survivors were in the cadre as responsible teachers of good soldiering, but they never spoke of their own personal exploits. Rather, it was what had to be learned and what it takes to be genuinely a model soldier. The battle veterans were, not surprisingly, outstanding role models. Mark A. Milley is a far cry from what they displayed – in the realm of character.
Training involved 16 weeks of rugged physical work. This consisted of 5 to 10 miles of drills and hikes daily, as well as skill training in all the weapons required of the classification as a rifleman.
Being called a "grunt" was far from being an insult. A basic trainee in the 101st rose at 5 AM, and after chow set off on a hike to the rifle range. By the end of 16 weeks, you had earned the MOS (Military Occupation Specialty) of rifleman. Some of us earned and were assigned an additional one as squad leader.
When your training was complete, you had fired mortars, the 30- caliber machine gun, and learned how to handle a grenade, your bayonet and every weapon employed by a foot soldier. Your rifle had to be cleaned "like a baby", as well as being called and treated as your "best friend".
General Mark A. Milley is a complete fraud. He is a far cry from being representative of the cadre who trained conscripts. The latter sought to respect careerists – and with few exceptions did so because of the qualities they witnessed.
From his High School education in the Boston area, Milley went on to Princeton, Columbia and even did some course work at MIT. While he was schooling, he became a member of the ROTC, and thusly earned a commission as a 2nd Lieutenant in the army. This background obviously taught him some fine political skills which eventually assisted him in ascending the ladder to the rank of 4-star General. West Point be damned; Political Science was HIS major. He learned the value of resume building and did it with ribbons and insignia of all sorts.
Mark A. Milley's commitment is clearly to the political left, far from the highest principles set forth in our Founding Documents. Worse still, his ascension in rank led him to the arrogance he has now displayed. The revelations of his comradeship and communications with the highest element of the Chinese Communist military is almost incredible. He not only admits of its truth, but adamantly defends this abject disloyalty to our beloved national honor.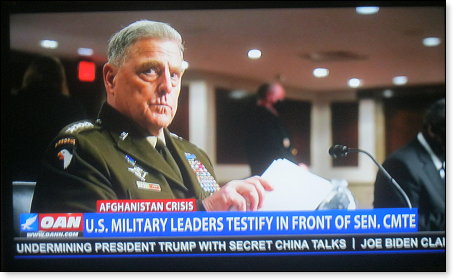 During the excellent physical training of soldiering in the 101st, the army also tested for other skills, and some of us who qualified were also assigned MOS designations in logistical, administrative or medical areas, as well. On deployment to the Far East, they did not bring you in direct physical contact with enemy soldiers. While you returned physically unscathed, you thanked God and had a more mature view of life itself.
The other GIs who shed their blood or gave their lives were the real heroes, and that is never to be forgotten. All of America can be proud of the way during the Trump/Pence years, these 2 worked to give honor to all who had given their lives, but whose remains were in far off Korea and Vietnam. They were able to bring the remains of scores of them to a final resting place on our cherished shores.
Another source of pride for the Trump/Pence executive leadership was the fact that during their last 18 months in office, there was not a single service member who lost his or her life in Afghanistan.
Rest assured that they also never would have handed over 83 billion dollars in new military equipment to the Taliban as a gift. This was clearly another fishy Biden-era deal. Spill it, Mark!
The Biden administration's botched withdrawal from that country and the loss of 13 young Americans at Kabul by an ISIS suicide bomber was inexcusable beyond description. The terrorist who performed this ghastly act, which also took over 170 other lives, was within days of having been released from custody in the Bagram airport facility.
This base should never have been turned over to Taliban fanatics by the Biden administration in the first place. Its retention and location would have provided vast geographical military defense benefits to the United States. The turnover was obviously a secret Biden-approved deal.
All the top military leadership – as did Joe Biden- absolved themselves of any responsibility for the debacle which the ending of our 20-year involvement in Afghanistan turned out to be.
The fact that one Mark Alexander Milley could have been appointed to his position by President Donald Trump shows how devious this military higher-up could be. This man, who later had secret dealings with a Chinese Communist general about a fictional attack on China by Trump prior to leaving the Presidential office, revealed dangerous pathological problems. War veteran Sen. Tom Cotton said that Milley should abdicate his military role immediately.
The 101st Infantry patch worn on the Milley right shoulder comes more to the fore by his admitted and seemingly proud – yet disgraceful actions. In the division's rugged training, war was never glorified. Rather, aside from acquiring excellent military skills, it also developed comradeship and character – plus respect and loyalty to our country, while honoring its great Constitutional history.
The General's alleged military accomplishments seem never to have been scrutinized. His authority has been subliminally projected on TV viewers by the chest full of battle ribbons, citations and awards. It follows the pattern of resume building in the academic realm.
Display this man in a white T-shirt, and he would be an overweight turnoff on a TV ad for an array of vitamin supplements. His ability to articulate might be questioned too, as he carefully read from a script when appearing before a Congressional committee. His forte is obviously stage play which has worked well for him.
Milley has made Princeton University proud of what its political science academic major can produce. Naturally, this fortress of higher learning will have no public response to this prize graduate's act of treason in his dealings with the Chinese Communist military. China is already signaling confidence and their intent relative to "unification" by increased fly-overs by their military jets over Taiwan. Their aim is clear.
Perhaps most surprisingly in this entire revelation is Milley's assertion that basically it is SOP for top military generals of Russia, China and other large military nations to communicate with each other. He professes to enjoy the media contacts he has, as well. Is it any wonder why former President Trump, as well as war veteran Senators such as Cotton and Hawley called for his immediate removal?
President Biden unabashedly stated that General Milley was doing a fine job and that he was staying on as his top military advisor.
Gen. Mark Milley was selected as a military advisor, rather than to share constitutional authority with the Chief Executive. His actions in establishing a cozy relationship with Communist military officers was an egregious undermining of our Constitutional governmental structure. The Washington Post with their post-Watergate hubris easily exploited the vibes emanating from the full-ribboned chest of one Mark Milley.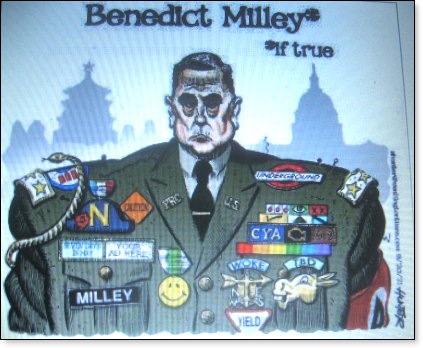 Contrast the way the MSM have handled this latest situation with the way a fine man from nearby Rhode Island named Lt. Gen. Michael Flynn was treated by both them and the FBI. Flynn pleaded guilty for a far lesser faux pas. One of 9 children he received no favors in this life and had a well-substantiated military battle record. Ex-Gen. Michael Flynn legitimately holds his head high in retirement.
Most military veterans do likewise and take pride in an Honorable Discharge, as well as a Good Conduct medal. What they learned about character is usually observable in their lives afterwards. The exact opposite is the story involving Hunter Biden, the son of the President of the United State. It is utterly without any merit -and beyond disgusting.
No one in the MSM seems to have done any research on what all the ribbons and decoration convey. A relatively easy investigation shows a vast assortment of countries represented where the U.S. was never officially involved in any conflict. Clusters are also affixed to some.
Colombia is one such country. Internal drug wars are the constant there with gangs and drug cartels at war with its government. There are a multitude of similarities, but the show-stopper has to be the award he wears for Korean wartime service.
The USA lost almost 40,000 men after the North Koreans invaded the South in 1950. The conflict ended in 1953, and the 2 countries are still divided at that 38th parallel where the Armistice was signed in 1953.
Mark Alexander Milley first saw the light of day in the once-great Commonwealth of Massachusetts in the year 1958. Yes, 1 9 5 8 – 5 years after the Korean War ended.
Step down, General Milley. Thus far, you have been transparently shameless. For God's sake and our great nation's original goals, a change is clearly in order. The Afghan allies and 7 children killed in that drone strike gone awry was also an inexcusable blunder designed to save face after the ISIS suicide bombing in Kabul.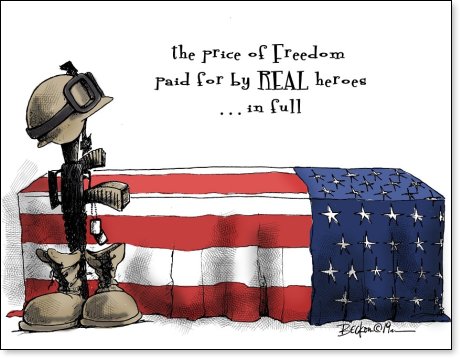 Also, do this nation a great service – and honor all of those heroic GIs who sacrificed their lives – by removing from your uniform's shoulder the insignia of the proud 101st Airborne Division. It has been disgraced by you far too long.
© R.T. Neary
---
The views expressed by RenewAmerica columnists are their own and do not necessarily reflect the position of RenewAmerica or its affiliates.
---