R.T. Neary
'Reproductive health care' – America's foremost lie

By
R.T. Neary
July 27, 2023
Calling the term "reproductive health care" a mixed message, as some do, is not only too kind, but outright false. Health care never involves the intentional stopping of a beating human heart.
What is bandied about extensively today is attempting to disguise as "healthy" what is exactly the opposite. Such deception is utter hypocrisy – yet it resides in the style manuals of all the MSM and Big Tech "news" outlets across our land. In reality, so-called "reproductive health care" is nothing but the intentional termination of the life of a never-before-created member of our human family. Yes, a HUMAN being.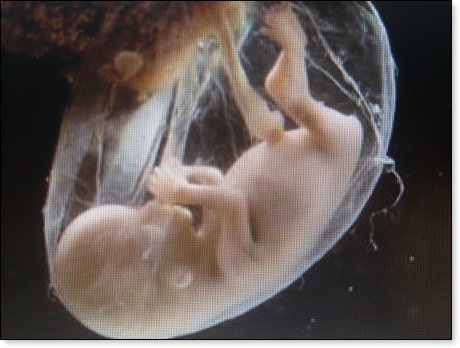 Not SOMETHING, but SOMEONE who is part of the human family.
The expression "reproductive health care" is 180 degrees the opposite of what happens in the actual termination procedure. Someone already reproduced by two other HUMANS needs only time in his or her current setting to eventually breathe the same air as all of us do – freely.
Intentionally preventing such normal development, in the name of "reproductive health care," is inhumane and untruthful.
On June 24, the first anniversary of the Supreme Court's Dobbs decision, U.S. President Joe Biden announced that he will ask Congress "to protect access to reproductive health care," as well as "call on Congress to restore the protections of Roe v. Wade in federal law – once and for all." His prepared euphemisms tell all.
Language has been turned upside down, ever since Roe v. Wade negated state laws which criminalized feticide as different degrees of manslaughter in most of the individual states.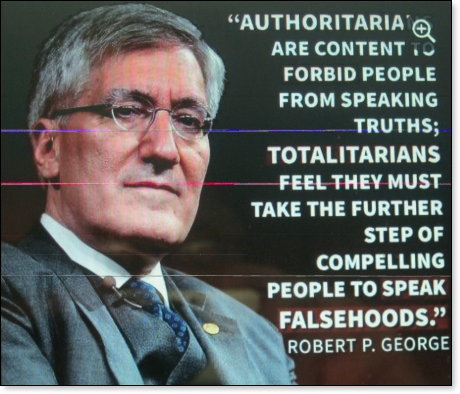 Memories come to the fore of the now-redeemed "Miss Norma" McCorvey, the plaintiff known as Roe in the decision, relishing her first trip ever to the Lexington Green a quarter-century ago. She was candid about how she had been used to counter what our nation really stands for. Her language was Cajun-country sincere – heartfelt and so different from Joe Biden's.
Dr. Bernard Nathanson, M.D., is another personal interaction which will be forever imprinted in my memory because of his direct involvement in the death-dealing occupation now known as "reproductive health care."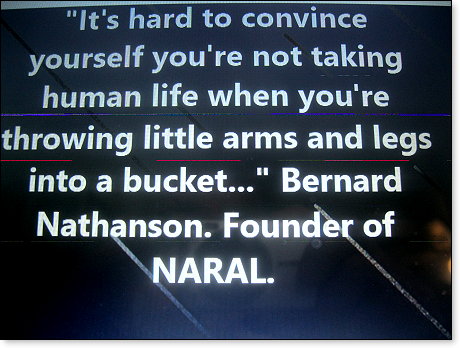 His conversion brought him to participate in the March For Life in Washington D.C., and his poignant words stay with us. They can't help but resound because of the brutality he confessed to have left behind as a result of his religious awakening.
The Right to Life movement is the one whose wording in its title is in no way deceptive. It is derived directly from the Preamble of the Declaration of Independence. This fact is why the MSM and Big Tech avoid its usage. In fact, after Roe was originally declared, the MSM started casting the Right to Life side as the "anti" element.
Although the first God-endowed right mentioned in the Preamble, this cherished Right to Life is an embarrassment to those who support the right to terminate a human's existence, based on "penumbras" and "emanations" of our beloved founding documents. Human life reigns Supreme. Yes, endowed by Our Creator – and declared unalienable. Is it any wonder why a completely new lexicon had to be created with softer, evasive – and now Orwellian terminology?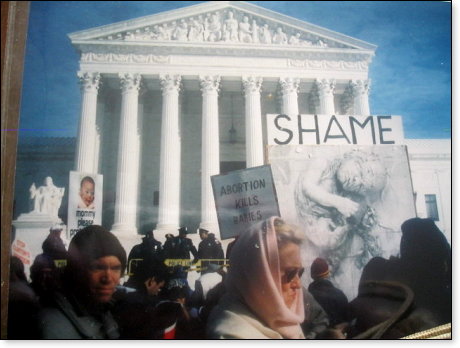 The entire controversy over the value of pre-born humans and their protection is rarely debated, or even presented objectively, at the basic level. From Lennart Nilsson's awe-inspiring in-uterine photos onward, science has been proving the veracity of the Right to Life movement.
Just as Roe v. Wade was built on a lie and fell by its own weight, so too will the upside-down expressions such as "reproductive health care" expose the "destructive" nature of the entire message its proponents are disseminating.
For example, a mother is not expecting a child; she already has one. We don't add that this fact is pure and simple because this new creation is so BEAUTIFULLY COMPLICATED.
At the heart of liberty is not the right to define what is human life. Reality has already defined it objectively – and biologically.
Post-Roe language such as "interrupting a pregnancy" is used often for everyday consumption. We can only imagine what the reaction would be if the MSM decided to go to the core of the issue and refer to the "destruction of a developing human in the uterus." What a speculation.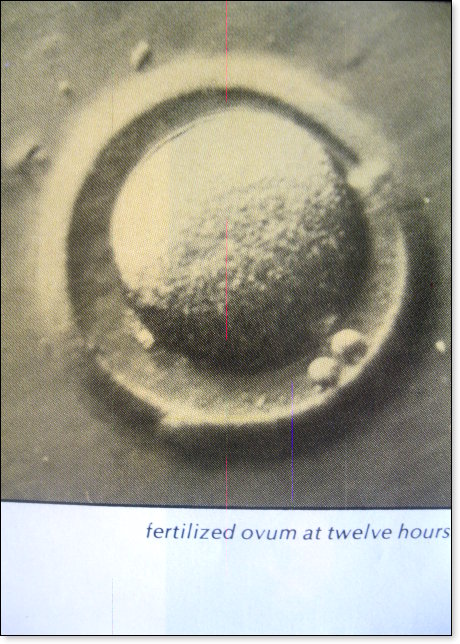 Since the leak of the Dobbs decision, some in the MSM and Big Tech have started to treat gestation on a par with a pandemic – and a death threat. Mifepristone-based pills have become the "medicine" de jour. They are a far-cry from a curative medicine, but are another post-conception method of terminating the life of a new member of our human family – before he or she enters our own ex-utero worldly environment.
Reproduction and destruction are complete opposites, as all of us are well aware. It should be completely evident why all of this deceit is allowed to continue. Objectivity has been cast to the wind and layers of buffers have been created. This is all part of the attempt to disguise the glaring truth, and the core morality of preserving and nurturing all human life.
Planned Parenthood is a multi-million-dollar business whose correct name should be Planned De-Parenthood. The distortion is stark because their major money-making activity is destroying the developing child in the womb – the one who makes Planned Parenthood's customer a parent to start with.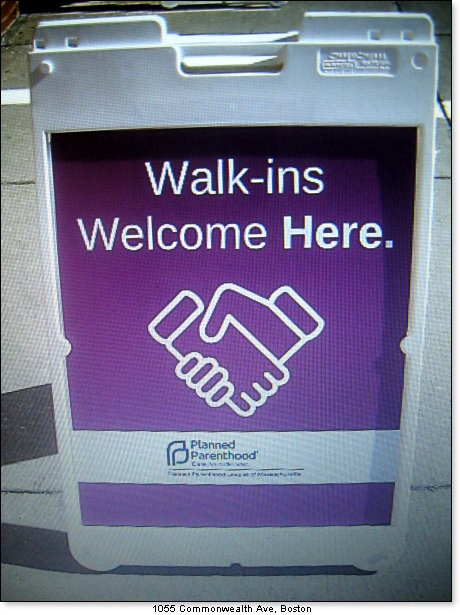 They do THE EXACT OPPOSITE of what their title states.
Despite all the newly-manufactured deceptive language, its lack of permanence becomes all the more evident when one of Judeo/Christian persuasion peruses some words from millennia-past:
I have set before you LIFE and DEATH, the BLESSING and the CURSE.

Choose LIFE that you and your descendants MAY LIVE (Deuteronomy 30:19).
The Preamble of The Declaration of Independence, we all know, was not composed lightly. It certainly was not a casual scribble, as some seemingly would like us to treat it. Rather, it was an intense delineation of why we became a nation without peer in all of history.
Life, liberty and the pursuit of happiness. Who is not able to understand this, and why LIFE had to be listed first?
The origins of each and every one of us who profess to be members of this human family is a fascinating story replete with awe-inspiring facts. Yes, each of us is a fascinating study – replete with eye-opening transformations in different environments.
Yet, it simply started with a microscopic sperm from a male of our species penetrating an ovum produced by a female of our beloved human family. Yet, a new universe was created – a unique HUMAN being.
From this seemingly simple occurrence, we now have 8 billion people nourished by what nature provides to sustain this human existence.
Embryology and fetology are fascinating studies. In fact, they are awe-inspiring, and there is nothing within the pages of the textbooks which should inspire any ex-utero member of human family to desire in any way the willful destruction of those in the womb.
Rather, our total effort should be directed toward preserving, nourishing, and improving from what we have had – as regards all the newer fellow human beings who are following the same pathways we did to get here.
Positive thinking and love – true love – should be our trademark. This is the complete opposite of the specious product advanced by the secularists now in control of our American society.
Humanity should be journeying along this rightful path, the one which our founding documents chartered for this once-much admired United States of America.
Yes, the current use of the expression "Reproductive Health Care" is America's foremost lie.
Right To Lifers are the truth bearers and will win the struggle – if this nation is destined to survive.
When will we know the outcome of current our struggle? As always with history, no one knows – and the time spent in speculation is not worthwhile.
The past 75 years have seen vast changes in our moral perspectives – and must be studied at the root level. But more broadly and deeper. the word Veritas, although tarnished and even mangled over this time span, must still be honored as our destination. Its history is broad, deep and genuinely the highest of values.
God and truth are one.
While individuals invariably place their own life as the pinnacle of their existence and activities, it is not wrong to do so. Morality enters the picture when we deal in social interaction with any of the 8 billion human beings on this planet.
While called to self-preservation, we do innately recognize that we will pass through this veil of earthly existence. Few, whether on a logical plane or other mode of thinking, actually believe in the finality of this existence. However deep we may have to probe, there IS a sense of right and wrong.
When placed on a rational level, who possibly could believe that a developing human in the womb is not completely innocent of any wrongdoing?
Just what could he or she be guilty of? The answer is obvious.
Unfortunately. the current approach is to avoid the answer by an inversion of the wording. Rather than using "destructive", we use "reproductive." How sad that this great country has reached this stage.
Even the expression "expectant mother" has become rare in usage. Understandably. She is not expecting a child; she already has one.
One cannot help but reflect on our unreal socio/political environment – and how we arrived at this stage in a land we hold so dear. It has been said that truth sounds like hate to those who hate the truth.
Life and family are still beautiful concepts.
At this point we now go back in history – but only to look forward. It seems fitting that with the veering 180 degrees from the truth which we have witnessed with landmark cases such as Roe v Wade in 1973, we can cite evidence of how tragic has been the last half-century.
The following was written under the official letterhead of the senior Massachusetts U.S. Senator:
August 3, 1971

"When history looks back to this era, it should recognize this generation as one which cared about human beings enough to halt this practice of war, to provide a decent living for every family, and to fulfill its responsibility to its children from the very moment of conception."

Sincerely,

Edward M. Kennedy
RIGHT TO LIFERS NEED SAY NO MORE
rtneary@verizon.net
© R.T. Neary
---
The views expressed by RenewAmerica columnists are their own and do not necessarily reflect the position of RenewAmerica or its affiliates.
---