R.T. Neary
Spiritual Warfare – the enemy's major weapon is simply the lie

By
R.T. Neary
May 31, 2022
Truth and God are One. Truth's purity is simple- while still eternally vibrant.
The expression "tainted truth" is an oxymoron. All of the current attempts to cloak falsehoods in fancy language has produced a society which has been saturated in word games. These are designed to stifle a human's innate thought processes. On examination, however, this movement's structure and intent are patently transparent.
The words employed are those which lend themselves to the personal gain of someone or some societal element – and wrapped as though we are the beneficiaries. They purport to enhance our personal existence without any great harm to the overall society of fellow humans. Far from.
The most dangerous elements in our human society are the various groups which have been formed to manipulate and exploit us toward godlessness. Tragically in this Constitutionally-governed nation, we are teetering, and wake-up calls have been far too mild. The word games of nefarious elements have been saturating the very inner spirits of countless of our human brothers and sisters.
The year 2022 has seen secular forces become more brazen. We entered this new millennium, not the democratic republic developed in the cherished U. S. Constitution – but as a mediacracy. The traditional mainstream media (MSM) had been buttressed by Big Tech. Their built-in and legally-protected status was exploited to the hilt, enabling Big Tech to block all views outside their guarded socio/political sphere.
Facebook's Mark Zuckerberg spent over $400 million to selectively finance the defeat of President Donald Trump. Numerous other billionaires such as the Soros family have organizations doing the same. In fact, they have zeroed in on electing favorable prosecutors. This goes right to the core of a malignancy – detectable and rapidly eating away at our core treasure. They had even combined to give us a man once named Soetoro, whose actual U.S. citizenship, while serving 2 terms as the nation's President, is highly questionable. The cynical Barack Obama has once again set up a residency in Massachusetts.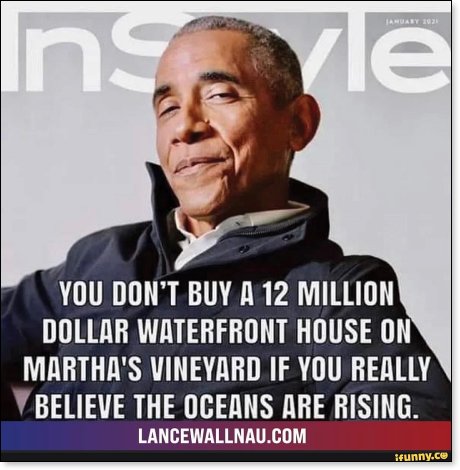 This combination of Facebook, Twitter and the MSM locked hands to suppress the contents of Hunter Biden's computer in order to give us his father as U.S. President Joseph Robinette Biden – whose MCI (Mild Cognitive Impairment) was rapidly exacerbating. They succeeded with nefarious lies, but they succeeded.
Karl Marks, Joseph Goebbels, Saul Alinsky and a host of other death-dealing wordsmiths come to mind.
All the while Hunter Biden's desktop contents had been hacked by countless others, including the Communist Chinese and the Russians. The salacious content alone showed much of this country's moral decline.
The criminal international financial dealings went far beyond the pale. Anyone who could not identify the Big Guy" with the 10 per cent cut has their thought processes at the elementary school level. Joe Biden was funneled millions of dollars, as his military dishonorably-discharged, drug-addicted son traded on the power of the Biden name.
The current Biden Presidency goes much beyond the morality of how he gained it. The situation is not only immoral and illegal – but extremely scary. How could this once great Godly United States of America ever been allowed to descend to such a level?
Worse still, the ultimate question is valid: Have we been abandoned by our Creator?
Media, of course, is the Latin plural of medium – or something that comes between. As it is now used, it is a stand-alone, far from reflecting real life as our mass media always claimed to be doing. The mainstream media has become more powerful than what it purports to reflect. This is no startling revelation, but it is amazing how many in the world's most educated country do not use their gift of rationality to go below theimmediate perception of the MSM's offerings.
The spiritual side of human existence has been hi-jacked, and there is a built-in edict to be willing pawns. To any intellectually honest member of our human family, this is mind-boggling, but it is now part and parcel of a once-proud United States of America. The May "leak" relative to Supreme Court Justice Alito's memo on the Barr case was not a big surprise to many of us. Godly seekers of truth first pondered the effect this intentional act would have on the daily destruction of so many of our in-utero fellow humans.
Notwithstanding a new twist in the culture war, many of us have pledged never to surrender our flesh and spirit to secular fundamentalism in any form. Its belief system is devoid of spirituality, having been foisted on a par with our great Judeo/Christian heritage. Our bodies and souls are sacred, and this Godly-endowed composite has an eternal purpose beyond our worldly imaginations.
A religious perspective? Yes – and professed unabashedly… Alleluia!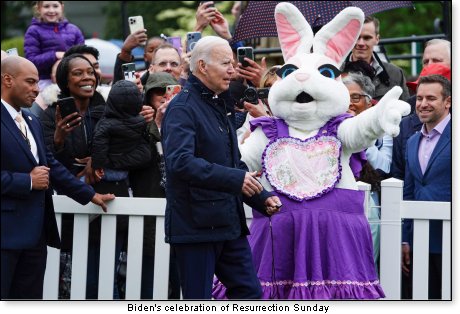 So far beyond the MCI is President Joe Biden that his mumbling is an international embarrassment. Not only was his repeat performance for Resurrection Sunday with a Bunny Rabbit sickening by our national leader, but this professed "devout Catholic" went further in subsequent weeks. He affirmed his total support for the willful destruction of our in-utero human brothers and sisters struggling to see the light of day.
After the leak of the Alito memo, Biden also made reference to "the child", an obvious off-script word never uttered by the pro-abortion element relative to any human still in the womb. One would almost feel sorry for the man, as we observe how he allowed himself to be used as a puppet by the power brokers. The evil which has ensued, however, precludes sympathy.
God's Providence ironically is signaling that this once-proud nation still has time to right its direction. Despite all the evil that a 7 to 2 Supreme Court decision in January of 1973 has wrought, we are now able to ponder a post Roe v Wade era.
As downright sickening is the thought that over 62 million of our brothers and sisters in utero will never see the light of day because of Roe, we will be able to observe brighter sunrises starting in 2022.The leaked memo of Dobbs vs Jackson Women's Health Organization is a story of its own with vast ramifications. Thank God it signals the first phase of our return to the Constitution as this nation's basic body of law.
Janet Yellen, whom Pres. Joe Biden picked to be the Secretary of the Treasury, in Congressional testimony gave us the true picture of where the Democrat administration is currently focused.
Since the release of Justice Alito's memo on the Dobbs case, word spin seems to have attained new levels. Expressions such as "birthing person" rather than mother even appear in Harvard publications.
Once preferring to be labeled liberals, the term "progressives" is now far more commonly employed. The irony of the views on aborting the lives of new human beings in-utero or as newborns are "regressive". Our knowledge of history should bring all of us back to our studies covering those powerful Greco-Roman eras.
Some of the current controlling element occasionally will label themselves as Secular Humanists, especially if they are in any way connected with worship in liberal Protestant denominations. On observation of their lives, anyone can easily conclude they are secular fundamentalists. Humanism is as solid as whitewash.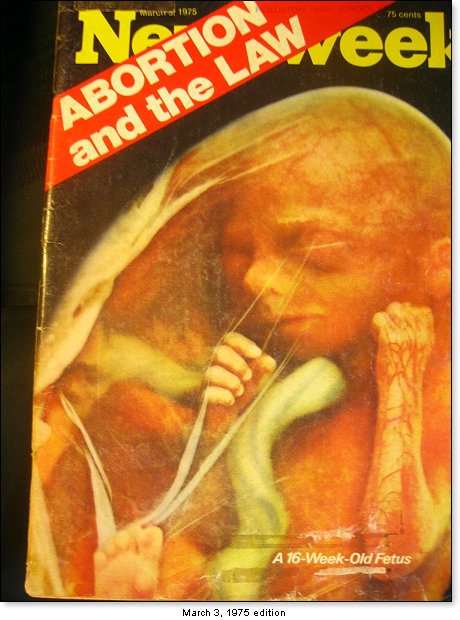 Any discussion of the abortion issue never goes beyond the legal right to the procedure, carefully shunning anything in the field of embryology – which is at the core of where Roe was totally remiss. Justice Blackmun, the author of the landmark decision, stated it was centered on the pregnant mother – and not admitting of any legal personhood or rights for the new human creation in her womb. The medical term fetus (Latin – "little one") is now avoided completely in discussions on any other level. The focus must be elsewhere.
One need not be a semanticist to observe the unparalleled selection of words by the controlling leftist power blocs now in control of the USA. Just try to recall when you first heard the word "woke" used as it is now. Disinformation is another new in-word, and we hardly ever hear of misinformation any longer. Disinformation was hardly ever used prior to the Donald J. Trump Presidency. His successor Joseph Biden even created a new Disinformation Governance Board as a filter – and it DID set off alarm bells. It's now on hold!
How far are we removed from Josef Stalin, or the book-burning days of one Adolf Shicklgruber? A Disinformation Governance Board in this once-proud United States of America! Every veteran who went off to war and was willing to put his life on the line should shudder. Yes, many do!
Our Godly thoughts cannot be stifled by the powerful forces currently holding sway over the way we view reality. Even the slick wordsmiths employed by The Hill, Politico, AOL and a host of other outlets, however, only serve to sharpen our God-given cognitive skills – if we just employ them.
It is a study in itself as to how Big Tech, MSM, Wall St. and the oligarchs controlling the FBI and Deep State could suppress the Hunter Biden laptop story, so masterfully produced by the N.Y. Post. When the truth was finally affirmed about what was blocked on the lame excuse of it being "Russian disinformation", these elements simply moved on. The ramifications range far and wide though – to say the least.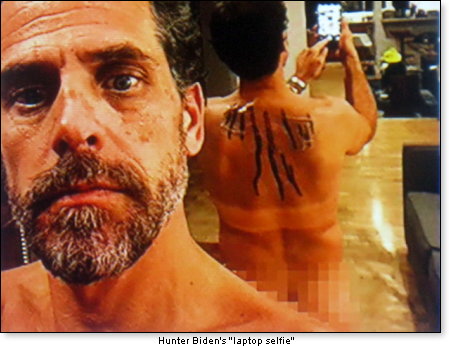 One J. R. Biden still occupies that famous Oval Office in Washington D.C., as the true origins and intent on how the Wuhan virus came into existence have never been revealed. Additionally, Vladimir Putin is exemplifying to students of history how World War II started, with his bloody Russian invasion of neighboring Ukraine with a claim that it is still part of the motherland. There are eerie historical links in today's world events.
Those in control of OUR nation have been signaling to the world serious ailments, as the public is manipulated in extremely devious ways. What the future holds for us is dependent on both our perspicuity and commitment – interwoven with a full awareness of the deadly spiritual forces permeating daily happenings. The Biden presidency has elevated lying to the level of a science. The man has been the perfect pawn in the political process. From his Scranton, PA fabricated "coal miner days," his abject untruths have become Imbued in his personality. At times he appears totally clueless, whether he is squinting and fumbling words, or is viewed simply staring at a wall.
The Roman Catholic Church has lost incalculable strength in the ranks beyond its clerical homosexuality scandal, by the hierarchy's lack of a truly forcible denunciation at every Church level relative to the utterances and actions of U. S. President Joseph R. Biden.
Being cognitively impaired is one thing, but an outspoken champion for the destruction of our progeny residing in their mother's womb strikes at the very core of Church teaching. Since the Alito memo leak, the President has joined those ratcheting up calls to codify the Roe v Wade decision, rather than ending the slaughter of innocent humans in the womb. This is not new for him and is far beyond just being scandalous.
Excommunication is long overdue for this man who boasts of carrying rosary beads in his pocket. Reference to him as "a devout Catholic" by Jen Psaki is simply another example of their core cynicism. Bishop Tobin of Providence, R. I. with one of the Kennedys, and San Francisco Archbishop Cordileone with U.S. Speaker of the House Nancy Pelosi are 2 prelates who have demonstrated genuine pastoral Church leadership, regardless of political accusations leveled against them.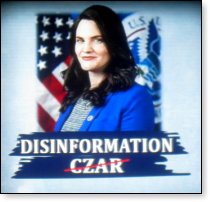 "Motherhood is Female Enslavement" is one pro-abortion protester's sign. It hardly makes any sense, but it should make us stop to think how far from objective reality current society has strayed. Euphemistic language is a mainstay in the leftist socio/political arena. With the current push toward chemical abortion, it was not surprising to see wording under an advertisement for Miferpristone which stated "stops a pregnancy from growing". George Orwell RIP.
Words are only labels; concepts are what have a true spiritual dimension. Believers in the Good Book have the mental discipline to penetrate the utter falsity permeating so much of our society. The Book of Proverbs is still powerful medicine – as a starting place.
The unprecedented media availability of Justice Alito's memo of a majority decision in Dobbs v Jackson Reproductive Health Organization tarnished the integrity of the Supreme court forever.
The 9 members and their Law Clerks are pledged to integrity and honor of the highest order in the discharge of their duties. This goes without saying given the enormous power of the Court.
Chief Justice Roberts could have concluded fairly quickly the source of the leak. He has an enormous obligation now as a result of an egregious breach of honor.
Without any direct evidence, we can in our human cognitive sphere start to organize our past perceptions, and draw some conclusions about one distinct possibility. Combined with the demeaner that we saw during the formal hearing on the Dobbs case and other instances, would seem to point to Justice Sonia Sotomayor. It will be an enormous surprise if she was not fully aware of the circumstances involved in this egregious breech of Judicial honor.
Post-Roe America starts in 2022, regardless of how incomplete the Dobbs decision itself is in protecting this nation's progeny from conception to natural death. "Miss Norma" McCorvey expressed clearly in our own home the way she had been used to cover the guilt of a lawyer named Sarah Weddington, who had her own child aborted in Mexico because the practice was illegal in Texas.
McCorvey, who agreed to be the plaintiff surnamed Roe, expressed genuine regret for the American Holocaust which followed, and she toiled afterwards to relate the truth of how this horrendous landmark decision came to be. Both of these women have since been called home to answer for their acts in this worldly existence – as ALL of us humans must do.
The way we will restore Constitutional protection to pre-born human beings will require many steps and many years. Satanic forces have enormous power in our country, but THE CREATOR also has many millions with girded loins – and loyal to THE TRUTH.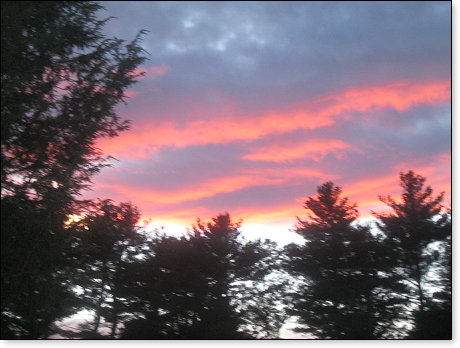 HIS words still reign Supreme, as we have been told. They are without frills!
"I AM THE ALPHA AND THE OMEGA, THE BEGINNING AND THE END,
THE FIRST AND THE LAST" (Rev 22:13)
A l l e l u i a!
© R.T. Neary
---
The views expressed by RenewAmerica columnists are their own and do not necessarily reflect the position of RenewAmerica or its affiliates.
---