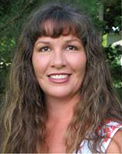 Gina Miller
Help JONAH's defense against vile Southern Poverty Law Center

By
Gina Miller
March 25, 2015
Listen to an audio version of this column
Back in November 2012,
I reported on an evil, baseless lawsuit filed
by the anti-Christian zealots of the Southern Poverty Law Center (SPLC) against a small counseling group, Jews Offering New Alternatives for Healing, or JONAH. I
again wrote about this case
a little over a year ago. You can refer to those columns for further information and analysis, and also see more below from JONAH's Arthur Goldberg.
The SPLC is a Godless, degenerate group of leftist radicals who despise the God of all creation and His people. Their goal is nothing short of silencing Jewish and Christian expression, especially in relation to the issue of homosexuality and its radical political movement. The SPLC is targeting JONAH as a monster Goliath descending on a little David, and the David, JONAH, desperately needs our prayers and help. This small Jewish counseling organization is not wealthy, and a defeat in court at the hands of the ultra-rich SPLC would ruin them.
On Monday, I received an e-mail from Arthur Goldberg, the Co-Director of JONAH. He asked if I would help spread the word about the great blessing of a matching grant incentive provided by a generous donor to aid in JONAH's defense. I'm honored to feature this important request, and I ask that you would also help further broadcast this message, and if possible, please consider making a donation to assist in this crucial fight against the hell-born forces of tyranny that seek to crush religious liberty and other fundamental freedoms in the United States.
I will step aside now. Here, slightly edited, is the e-mail letter I received from Mr. Goldberg:
As you know, we are being defended in a "first of its kind" lawsuit by a superb pro-bono law firm,
Freedom of Conscience Defense Fund
(FCDF). They have spent nearly $3 million to date to defend us. However, as the date for the trial is quickly arising (June 2) and an immense amount of pre-trial work is now needed, FCDF must raise some additional funds. Blessed by the Lord, a benefactor based in the mid-west has offered them a $100,000 matching grant. In other words, FCDF must raise $100,000 in order to receive an extra $100,000. This will be a major breakthrough in reaching what they have identified as their minimum need of $300,000 in order to overcome the financial bind in which they find themselves and to complete the trial. With this matching grant, a gift today of $100 becomes $200, a $1,000 gift becomes $2,000, a $10,000 gift is doubled to $20,000, and so on. Even small donations of $10 or $25 will be doubled. I am setting forth below a bit more about the specifics of the case.
JONAH
, the organization Elaine Berk and I co-direct, and I (individually) have both been sued by the radical Southern Poverty Law Center (SPLC) for "consumer fraud" for simply providing resources for men and women with unwanted same-sex attractions desiring appropriate assistance to lead a life they desire which will be consistent with G-d's commandments. The purpose of the plaintiffs in the litigation is to create a chilling effect on people and organizations that stand for the position that change is possible, a position that is directly commanded by the Bible. (See my book:
Light in the Closet: Torah, Homosexuality, and the Power to Change – www.lightinthecloset.net
)
JONAH only works with people who express dissatisfaction with their homosexual ideation (or other sexually based issues such as pornography or sex addiction), helps them assess and overcome deep issues, and does not seek to coerce anyone into changing their sexual orientation. We support the right of client self-determination. Because the intent of this lawsuit is to totally deny individuals the freedom to seek help for their own unwanted same-sex attractions and directly affects freedom of religion, an incredibly dedicated law firm specializing in freedom of religion cases,
Freedom of Conscience Defense Fund
, agreed to defend us pro-bono.
The case has been on-going for nearly two years, and in the process, our pro-bono attorneys have spent approximately $3 million of their own funds defending us. The trial is scheduled to begin in early June and while the attorneys are beginning the intense pre-trial work to defend us, they have exhausted much of their own financial resources and now find themselves in a major economic bind. Thank G-d, they recently received an offer from a benefactor in the Midwestern United States to provide a matching grant of up to $100,000, and I as their client wish to assist them in finding the necessary matching funds. I am hoping that you can help us find individuals who will contribute the resources enabling us to be properly defended in court.
Charles LiMandri, the CEO and President of FCDF has been standing up to bullies such as the SPLC for over 12 years – defending an individual's right to matters of conscience and not forcing someone to violate the laws G-d handed down to us to follow. Chuck believes we have a very good chance of winning the case by convincing the jury that we did not commit fraud while trying to help men and women overcome same-sex attraction, a choice made freely by those who come to us. But we need help to do so.
In order to complete the tasks at hand with the case, FCDF actually needs to raise a minimum of $300,000, but a major start is raising $100,000 so that they can receive the second $100,000 pledged under the matching grant. I am reaching out to you to ask friends and acquaintances to defend our precious constitutional and religious rights. This first-of-its-kind case is the tip of a very large and dangerous spear aimed at the heart of pro-family and religious minded people in America.
The SPLC has made it clear that its $340 million war chest will be used for lawsuits to bankrupt traditional Jews, Christians, and other believers as though we were violent haters and racists. In addition to a war chest of multiple millions, the SPLC and their co-counsel have 15 activist lawyers on this case ready to make life a living hell for anyone who dares to resist their efforts to shut down help for homosexual people seeking to live a life as envisioned by the Holy Bible. They aren't concerned about the cost; they're assuming that none of us will care enough to pay the price of defending freedom.
Mr. LiMandri has stated that, "JONAH is perhaps the most critical religious liberty case of our time. It has the potential to set a chain of events in motion that will severely hamper ministries that help men and women with unwanted same-sex attraction."
The Southern Poverty Law Center wants to silence us and has no intent to stop these attacks on our Constitutional and religious rights until they completely exterminate our religious freedom. They will not tolerate any of our faith beliefs. We need to stop them, and to do so, we must find additional finances to continue the fight.
Anyone who wishes to help can do so by either donating to JONAH at PO Box 313, Jersey City, NJ 07303 or by providing a secure online donation on our website:
JONAH, Jews Offering New Alternatives for Healing
. (Please have them indicate it is for the litigation matching fund grant). Alternatively, individuals may provide secure online donations directly to FCDF by going to their website,
consciencedefense.org
or by sending checks to the FCDF address at P.O. Box 9520, Rancho Sante Fe, CA, 92067.
© Gina Miller
---
The views expressed by RenewAmerica columnists are their own and do not necessarily reflect the position of RenewAmerica or its affiliates.
---