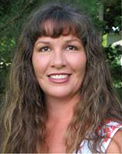 Gina Miller
'Transgender' lunacy of planet fitness in a corrupt nation

By
Gina Miller
March 11, 2015
Listen to an audio version of this column
You may have seen the story from last week about a Planet Fitness gym in Michigan that gave the boot to a woman member who was alarmed that a man walked in the ladies' locker room where she was undressing.
WNEM, Saginaw reported
:
It's a business that sells itself on being non-judgmental, but Planet Fitness is losing members after it allegedly revoked the membership of a woman for complaining.

Yvette Cormier, a member at the Midland location, said she had no idea what that meant until a week ago.

"I was stunned and shocked. He looked like a man. He did not look like a woman," Cormier said. Cormier is talking about a transgender woman who walked into the woman's locker room while she was getting undressed. She said she couldn't believe her eyes.

"This is very unprofessional. This is very scary," Cormier said.

Not knowing why the person was in the women's locker room, Cormier said she immediately complained to the front desk and eventually to corporate offices.

"They told me the same thing, that he was allowed in there because that's the sex he wants to be," Cormier said.

... Cormier lost her membership for violating the company's no judgement [sic] zone policy.
I would correct the name of the Planet Fitness policy. It's not a "no judgment zone." It's a no common sense zone. Yet, this is only part of the logical fallout for a society that rejects transcendent moral truth, and instead, embraces degenerate perversity, insanely viewing it as "good," "normal" and deserving of special rights, when it's anything but.
The radical homosexual movement has shown that it will not stop its evil campaign to force on society the mainstream acceptance, and even celebration, of abominable sexual behavior. What began several decades ago as a not-so-humble effort to get homosexuals "out of the closet," has turned into a full-blown crusade to viciously crush any opposition to all aspects of in-your-face displays of sexual degeneracy.
Planet Fitness is not alone among large corporations that have bent in submission to the dark will of this evil movement. Many, if not most, of the big companies have implemented policies of workplace acceptance of "out and proud" homosexuals and so-called "transgenders," people who are under the delusion that they are the opposite sex. At the expense of the rights of the vast majority of employees in these companies, men who dress like women are allowed to come to work in such grotesque costume and even use the women's restroom, and employees are not permitted to object to this blatant lunacy.
The bit of good news in this story is that Planet Fitness is losing members over this insane policy. There are still plenty of rational people among us who see through this "transgender" nonsense and understand that a man can never become a woman, nor a woman a man, and that it is simply wrong to allow men into the private dressing rooms and restrooms used by women. This is an argument that needs no defense, and yet we are living in a time in which truth and reason are being trampled under the dirty feet of Hell's minions, a mentally deranged time in which truth and reason are outrageously becoming casualties at the hands of sodomites and their supporters.
This mental derangement is clearly illustrated in the statement issued by Planet Fitness:
Planet Fitness is committed to creating a non-intimidating, welcoming environment for our members. Our gender identity non-discrimination policy states that members and guests may use all gym facilities based on their sincere self-reported gender identity.
What the heck is a "sincere self-reported gender identity"? I suppose it means "a man who really and truly believes he's a woman," which tells me he's a lunatic. So, Planet Fitness is committed to creating a non-intimidating, welcoming environment for lunatics. I see. What about when these lunatics create an intimidating, unwelcoming environment for other gym members in the ladies' locker room? I suppose it's Planet Fitness' prerogative to accommodate the small minority of deviants in its member base by creating such a hostile environment for the majority of its normal members. However, it should not surprise Planet Fitness that it will lose rational members over this nutcase policy.
Plunging further through the looking glass, the Planet Fitness statement continues:
In expressing her concerns about the policy, the member in question exhibited behavior that club management deemed inappropriate and disruptive to other members, which is a violation of the membership agreement and as a result her membership was canceled.
So – for instance – I'm undressed in the LADIES' locker room at the gym, and in walks a man. I don't give a rip that the man is gussied up like a woman. He's a man! I then object to having a man enter the ladies' locker room, especially when I am undressed, and gym management accuses ME of reacting in an "inappropriate and disruptive" manner? SERIOUSLY?! Yes, I'm afraid this is the brave, new world of Transmania, USA. And, just for reference,
according to the Daily Mail
, this is the man who walked in on the lady in the women's locker room at Planet Fitness: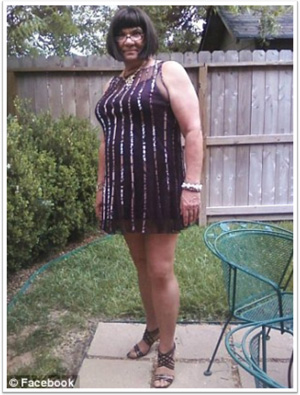 This Planet Fitness lunacy is a microcosm of what's happening all across our nation. There is no doubt that the devilish success of the militant homosexual movement is part of God's judgment on the United States of America. This nation was founded by the power and blessing of God Almighty, and for most of our more than 230-year history, this nation has collectively honored God and His moral foundation on which our nation rested. But in recent decades, the leaders and citizens of this nation have not only forgotten the Lord, but they have aggressively worked to eject him from all areas of the public square, while at the same time eagerly embraced society-rotting corruption. This is combined with the curse of sin under which millions of pre-born babies have been slaughtered on the altar of convenience by their "mothers," with the help of "doctors." God is not mocked. Whatever a man – or a nation – sows, that is what he reaps. Our nation is reaping the worst corruption we have seen in our entire history, and the evil is just getting warmed up.
As a result of America's rejection of God, we (collectively, in general) have become a nation without sense, without understanding and discernment. We have become a nation ruled by sodomites and the blood-thirsty sons of Ishmael, despisers of God, every one of them. We have become wholly degenerate in our thinking, entirely without reverence and respect for what is right, just and true. We cannot see our own destruction that is speeding toward us, an unrelenting force of tyranny that will not be stopped, barring a stroke of miraculous, undeserved mercy from God.
As we watch a tiny minority of sexual deviants being given great power over the majority in our nation, we (who have eyes to see) can see that we are living God's warning that Moses gave to the Jewish people in
Deuteronomy 32
, which says, in part:
28 For they are a nation void of counsel, neither is there any understanding in them.

29 O that they were wise, that they understood this, that they would consider their latter end!

30 How should one chase a thousand, and two put ten thousand to flight, except their Rock had sold them, and the Lord had shut them up?

31 For their rock is not as our Rock, even our enemies themselves being judges.

32 For their vine is of the vine of Sodom, and of the fields of Gomorrah: their grapes are grapes of gall, their clusters are bitter:

33 Their wine is the poison of dragons, and the cruel venom of asps.

34 Is not this laid up in store with me, and sealed up among my treasures?

35 To me belongeth vengeance and recompence; their foot shall slide in due time: for the day of their calamity is at hand, and the things that shall come upon them make haste.
© Gina Miller
---
The views expressed by RenewAmerica columnists are their own and do not necessarily reflect the position of RenewAmerica or its affiliates.
---