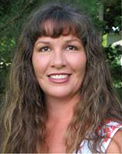 Gina Miller
Duke freshman claims making porn empowers, fulfills her

By
Gina Miller
February 25, 2014
Listen to an audio version of this column
A friend forwarded me a link to a gut-wrenching column with the cumbersome title, "
I'm The Duke University Freshman Porn Star And For The First Time I'm Telling The Story In My Words
." The article is enough to break your heart for this girl, who is an example of cannon fodder from the hellish "sexual revolution" and "women's liberation" movements.
The young lady, identified only as Lauren A., describes Duke University (a school whose motto is Eruditio et Religio: Learning and Religion) as her "dream school," and she states that she has chosen to act in porn movies to finance her education. She tried to keep her identity under cover, so to speak, but one of the young men at the school recognized her on campus and exposed her identity. She was subsequently harassed and bullied online for what she does, so she decided to write a column about it and what she believes it means.
Putting aside the volumes that could be written about the vile poison that pornography is and the devastation of empty souls, ruined sexuality, broken lives and marriages,
and even death
left in its wake, let's look at some of what Lauren has to say.
She wrote:
... My experience in porn has been nothing but supportive, exciting, thrilling and empowering.

... I am not ashamed of porn. On the contrary, doing pornography fulfills me.

... For me, shooting pornography brings me unimaginable joy. When I finish a scene, I know that I have done so and completed an honest day's work. It is my artistic outlet: my love, my happiness, my home.

I can say definitively that I have never felt more empowered or happy doing anything else. In a world where women are so often robbed of their choice, I am completely in control of my sexuality. As a bisexual woman with many sexual quirks, I feel completely accepted. It is freeing, it is empowering, it is wonderful, it is how the world should be.
No, Lauren, it is
not
how the world should be.
Her words remind me of a sentiment that national radio talk show host Michael Savage has expressed on numerous occasions: You loudly declare how free you are, but I only hear your chains rattling.
Regardless of whether one believes in God or not, without His saving grace through Jesus, we are all subject to, and slaves of, the laws of sin and death. And whether Lauren believes it or not, creating pornography is sin, and it is impossible for sin to free, fulfill or empower us. Sin is never wonderful, and ultimately, it cannot make us happy, not at all. Sin can only lead to all kinds of bad things for our minds, bodies and spirits.
Lauren goes on in her column to reveal her horribly misguided, even delusional, thinking about human sexuality, and she shares some warped views she learned growing up:
My entire life, I have, along with millions of other girls, been told that sex is a degrading and shameful act.

... The most striking view I was indoctrinated with was that sex is something women "have," but that they shouldn't "give it away" too soon – as though there's only so much sex in any one woman, and sex is something she does for a man that necessarily requires losing something of herself, and so she should be really careful who she "gives" it to.
God did not design sex to be "degrading and shameful." It is meant to be a sacred expression of love and intimacy between a husband and wife, and it results in the blessing of a family. Fallen, sinful man has grossly perverted what God designed for good. Sex as sin has turned a special act intended for marriage into a monstrous thing, a powerful weapon that rips the vitality from people's bodies, minds and spirits.
Ultimately, Lauren reaches a conclusion that only makes sense to the mind darkened by delusion:
We must question in this equation why sex workers are so brutally stigmatized. Why do we exclude them for jobs, education, and from mainstream society?

Why do we scorn, threaten and harass them?

Why do we deny them of their personhood?

Why does the thought of a woman having sexual experiences scare us so much?

The answer is simple.

Patriarchy fears female sexuality.

It terrifies us to even fathom that a woman could take ownership of her body. We deem to keep women in a place where they are subjected to male sexuality. We seek to rob them of their choice and of their autonomy. We want to oppress them and keep them dependent on the patriarchy.

... I am well aware: The threat I pose to the patriarchy is enormous. That a woman could be intelligent, educated and CHOOSE to be a sex worker is almost unfathomable.
She is certainly a product of the Godless Left's indoctrination. Whatever ill consequence of her sexual misconduct, in her mind it's men's fault. That she is regarded by society as a whore or prostitute based on her behavior, she believes, is because men "fear" a loose woman. There's some pretzel logic for you!
What is the truth? The truth is that a woman is meant to be precious to her husband. Yes, her sexuality is meant to be cherished, reserved for her husband, whose sexuality is likewise meant to be reserved for her. While it is equally bad when either men or women abuse God's gift of sex, the reality is that people regard a loose woman more harshly than a loose man. But, is that because of some nebulous "patriarchy" out there? No. It is because women are special, designed by God as the fairer sex, God's gift to the man, the gentle touch of beauty and nurturing motherhood, the counterpart to the strong man. Whether it's "fair" or not, these inherently understood truths have always made women's sexual sin uglier in the eyes of society.
Lauren is choosing to let herself be robbed of real fulfillment, true happiness and joy, and divinely-inspired empowerment by the degrading of her body. She has chosen a path that will corrupt her soul and ruin her sexuality, but she does not have to settle for the dead-end deal the world has to offer.
The real Patriarch, God the Father – Who loves Lauren more than she could possibly fathom and has provided her a bridge to salvation through Jesus – has a design for her that is unimaginably higher than her self-made prison of sin, the gutter she currently inhabits. I pray that Lauren one day comes to the knowledge of God's truth and real freedom and real peace, which are only found through Him.
For the raging feminist, the despiser of "patriarchy," the believer of lies about God and His perfect design for women, I offer the sparkling vision of the
Proverbs 31 woman
, a woman who truly has it all. The chapter states, in part:
Who can find a virtuous woman? for her price is far above rubies. The heart of her husband doth safely trust in her, so that he shall have no need of spoil. She will do him good and not evil all the days of her life.

... Strength and honour are her clothing; and she shall rejoice in time to come. She openeth her mouth with wisdom; and in her tongue is the law of kindness. She looketh well to the ways of her household, and eateth not the bread of idleness. Her children arise up, and call her blessed; her husband also, and he praiseth her. Many daughters have done virtuously, but thou excellest them all. Favour is deceitful, and beauty is vain: but a woman that feareth the Lord, she shall be praised. Give her of the fruit of her hands; and let her own works praise her in the gates.
© Gina Miller
---
The views expressed by RenewAmerica columnists are their own and do not necessarily reflect the position of RenewAmerica or its affiliates.
---