Wes Vernon
Part 9--2012: America's last free election? Why Obama should (but probably won't) be impeached

By
Wes Vernon
October 1, 2012
President Barack Obama recalls that in his college days, he "sought out" the Marxist professors on campus. Judging by the way he governs, those may have been the only professors with whom he consulted. It would not be surprising if somewhere along the way, our then-future president had an in-depth discussion with the late Howard Zinn, now revealed to be the subject of an FBI file detailing his longtime membership in the Communist Party USA.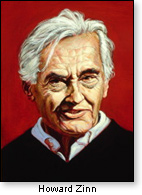 Zinn's writings — still widely used in your taxpayer-funded schools/universities — spread the line to our young that America is and has been a hateful and unjust nation all throughout history. (Example: Mr. Zinn has written that the whole Civil War was a ruse play-acted by both sides to detract attention from the glorious people's revolution whose adherents were on the verge of success in their effort to overthrow our evil capitalist society any day now.)
Over 150 years later
Well, it took our slow-thinking dunderheads a century and a half to catch on to the 1860s apparent fakery of abolishing slavery, but finally many generations later we are catching on to our ancestors' folly. But there is still hope for the revolution in the early 21st Century. Not to worry, because riding in on white horses to save the day was an administration staffed by people in key positions — including the man at the top — whose affinities for communist and communist front organizations have endowed them with a mindset of disregard for the U.S. Constitution.
In fact, the current President of the United States has said he thinks our outmoded Constitution is flawed because it places too much emphasis on curbing the powers of the almighty government as to what it
cannot
do
to
the people, and precious little attention to what it can do supposedly
for the bourgeoisie.
Stop right there; this is basic. A government that claims to do something
for
the people is often in reality doing something
to
the people. (Think Obamacare, which rates a thumbs down, actually of anywhere from 57 to 66% disapproval of the great unwashed.)
The way this works is: Marxist-inspired "liberalism" pleads give me power and in return I will give you stuff, and I'll come up with an idea for "new stuff" in every election cycle. It's the oldest racket in the political sphere. Keep this up and little by little, Big Government is deciding the light bulbs you can use, the car you can drive, the food you can eat, and the allowable setting for your thermostat. And those are just for starters. Once you get that far, you might end up looking over your shoulder in a "What's next" relationship with government.
Not kidding
The above is not hyperbole. It's happening. Recently, a former resident of a Warsaw Pact country — for nearly a half century under the heel of our "noble ally," the Soviet Union — referenced the Obama administration's unlawful edicts, and said, as he was standing in an airport line next to an American, "I've seen all this before."
Consider what is going on and add it all up:
The president is ignoring the fact that we have three branches of government. He accords short shrift to the part of the Constitution that makes it plain that he doesn't get to rule like a monarch. He can
propose
legislation to Congress. But Congress gets to enact (or not) his ideas. That's why we call it legislation, Mr. President. That's why legislators are hired by us. And if they don't do their job, we get to fire them, just as some of us hope to do with you next month when your contract is up for renewal. And by the way, if you don't agree with the bills the lawmakers send you, you don't have to sign them. You can veto, and then they have to muster a two thirds majority in order to override. Some of us think that in itself entrusts you with considerable authority. You're not satisfied with that? Sorry, but you may want go back to one of those 57 Middle East and Islamist countries you once confused with our 50 states, and seek power there. There are plenty of banana-like republics in the world, Mr. President. You don't have to stay here and govern by our Constitution.
(Never did I think it would be necessary to spell out what in a previous era was a Fourth Grade civics lecture, but in Obama's time, American history has become Marxist indoctrination in the schoolrooms of his "57 states.")
What motivates?
President Obama may be ignorant on some basic things, but the man is not stupid. If our assumptions on that score are correct, he is one of two things: woefully oblivious to the question of how our government works,
or
(we hate to face this possibility) he violates the laws and our Constitution in a deliberate attempt to bring this country down — to put us in our place. He does a good job of masking that chip on his shoulder. But the attitude may be the result of the preachings of Howard Zinn and Karl Marx.
Put these together and.....
If Congress refuses to act in accordance with our current president's wishes, he goes ahead with it anyway through an executive order, stacking a regulatory agency, demanding a tortured reading of the law, or whatever. That is legislating from the White House. It is not allowable under the Constitution, Mr. President.
"We can't wait" for Congress to act, intones the man whose understanding of his proper authority far exceeds the plain English language as to the law and the Constitution. Mr. President, we're a nation of laws, and passing legislation is a Congressional prerogative.
When Congress rejected President Obama's proposal to grant a path to citizenship for some illegal aliens (the so-called Dream Act), he bypassed the lawmakers and issued an executive order. That is unlawful and unconstitutional.
Later, without any authority from the legislative branch, Mr. Obama ordered the Border Patrol agents to release any illegal aliens they stop other than those with criminal records that render them a threat to the lives of others. If the president doesn't like a law on the books, his solution is to back off from enforcing it. In so doing, he is violating the law. Period.
The same pattern is followed in the administration's refusal to enforce the Defense of Marriage Act and some provisions of the No Child Left Behind Act.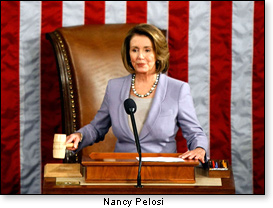 When even the Pelosi Congress rejected his Cap and Trade legislation (against Speaker Pelosi's orders), Obama's EPA gave a far-fetched reading of a law that was passed 42 years ago and started implementing Cap and Trade anyway. This is the law that Dear Leader promised would cause your electricity bills would "necessarily go skyrocketing" because of his war on coal.
But wouldn't you know? Members of Congress took a dim view of having to explain to the folks back home why they would allow their constituents' light bills "necessarily" to "skyrocket." So they rejected Cap and Trade . That would not stop Mr. Obama. To him, Congress was an ornament, a flyspeck, or a potted plant. Again, that is unconstitutional, Mr. President.
The Fast and Furious investigation focused on a Justice Department decision to engage in gun-running across the Mexican border. Those weapons ended up in the hands of drug cartels — resulting in the murder of thousands of Mexicans and ending the life of one of our own federal agents.
The same pattern of reckless disregard for American lives is playing out right now in Libya, where our diplomatic mission in Benghazi was attacked as our ambassador and three other Americans were murdered.
Someone at the White House obviously has ordered their spokespeople (White House press secretary Jay Carney and UN Ambassador Susan Rice come to mind) to lie to the American people and blame the violence on a little-known anti-Islamist film produced in the U.S. In fact, the president himself actually went before the United Nations and spread that fiction before the entire world. This was well after it was widely publicized that our government knew about 24 hours after the event that the perpetrators were in fact organized terrorists whose aim was simply to kill Americans.
As Frank Gaffney, President of the Center for Security Policy charged, the massive cover-up and deceit was "to obscure [the administration's] own security malpractice, namely the dogged refusal to face the reality that America is at war with an enemy that they have been unwilling to name, have failed to counter, and are actually emboldening." That is betrayal, straight-up.
Secretary of State Hillary Clinton's announced response is to engage in "old-fashioned peer-pressure and shaming" the terrorists into halting such misbehavior. That of course, is the rough equivalent of advancing with a feather and pretending to frighten the enemy with the bold battle cry, "Have a care, sir!"
In fact, the administration ignored prior warnings that the diplomatic mission was in danger of a terrorist plot to target the facility and that security was lax. The recovered diaries of Ambassador Christopher Stevens reflected his fear that he and his staff were vulnerable to attack.
So what to do?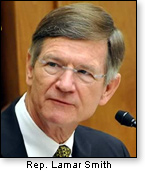 Late last month, I asked House Judiciary Chairman Lamar Smith (R-Tex.) if his panel might consider articles of impeachment against a president who has unlawfully reached for powers that are not his, assumes authority for legislating (the exclusive prerogative of Congress), and intimidates the judiciary (as he successfully pulled off prior to the Supreme Court's ruling in favor of Obamacare). By even the most lenient standard, President Obama is guilty of impeachable offenses. Why then doesn't the House Judiciary Committee study the possibility of impeachment?
Chairman Smith recalled the late nineties impeachment of President Bill Clinton. That House action, however, led to an acquittal by the Senate notwithstanding Clinton's perjury (for which he would be disbarred) and credible accusations that he had committed rape.
As for Obama, "I think we're depending on the voters to take care of that in November," the House committee chairman added — a comment that drew a robust applause from attendees at the Accuracy in Media conference where Congressman Smith spoke.
Precedent?
There really is not a lot of stomach for impeaching President Obama whether or not the voters "take care of that" at the ballot box.
I recall that in October of 1972, President Richard Nixon was being pummeled every day in the
Washington Post
with serial revelations on the Watergate scandal. Mr. Nixon nonetheless won the election of that year in a landslide. Yet, he ultimately would have been convicted by the Senate had he not resigned.
The differences?
Prior to the day America's votes were to cast in the election of '72, the late Hale Boggs, a top leader in the House, was talking to his colleagues in the Capitol cloakroom about impeaching the then-president after the election was over. That Nixon went on to win did not deter the Democrat House in the least. The 37th president was toast.
So what is the difference between then and now? It requires no prescience to note that the media had been after Nixon's scalp ever since the forties when he played a major role in the exposure of Alger Hiss as a traitor.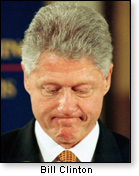 Today's media are even further to the left than the Washington scribes of the early seventies. That's it. If the Washington wolf-pack can drive Nixon out of office in the seventies and smear anyone who tries to impeach Clinton in the nineties, what does that tell you?
Well — um — you don't suppose it would have any connection to the fact that Clinton — and for that matter, Obama — are Democrats, whereas Nixon was a Republican, do you? Nah!
See what we've been saying in this space? If President Obama can get away with the most heinous bare-faced violations of his oath of office before next month's election, are we to trust him if he gets another four years and no voters to fear. Four years? Four to five would be more appropriate.
Ah yes. It sort of reminds you of a time when former Senator Bob Bennett (R-Utah) — when asked if that "world's most deliberative body" would take action (on a relatively non-controversial piece of legislation) — replied that it all depended on whether the media "will let us."
The pre-pounce stories likely have already been written: Those evil racists just won't let the first black president govern.
© Wes Vernon
---
The views expressed by RenewAmerica columnists are their own and do not necessarily reflect the position of RenewAmerica or its affiliates.
---