Wes Vernon
Democrat prez hopeful has Marxist family background

By
Wes Vernon
April 18, 2019
The United States is arguably the most anti-Marxist nation on the planet, though to be sure, we do have our own home-grown variety of hard leftists. The Democrat Party is making moves in that direction. Adding political fuel to that fire is the
Marxist family background
of a serious Democrat candidate for President of the United States.
Mayor Pete Buttigieg presides over South Bend, Indiana – a city of just over 100,000, according to the latest census. That population figure connotes a familiarity with "Grassroots America." So far, so good. Many of our presidents have hailed from modest-size cities or towns. Note Dwight Eisenhower's upbringing in Abilene, Kansas. But Ike's family background was well-documented when he ran and won when the presidency.
There are some unsettling facts, however, about Mayor Buttigieg's father – bearing in mind that a family's background does not tell the whole story. But when someone runs for president, his or her roots are factors the voters want to consider. Herewith information on one of the Democrats aspiring to take on President Trump in 2020: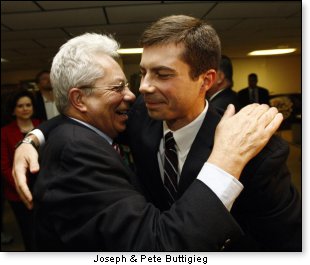 According to the Washington Examiner
, Mayor Buttigieg's father, Joseph, "was a Marxist professor who spoke fondly of the Communist Manifesto and dedicated a significant part of his academic career to the work of Italian Communist Party founder
Antonio Gramsci
, an associate of Vladimir Lenin."
Joseph Buttigieg, who passed away in January at age 71, immigrated to the U.S. from Malta in the 1970s. In 1980, he then joined the Notre Dame faculty, where he taught Modern European Literature and Literary Theory. He supported "an updated version of Marxism" that discarded some of the more doctrinaire theories of Marxism espoused by Marx and Engels.
However, the information stipulates that the father Joseph was "undoubtedly a Marxist." More to the point, in his position as an advisor to the academic journal
Rethinking Marxism,
he believed the times called for what he apparently saw as an updated Marxism.
The information on the elder Buttigieg goes on to indicate that he shared his ideas with that journal's pursuit of ultimate Marxist goals. He spoke to many gatherings and conferences of prominent Marxists.
So goes a family-related portrait of one who is thought by some to be a suitable candidate to take on President Trump in the 2020 presidential sweepstakes
© Wes Vernon
---
The views expressed by RenewAmerica columnists are their own and do not necessarily reflect the position of RenewAmerica or its affiliates.
---