Wes Vernon
Part 5 -- 2012: America's last free election? (Infiltration of our government?)

By
Wes Vernon
August 13, 2012
(See Part 1, Part 2, Part 3, Part 4)
Five members of the House of Representatives have stepped forward and asked the Inspectors General of multiple government agencies to review the questionable affiliations of Huma Abedin, top assistant to Secretary of State Hillary Clinton.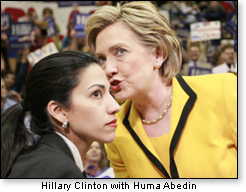 That has caused a high-decibel reaction from the usual liberal suspects, but unfortunately, many congressional Republicans — instead of circling the wagons around their courageous colleagues and fighting back — are either turning on their own, remaining silent, or running like scared rabbits.
What is a "security clearance"?
A security clearance in government is a 127-page document that requires such information as relatives and associates, foreign countries visited, use of illegal drugs, or involvement in terrorist groups or those that would overthrow the U.S. government.
The Abedin case has prompted
Accuracy in Media
to post a column asking "Where is Huma Abedin's Security Clearance Form?"
Where indeed? It should have been filled out as she entered government service. So where is the form requiring truthful answers as to her background and associations — answers addressing such issues as that Ms. Abedin's late father, her mother, and her brother have been connected to Muslim Brotherhood operatives and/or organizations?
"Friendly" fire
As expected, the five members of the House have been dutifully slimed and smeared by the mainstream media. That more or less "goes with the territory." Reps. Michele Bachmann, Trent Franks, Tom Rooney, Louie Gohmert, and Lynn Westmoreland could expect that.
So too is it hardly surprising that the George Soros-dominated Center for American Progress (CAP) has demanded that Congresswoman Bachmann be kicked off the House Intelligence Committee. Exposing security lapses in high government places does not fit in with the Soros plan to remake America in a Marxist/socialist image. That's a "so what else is new?"
What is disheartening is that merely by inquiring as to Abedin's associations and security procedures, these five conscientious members of Congress have been trashed by some of their high-ranking fellow Republicans on the Hill.
Senator John McCain — whose bow-to-your-enemies-and-demonize-your-friends approach to campaigning arguably served to clear a path for Obama's victory in 2008 — condemned what he called "sinister" accusations against Abedin, even though only a year ago, the senator had denounced the Muslim Brotherhood. (Tsk! Tsk! The meaning of McCain's "straight talk" apparently depends on the day of the week.) House Speaker John Boehner said such allegations by the five were "dangerous." (And the Muslim Brotherhood isn't? Check the record, Mr. Speaker.)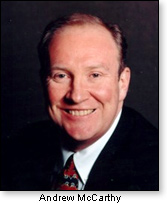 Now comes Andrew McCarthy — the lead prosecutor in the case of the first World Trade Center bombing — to say in effect: hold the phone. The Bachmann five (my term, not theirs) actually
understated
their case: Abedin
herself
, you see, is directly connected to a major Muslim Brotherhood figure involved in financing al-Qaeda.
The man — Abdullah Omar Naseef — founded the Institute for Muslim Minority Affairs where Ms. Abedin worked "for a number of years" as assistant editor of its journal.
Not so fast
If anyone thinks the demand for a probe of enemy infiltration of government will go away — just because the five lawmakers were slimed when they called for a congressional investigation — you can forget about it. If anything, this uproar will grow louder. It will not die down until some honest response is offered.
That is why Frank Gaffney's Center for Security Policy arranged for the prosecutor to speak to the media and the American people.
This past week, Andrew McCarthy, who prosecuted the terrorist "Blind Sheik," doubled down in support of the demands of Reps. Bachmann, Gohmert, Franks, Rooney and Westmoreland.
Note that the lawmakers made no accusation that Huma Abedin was guilty of a crime, only that one's connections are usually subject to the vetting process before assuming a high government position. These issues go right to the heart of knowing about anyone seeking a job with influence on government policy, or ability to acquire access to classified information.
As McCarthy noted in his news conference at the National Press Club, "A person is not required to have done anything wrong to be denied a high-ranking government position, or more immediately the security clearance required for access to classified information that is necessary to function in such a job."
Why it is important
McCarthy is hardly alone among the credible law enforcement/intelligence professionals to urge that Congress review the vetting process for Huma Abedin.
The veteran prosecutor was joined by four others who qualify as a security "A team." They are R. James Woolsey, former CIA Director; Lt. Gen. William G. Boykin, former Deputy Under Secretary of Defense for Intelligence; Lt. Gen. Harry E. Soyster, former Director, Defense Intelligence Agency (DIA); and Joseph F. Schmitz, former Inspector General, Department of Defense.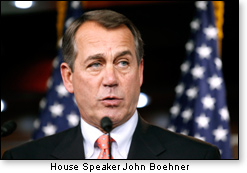 Their bombshell letter to Mr. Boehner advised the speaker of "our strong support" for congressional efforts "to illuminate and address the danger posed by influence operations mounted by the Muslim Brotherhood against government agencies."
More troubling, the five Intel signatories add there is reason to believe the federal government "has been subjected to such [anti-U.S.] techniques" by "bringing U.S. [government] policy into broad — and dangerous — alignment with the agenda of the Muslim Brotherhood and its fellow Islamists."
The Intel experts cited the following government actions as examples:
...assisting the Brotherhood's rise to power in Egypt.
...co-sponsorship of a UN Human Rights Council resolution intended by the Organization of Islamic Cooperation (OIC) to restrict freedom of expression.
...the release of $1.5 billion in an unconditional, lump-sum grant to the Egyptian government after the election of a Brotherhood parliament and right before the election as president of a Muslim Brotherhood official.
...excluding Israel (a major terrorism victim) from a multilateral forum on terrorism. (What? There's a metaphor in there somewhere — like maybe a wedding with no bride or groom? WV.)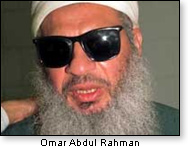 ...granting a visa to Hani Nour Eldin, a member of the designated terrorist organization
Dama'at al-Islamia
— the Islamic Group — for the purpose of discussing the release of that organization's leader, convicted jihadist cleric Omar Abdul Rahman (the "Blind Sheik"). (
Note:
That our government would even talk to a leader of a terrorist group about releasing a murderer of six innocent Americans on U.S. soil reflects the Muslim Brotherhood's apparent belief that Obama is a pushover, and also adds unbelievable insult to horrific injury.)
Add to that
Just so Speaker Boehner couldn't miss the point, these Intel heavy hitters added, "There can be no doubt that the Muslim Brotherhood is benefitting from such problematic (U.S. government) actions at the expense of our national homeland security and other interests" — adding that of course "the Brotherhood operatives would seek to have these and other initiatives adopted by the U.S. government. If our country and its people are to be spared potentially grave harm," it is essential that the U.S. determine the impact of "such operations aimed — to borrow the Brotherhood's own words — at destroying us from within, by [America's] own hands."
Islamist States of America?
It becomes necessary to repeat again and again and again exactly what it is about the Muslim Brotherhood and "Sharia law" that pose a very real threat to the nation.
Here are examples. Shariah law mandates the following:
...violent jihad against "infidels" (i.e., most of us) so as to facilitate ultimate Islamic rule worldwide.
...the killing of "apostates" from Islam.
...the killing of adulterers and homosexuals.
...massive institutional discrimination against women, including stoning.
...over-the-top (to put it mildly) punishment...i.e., gouging out of eyes for petty crimes like theft.
...non-Muslims to be treated as inferior beings.
...expecting Muslims unable to enforce jihad with physical force to help finance it with their money.
These are some of the policy positions driven by those who intend a World Caliphate. McCarthy in his speech at the National Press Club said in his many years in the government, he had worked with several of an estimated "thousands" of Muslims on the pubic payroll who are good Americans.
"Without them," he said, "we could not have translated, understood, and processed our evidence so it could be presented to a jury as a compelling narrative. Pro-American Muslims serve honorably in government, in our military, in our intelligence services, and in our major institutions."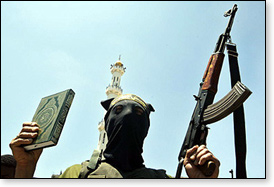 As this column has mentioned many times, violent jihadists make up a small percentage of the worldwide Muslim population. But as we've also said before, that small percentage appears to be steering the Islamic ship, aimed at enforcing jihad and Shariah law. Rank and file Muslims who actively resist risk death.
In fact, McCarthy says in the United States, there is the appearance of a "divide" between the rank and file and the authorities who hold sway in many of the mosques. He is quite right. "Death to America" has not been an uncommon slogan in those places.
Trying to persuade the mainstream media of these differences and threats is a lost cause. They are wedded to the simplistic notion that nothing is wrong, that there is no such thing on our soil as violent jihad committed in the name of Islam, that the "Allahu Akbar" killing of thirteen military personnel a few years ago was "workplace violence," and that anyone who says anything different is guilty of "Islamophobia" — a word, McCarthy notes, that was invented by the Muslim Brotherhood "precisely for the purpose of browbeating people into silence about the activities and threat posed by Islamic supremicism," a violent political ideology not to be confused with religion.
McCarthy's point
As a prosecutor for 20 years, during which time he dealt with and supervised a number of cases dealing with terrorism and international crime groups, Andrew McCarthy is baffled by the current controversy surrounding the five House members. As he sees it, lawmakers from both parties should rally to their support. Further, he said the issue needs to be discussed in the presidential contest. When I asked him if he knew of any effort to raise the matter with the Romney campaign, he said he knew of none.
With a touch of irony, he noted, "We've heard all the caterwauling about 'Islamophobia' and — my personal favorite, of course — McCarthyism."
(
Note
— For this column's outlook on the original "McCarthyism," see our
10-part series
— 9 in late 2007, 1 in the spring of 2008. Or better yet, see M. Stanton Evans' book
Blacklisted by History.
)
Duty

"
Duty is calling," Andrew McCarthy believes. "Under the circumstances," he adds, "there would be something terribly wrong if members of Congress were
not
asking questions about Islamist influence on our government. And there is something terribly wrong in the fact that these fine members of the House are the only ones who have the courage to step up to the plate."
To which we would add: If security is so disrespected by the Obama administration now, and if this White House blatantly pursues anti-U.S. foreign policies these days, imagine what it will be like in a second term, with no more re-elections enabling voters to hold the president accountable. Someone needs to inject some guts serum into the GOP.
© Wes Vernon
---
The views expressed by RenewAmerica columnists are their own and do not necessarily reflect the position of RenewAmerica or its affiliates.
---