Maureen Scott
Obama's immigration plan: don't fix the leaky roof, just get more buckets

By
Maureen Scott
November 23, 2014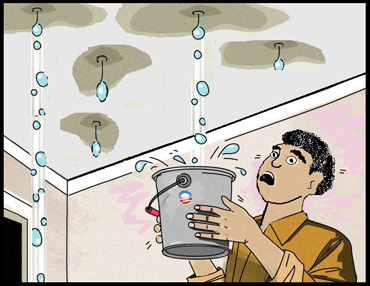 So Obama's plan is to grant amnesty to four or five million (a one million difference, mind you...not a number to sneeze at!) illegal aliens who come forth from the shadows, to register and get a Green Card, and become legal immigrants in the U.S. The Liberals' hearts are warmed. But have any of them, including Obama and his cohorts in the federal government, really thought about how this is going to be an amount that can be certified as correct? And has anyone calculated the cost of Obama's broad sweep of the pen and how all of this will be implemented – i.e., all of the new staff, paperwork, time, etc., that is going to be used to keep a tally of these now hidden four to five million who will supposedly appear and anxiously register?
Who is going to do the counting? Where is this total of the millions going to be kept and by whom? Will U.S. Immigration and Customs Enforcement (ICE) have the capabilities to do this? How are we going to have an accurate, daily total of every one of them to assure that only four or five million illegal aliens have been registered and given Green Cards? Will the numbers be updated on a daily, weekly, monthly, or yearly basis? How, when that total of five million is reached, will it be verified? By whom? We have already seen that the IRS doesn't do well at counting...nor do we get any accurate totals from the ACA people.
And, when the five millionth illegal immigrant steps across the threshold into a federal office and asks for amnesty...then what happens to the guy behind him? Does the next one who might be in line...number five-million-and-one...get arrested, or turned away? Does he/she get sent home? And how will all the illegal aliens know if the total of five million has been reached, so they know not to bother asking for amnesty because the Feds have already granted it to five million of their illegal amigos? And, more importantly...how will WE know when five million illegal aliens have been accounted for and given amnesty and green cards? Are WE going to be told?
Of course, during all the time that this will take...the ones already here illegally will keep arranging to bring more children over the borders, illegally. And they will keep coming and coming. So a family could show up with mucho, mucho kids; go to the Feds and tell them that they are all from the same family, and get amnesty for all of them. Are they going to be asked to show proof that they are all children of the same parents, members of the same family?
The Libs cry that this is a "compassionate" response because it will help the poor, destitute children who sneaked over our borders illegally, and re-unite them with their parents/relatives who are already here. Still, how can anyone be sure these are true family units? We already know that birth certificates can be easily forged. Who is going to be trained and skilled enough to be able to certify that any of the papers these illegal aliens present are not fraudulent – just by looking at them?
And...If that five-millionth-and-one illegal alien is a child...what do the Feds do? Do they tell the family
"No, we cannot grant amnesty to this child, we will have to send him/her back. We already have five million of you registered. We reached that amount yesterday."
And then do they rip that child away from the family?
Obviously, this is the most ill-thought-out, open-ended, un-viable, easy to break, ridiculous, and complicated solution to a situation that could possibly be suggested. It does not solve any illegal immigration problems. It only creates more! And, it does not begin to address what to do with them. Where will these millions find employment (if they even want to work) in our already narrow job market, what happens in our schools as the classrooms continue to buldge with hundreds of thousands more non-English speaking students, and what about the taxpayer who will be stuck with all the other costs of the social services they will use?
This action that Obama has proposed to fix the illegal immigrant problem can be likened to a man whose roof is leaking, but instead of climbing up on the roof to plug up the holes he keeps putting more buckets on the floor to catch the rain water.
© Maureen Scott
---
The views expressed by RenewAmerica columnists are their own and do not necessarily reflect the position of RenewAmerica or its affiliates.
---