Tom O'Toole
My silent soul for Santorum

By
Jeanette O'Toole
January 25, 2012
(Article by Jeanette O'Toole, Tom's wife)
Let me repeat in the clearest words in my disposal. There is no stopping abortion without an ocean of grace from Jesus Christ. No way will human means stop abortion. The principal source of this grace is the Holy Eucharist. -Fr. John A. Hardon

Our suspicions are aroused especially with a number that recurs so frequently as 40. On one level, it represents a longer period of time, but there is more...content...It is a time of need, of struggle, of testing...[I]n the Bible, a third level of meaning appears. Forty denotes a period of preparation for some special action of the Lord... -AmericanCatholic.org

The greatest threat to world peace is abortion! -Mother Teresa of Calcutta

By way of introduction, my name is Jeanette O'Toole, and I am the wife (and proofreader!) of Catholic journalist, Tom O'Toole, and mother of our four children. While even my what-were-pretty-good proofreading skills have dampened in recent years, I've always been much less of a writer, so please pass (on this, the feast day of St. Francis de Sales, patron saint of the deaf — of which I am — and of writers — of which I'm not) on commenting that this is poorly written; prepare yourself for that possibility.
The purpose of my post is to promote the one Truly conservative (and pro-life) candidate running for the GOP nominee for President of the United States, Rick Santorum. After dropping South Carolina rather significantly to two men, who in my opinion, are less qualified in general, and less moral on their social stances, I felt the need to give a shout out to the women (and men) that have been the most damaged by our "progressive" way of life in America, certainly for the last 39 years. The anniversary of Roe v. Wade just came and went (Jan. 22) and we're now trudging into our 40th year of legalized killing of very tiny (and some not-so-tiny) human beings.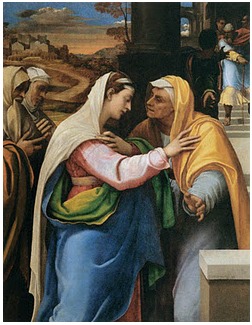 In 1977, I was living in the beautiful state of Colorado (running away from life in Illinois; just wanting to live somewhere pretty and be free), and met (in Boulder) an interesting "and fun" wine connoisseur. Several months into our relationship (and after we had, in fact, just broken off), I found out I was carrying my boyfriend's child, but (in an effort to make a long story short) a child I so dearly wanted to birth, was given up to the gods of abortion on 3-16-78. Only knowing Jesus very weakly at that time, I didn't have the strength or moral character to hang on to her life (or unbeknownst to me, my sanity) when I most needed to. I have since named my child Mary Elizabeth, as praying by the statue of the Visitation (in addition to the frequent reception of the Eucharist and the praying of numerous rosaries) has done more for my healing than I can explain. Now, after attending Mass daily for close to three decades (by the way, I have read that Rick Santorum started attending daily Mass in 1990), I realize well the importance of guiding anxious women to other alternatives when they most need to see the Light; that abortion is the killing of God's creatures, and the result is lost children that you never get back (until you greet them in heaven). This is why we need Rick Santorum at the helm, and not a flip-flopper, or bed-hopper, or cop-out-on-life to the states.
I hope mothers and fathers who have been through (or are processing) the painful (and ever-so-silent unwinding/healing) from an abortion will look into the candidates with keen observation. And I hope those that have not come to terms with their abortions will at some point in time look into their souls and start to heal this grave pain. We have the opportunity (however, he needs the votes to secure the nomination!!) to elect a pro-life president; one who will do everything possible to protect the lives of all babies born and unborn, disabled and not "perfect," and just as importantly, as a byproduct of same, protect their selfish parents from a lifetime of needless remorse and regret...
As aforementioned, we are in the 40th year of legalized abortion. Could this signify a "preparation for some special action of the Lord"?
Pick Rick ! For Life ! Vote Rick !
P.S. Being enthused with the fight for Rick and for life, we started a Facebook page called
Silent Souls for Santorum
, its purpose listed as such: "Silent Souls for Santorum is for anyone who wants to join the uphill, but righteous journey of the former senator and father of seven to the White House, but is especially dedicated to the post-abortive women and men who see Santorum's pro-life fight as our country's salvation."
Jeanette O'Toole is the wife of Catholic journalist, Tom O'Toole, and the mother of their four beautiful children. Being deeply regretful about her own lost child (prior to meeting Tom), she works for the pro-life cause, and prays for the end of this 'legal' and savage mis-treatment of both woman and child. Jeanette can be reached at jeanetteotoole@gmail.com.
© Jeanette O'Toole
---
The views expressed by RenewAmerica columnists are their own and do not necessarily reflect the position of RenewAmerica or its affiliates.
---