James Lambert
Musician Lawrence Hill's message in his new single needed more than ever right now!

By
James Lambert
July 2, 2020
A former member of the Edwin Hawkins Singers, Lawrence Hill, just released a new single. It will be available on www.itunes.com and www.inheritancerecords.com on July 10, 2020. Most likely you've probably heard the (top 5 national) hit record 'Oh Happy Day' that was the early release from the group, Edwin Hawkins Singer, which Lawrence Hill was a part of many years ago.
Since then Lawrence has put together a music production company (www.inheritancerecords.com) based in Georgia. Lawrence's prior music career also include time as staff music writer for Shelter / Capital records as well as teaming up with Thomas Campbell, music director for the TV show 'Touched by an Angel'.
Lawrence's new single is entitled: "What the world needs now…" Lawrence is the lead singer for this new release. Lawrence's single also provides a message of love and hope which the world now desperately needs to hear.
The song was originally released by Jackie De Shannon in 1965. The message of the song is certainly a message that is needed during these times when fear and uncertainty seems to predominate the culture all around the world. If there is any time in the world's recent history when we need to hear about genuine love – now is the time. Please feel free to pass this news and this article to your friends so they can hear Lawrence's new wonderful song on July 10th (when it's released)!
On Friday July 10 please go to the websites listed above and listen to this terrific song!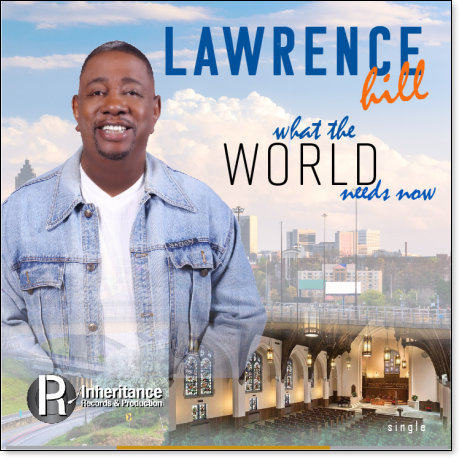 Article contribution by: Benjamin Harrell
Lawrence Hill, a pioneer of music has a profile that spans more than 50 years. With a love and admiration for music, Lawrence followed the "notes" into a passion that he would share with the world.
The Early Years
While his story begins in the city of "hidden gems", Fresno, California he was raised in Oakland. Born to Reverend Dr. William and Deolla Hill, it was clear at the tender age of 3 that Lawrence found his calling. He was attracted to the microphone like a magnet as he sang at church. Even his neighbors where aware of his gifts as they were awaken to Lawrence singing hymnals taught to him by his father.
Lawrence began studying cello in elementary school which opened the door to him playing in citywide orchestras. In 1963, he had the opportunity to sing with a group called the Heavenly Tones
which included now American award winning Gospel singer Tramaine Hawkins. Lawrence eventually moved on from the group as his voice changed from soprano to bass. He started playing the piano by ear which motivated him to start writing songs.
Oh Happy Day
During his high school years, he joined the Northern California State Youth Choir. Lawrence eventually left California to study Political Science and Economics at Linfield College in McMinnville, Oregon. His college journey would take a brief pause to return back to Oakland. In 1969, he went on tour for a year as one of the original members of The Edwin Hawkins Singers mesmerizing the world with the hit "Oh Happy Day". This experience helped Lawrence form a group called the New Generation Singers comprised of college students.
In the early seventies, Lawrence was ready to take his music career to the next level. He moved to Los Angeles and landed a position as a staff writer for Sky Hill Publishing and Shelter/Capital Records where he wrote for Mary Russell. Lawrence went on to tour with Leon and Mary Russell for 9 months. He also wrote for "The Queen of Northern Soul", Gloria Jones . This relationship produced several smash hits.
Advocacy
While music served as a first love for Lawrence, it did not stop him from advocating as a Child Support
Officer. In 1974, he worked with the County of Los Angeles District Attorney's Office – Child Support
Services Department. For more than 40 years he provided child support case establishment, case management and enforcement of court orders for thousands of clients. His role led him to Sacramento where he lobbied state legislature.
The Sound of Gospel
In the late seventies Lawrence returned to his gospel roots by recording with Charles May as a featured artist on his Deliverance LP. He also worked with Ricky Grundy on two records.
His creativity and vision led him to appearing and writing for television and radio commercials. In 1993, Lawrence co-starred alongside legendary Daryl Coley in the Gospel opera called "Job" as Lucifer. The play was performed in Los Angeles and Stockholm, Sweden.
Lawrence founded a group called Inheritance which included singers from The Edwin Hawkins Singers that could not travel on tour with Edwin Hawkins. The members consisted of college students.
Back to Television
In the mid-nineties, Lawrence attained commercial success as a writer, vocalist and actor for the acclaimed television show "Touched by an Angel". He served as Choir master for several episodes. Lawrence was also an actor on the "Sister, Sister" TV series as well as "The Doors" movie. He worked as a part of the vocal sound design team for the movies "Eve's Bayou" and "Caveman Valentine". He also starred in the stage plays "Dark Legends in Blood" and "Voices".
Inheritance Records
There was an evolution of music in the early 2000's that affected artists and their ability to get signed to labels. Lawrence decided to create Inheritance Records, a specialty label in 2012. After all, he knew music and had an understanding of how the music business worked from years of experience.
Now Lawrence plans to release his new single 'What the World Needs Now Is Love' a cover of Jackie DeShannon's hit love song at the end of the month. His smooth and reassuring voice sends a timely message that is sure to resonate with people of all backgrounds.
This Minister of Music of continues to serve churches and people with a legacy that is far from over. Learn more about Lawrence Hill at his official website inheritancerecords.com.
© James Lambert
---
The views expressed by RenewAmerica columnists are their own and do not necessarily reflect the position of RenewAmerica or its affiliates.
---