Anna Githens
What it really means to be Catholic now

By
Anna Githens
June 25, 2014
Not long ago, the New York Times published an op-ed article by Peter Manseau,
What It Means to Be Catholic Now,
which claims Catholics are having difficulty defining who they are today. In the article, Manseau likens Pope Francis to a "perfect divining rod" that will uncover "assumptions about the future of the Catholic Church," and highlights noteworthy statements the Pope made on controversial issues, especially same-sex unions. To summarize, the article describes conflicting values, moral inconsistency, and overall problems in the Catholic Church. These problems are not unique; in fact, they have plagued the Church for centuries. Advances in technology, however, have enabled modern secular culture to push back harder than ever on Church teachings and traditions.
But Manseau critically errs in his analysis. He focuses on how specific persons, parishes, and leaders within the Church are responding to the pressure, rather than recognizing where the Church is going and whence she came.
Evil has always existed in the world, and adversarial forces wish nothing more than to witness the Church's self-implosion. If she cannot be destroyed from the outside, why not provoke internal devastation? Why not create incendiary problems to ignite dissension within her?
Followers of Arius in the fourth century who did not believe in Christ's divinity provoked problems in the early church, which were addressed in 325 AD at the
Council of Nicaea
. In the late 14th and early 15th centuries, the Western Schism saw three rival claimants to the papacy; the
Council of Constance
resolved this controversy by electing Martin V as the legitimate Pope. While certain groups divorced themselves from the Catholic Church during the 16th century Reformation, the Church's ongoing reforms culminated in the
Council of Trent
.
What other institution in the world has convened 21 councils, each one often lasting several years, to discuss matters of faith and doctrine? Is it surprising then, that some within the Church today wish to divorce themselves from her yet remain with her? More perplexing is the fact that despite disagreeing with the Church's moral teachings some choose to remain in her. Perhaps it is because they recognize that she is their protector, their rock, their bastion of strength and loyal
Mater et Magistra
.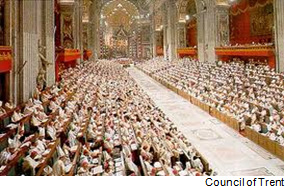 As children, did we not enjoy protection from our parents yet conjure up ways to circumvent their directives? Lured by the pull of outside forces, which had neither the best interest nor concern for our well being, we let go of their guiding hand. And so it goes today in the Catholic Church. But this is really nothing new; there is and always will be forces outside the Church seeking to use her vulnerable members to destroy her. These members, like fifth columnists, wish to change the church from the inside with their own strength, which is a futile endeavor.
Nevertheless, an unforeseen paradox is unfolding. Current cultural pressures are prompting Catholics and Christians to inform themselves and seek answers to issues they previously did not understand. God's masterful hand is using this time for a greater good, and I believe these present day problems will unite rather than divide Christians. Throughout salvation history, God used problematic times to strengthen His people, for we know that overcoming adversity makes us stronger. And the Church will persevere and emerge stronger than ever, for
the light shines in the darkness and the darkness has not overcome it
(John 1:5)
.
Why would God want to use this particular time to strengthen His Church? This is an intriguing question that perhaps we should seriously consider. Personally, at this tumultuous time I would rather be inside the Church's strong body than outside of it, for it seems that the strong are getting stronger and the weak are getting weaker.
The Catholic Church is and always has been consistent in her teachings, which are in accord with Christ's teachings. Since Christ's death initiated her birth, one must know Christ in order to know the Church. Coming to know and love Christ will allow us to look beyond our current condition and see how these challenging times fit into the overall picture of salvation history, since He alone is
the Alpha and the Omega, the first and the last, the beginning and the end
(Revelation 22:13).
To live life in humble submission to God is to live not offensively, but authentically. The Lord instructs through the Psalmist,
"Be still and know that I am God,"
for if we take time to meditate in prayer He will reveal Himself to us. Only God knows the path to true freedom and the means for us to follow it.
As a Catholic, one may enjoy the fruits of being part of a large family within the body of Christ, which includes all baptized persons. Catholic means universal, the totality of God's people, but Manseau notes that many are confused over what authentic Catholicism is. He asks, "Who is Catholic? Is it a matter of baptism? Belief? Loyalty? Psychology?" The title of Manseau's article,
What It Means to Be Catholic Now,
implies that Catholics have
now
become something else; that somehow they are different from what they were before.
Yet is there a different way to love Christ? Truth is the necessary condition for love to thrive. Jesus tells us,
"You will know the truth and the truth will set you free"
(John 8:32). Thus, one can conclude that anything untrue will enslave us. How do we discern truth? Well, in my opinion the Catholic Church excels in this department since she is the only Church that has taken the time to compile her beliefs in one neatly bound compendium,
The Catechism of the Catholic Church,
which is easy to read, well documented, and heavily footnoted (over 3,000 citations). Recently updated in 2002,
The Catechism
thoroughly explains the origin and source of Catholic doctrine. Anyone is free to pick up a copy to dispel his confusion over Catholic beliefs.
The Catholic Church does not bend to and fro with a moving culture, but rather clings to truth, and the truth is steadfast. The Church is the
Mystical Body of Christ
, which is made present in the Eucharist. Since we are temples of the Holy Spirit, God is present within us; He moves with us but remains unmoved. St. Paul clarifies:
"Do you not know that your bodies are temples of the Holy Spirit, who is in you, whom you have received from God? You are not your own; you were bought at a price. Therefore honor God with your bodies"
(1 Corinthians 6:19-20).
Instead of trying to change Church doctrine, let us ask ourselves if our devotion to Christ harmonizes with that of the most respected saints, such as St. Augustine, St. Catherine of Sienna, St. Thomas Aquinas, or St. Therese of Lisieux? While they lived centuries apart they seem to have one thing in common – something simple yet profound, and something quite natural yet extraordinary. Indeed, their love for God was the all-consuming kind, but I am inclined to believe that although their love may surpass mine in loyalty and in strength, my present condition is not immutable. For each and every one of us has a heart capable of boundless love.
It is an honor to be a member of the Catholic family, an honor of which I often feel unworthy. To me, there is nothing complicated about being Catholic. In fact, it is the least complicated aspect of my life. We humans often obscure matters that are really quite simple. When we talk about the Church we are referring to a
mystical
body of persons – a family with Christ as its head and the Saints as its most esteemed members. Families often quarrel, this is nothing new, but when modern culture dishonors tradition it dishonors the saints. Upon reading the words of St. Augustine or St. Therese, for example, it is hard not to appreciate the benefits of having their testimony of faith. The saints dedicated their lives to Christ and His Church leaving their thoughts for us to ponder through the ages. Their words,
like apples of gold in settings of silver
(Proverbs 25:11), are priceless gifts of personal wisdom
.
The Pope's famous response, "Who am I to judge," to a question about gay priests has caused particular confusion in the media. Sometimes we lift phrases out of entire messages and attempt to extrapolate their meaning so they fit conveniently into our personal worldviews. This has been the media's problem throughout Pope Francis's papacy. When in doubt, go to the source and read the Pope's entire statement. "Who am I to judge," is part of a whole sentence but more importantly refers to a person's heart rather than his or her actions. Pope Francis is acting as a father to his prodigal children who, no matter how they have sinned, are always welcome home. Here is the confusing part: this does not mean he condones their sins. When Jesus said to the adulteress,
"Neither do I condemn you. Go now and sin no more,"
(John 8:11) he did not condemn
her
but made it clear that she must change her ways.
Many people think that love clouds a person's vision when it actually does just the opposite; it purifies one's vision. If we look at another person through the lens of love we will bypass that individual's shortcomings and see into the heart. Jesus practiced compassion unceasingly and now we are blessed to have in our Holy Father an excellent role model of compassion.
An unusual event occurred preceding Pope Francis's election: Pope Benedict XVI was inspired to resign. Benedict's resignation is reminiscent of George Washington stepping down to allow John Adams to succeed him. Both men demonstrated humility by doing what true leaders do when working together for a greater good.
Some members within the Church are more spiritually mature than others.
"Be perfect as your heavenly Father is perfect"
(Matthew 5:48) is an appeal to strive for perfection. Most importantly, we must not become like Cain who envied his brother and killed him, but rather look within ourselves and personally endeavor to please God. In unburdening ourselves of past mistakes before God we allow them to become valuable stepping-stones from which to learn and grow. If we become distressed by dissenters or have lost our way, it is best to
"keep our eyes fixed on Jesus, the pioneer and perfecter of our faith"
(Hebrews 12:2).
What it means to be Catholic now is the same as what it meant to the apostles: to be part of the Mystical Body of Christ. Thankfully, we have the Catholic Church, Christ's Mystical Body on earth, to aid us on our faith journey. God is the potter, we are the clay, but we must permit Him to form us into the exquisite work of creation He intends for us. We must become malleable and graciously allow His hands to mould our lives. We are all unique works in progress but it takes a contrite heart to grow in love. If we stop trying to control everything and instead relinquish control to Him we are destined to become love itself. In humbling ourselves and meekly taking hold of His hand we shall inherit the earth (Matthew 5:5).
What more could we ask for?
© Anna Githens
---
The views expressed by RenewAmerica columnists are their own and do not necessarily reflect the position of RenewAmerica or its affiliates.
---