Anna Githens
Your faith can save you

By
Anna Githens
April 8, 2020
While walking and praying the rosary, I asked God to please protect my loved ones, put an end to this horrible coronavirus, and have mercy on us all. I immediately heard these words in my heart: "I want the world to surrender to me." I tend to trust spiritual promptings when they are supported in scripture and when they compel me to draw closer to God.
There are times when I question if something I heard is from the Holy Spirit, who dwells in each and every one of us (cf. 1 Cor 6:7) or if it was contrived by my own imagination, or even by a bad spirit. I always try to discern if what I heard is good and true, and if it will increase my trust in God.
St. Ignatius' Rules for Discernment of the Spirits
often come in handy, especially during times of spiritual desolation. Fr. Robert Spitzer offers a condensed version
here
and provides excerpts from his book, Five Pillars of the Spiritual Life. He says:
"When decisions, resolutions, or patterns of action increase love and trust in God in the long term, that's a sign that they are consistent with the workings of the Holy Spirit and can therefore be called spiritual consolations. Conversely, decisions or actions that gradually decrease love, trust, and hope are not consistent with the workings of the Holy Spirit, and they result in spiritual desolations. St. Ignatius of Loyola attributes the latter propensities to the 'evil one.'"
As many priests and religious are advising, now is the time to increase our faith in God by establishing and practicing holy habits, such as daily prayer, scripture reading, meditation, and contemplation. Numerous times throughout the Gospels Jesus asserts that our faith can save us.
Just to be clear, intrinsic in true faith is love, and love requires action on our part. And although our faith may heal us in the physical sense and save our bodies, with regard to the spiritual sense, to which I am referring and is most important, our faith can save our souls, for we are the unity of body
and
soul.
Christians believe
our soul will separate from our body only upon death, but will live forever, and be reunited with our body on the last day.
Jesus says many times that our faith can save us. For example, Jesus encounters a woman suffering from hemorrhages who could not be cured. She had come up behind him and touched the fringe of his garment. He actually felt power go out of him, and she was immediately healed. He said to her, "Daughter your faith has made you well; go in peace" (Luke 8:48).
Our faith can make us well.
When a centurion asked Jesus to heal his servant, though he was not worthy to have him come under his roof, Jesus replied, "Not even in Israel have I found such faith," and he restored his servant to health (Luke 7:9-10). Jesus saw a group of men lowering a paralyzed man on a bed through the roof where he was teaching. Scripture tells us, "When Jesus saw their faith, he said, 'your sins are forgiven you'" (Luke 5:20).
Even the faith of our friends can heal us.
When Jesus entered the home of a dead child, the mother and father were weeping and wailing for her. He said, "Do not fear. Only believe, and she will be saved" (Luke 8:50). Jesus called out "'Child, get up!' Her spirit returned, and she got up at once" (Luke 8:54-55).
Our faith can save our children.
A woman, whom Jesus described as having many sins, entered the home of a Pharisee and began bathing Jesus' feet with her tears and drying them with her hair. Jesus said to her, "Your faith has saved you; go in peace" (Luke 7:50).
Our faith can save us.
Jesus speaks of two debtors, one having a much larger debt than the other, and says that the creditor cancelled the debts for both of them. He asks Simon, "Now which of them will love him more?' Simon answered, "I suppose the one for whom he cancelled the greater debt." Jesus tells him that he judged rightly. Then he turns to the woman bathing his feet with her tears and drying them with her hair and says to Simon, "Do you see this woman? I tell you, her sins, which were many, have been forgiven; hence she has shown great love. But the one to whom little is forgiven, loves little" (Luke 7:41-47).
Our love for Jesus can save us.
We all talk about love as if it's something to be experienced or acquired, but it is much more than that. Love is a
who
, not an it. Love is a person, not a feeling, which is why love is a decision – the decision to believe in Love or to not believe in Love, who is God, and who can be seen in the person of Jesus Christ, who left His heavenly throne to be with us so we could know Love, and so he could offer his life as a ransom for our sins. He dwelled with us, he taught us how to love, and then he gave himself over as expiation for the sins of every soul that ever lived. Then he endured unfathomable torment, excruciating pain, and the betrayal of all but one of his friends. Yet, while he hung in agony on the cross, he prayed for his persecutors, he gave us his mother, he forgave the repentant thief, he drank the cup of bitterness and then he breathed his last.
When they pierced him with a lance, blood and water poured forth from his side onto the earth and the Tree of Life took root. He emptied himself so we could be filled with his love, so that each time we receive the Sacrament of his Body and Blood his love may consume us.
He died and descended to the dead, and then rose again on the third day, just as we should die to ourselves, descend into our own nothingness, and then rise into newness, a new creation through Christ and in Christ. Only Christ can recreate us and lift us up. We must take up our cross and descend with him and rise in him, renewed and remade. No longer will our stony hearts cause us harm or bring harm upon others, for through him we will have new hearts, hearts of flesh, and eyes that see, and ears that hear. And our new hearts will love, fully and truly, as Christ loves. Only then, when we have received our new hearts, may we love one another as he loves us.
At his special
Urbi et Orbi blessing
last Friday on the steps of St. Peter's Basilica, the Holy Father said, "The Lord is calling on us to seize this time of trial as a time of choosing. A time to choose what matters and what passes away. A time to separate what is necessary, and what is not necessary."
What choice will you make?
Love has the ability to cast out fear (cf. 1 John 4:18), and as the Holy Father reminded us, "Love is stronger than death." Our faith must increase; our fear must decrease. Now is the time to give up our anxious worries and trust in the Lord with all our hearts. Now is the time to surrender to God, repent of our sins and believe wholeheartedly in Him. The greater the debt of our sins, the greater God's mercy.
Jesus appeared in a series of visions to a humble Polish nun, Maria Faustina Kowalska, in the 1930's. Saint Pope John Paul II approved her visions and writings, and canonized her on April 30, 2000. He established the Feast of Divine Mercy on the first Sunday after Easter.
Our Lord's unfathomable Divine Mercy was revealed to the world through the writings in St. Faustina's
Diary
. The following are just a few select messages that Jesus gave to St. Faustina. His words are italicized.
"My daughter, tell the whole world about My inconceivable mercy. I desire that the Feast of Mercy be a refuge and shelter for all souls, and especially for poor sinners. On that day the very depths of My tender mercy are open. I pour out a whole ocean of graces upon those souls who approach the Fount of My Mercy. The soul that will go to Confession and receive Holy Communion shall obtain complete forgiveness of sins and punishment" (Diary 699).
Although presently we are not able to physically receive Communion or go to Confession in person, we can receive Jesus spiritually by reciting
this prayer
, and we can confess our sins to God from our hearts. On March 20 during his livestreamed Mass,
Pope Francis said
, "This is the right time, the opportune moment. An act of contrition done well, and our souls will become white like the snow." He said if we are specific about our sins and request pardon, we will experience God's loving forgiveness.
"Say unceasingly the chaplet that I have taught you. Whoever will recite it will receive great mercy at the hour of death. Priests will recommend it to sinners as their last hope of salvation. Even if there were a sinner most hardened, if he were to recite this chaplet only once, he would receive grace from My infinite mercy. I desire that the whole world know My infinite mercy. I desire to grant unimaginable graces to those souls who trust in My mercy" (Diary, 687).
The Divine Mercy Chaplet can be found
here
. You can also follow along to the Chaplet in song in this
YouTube video
.
"Souls perish in spite of My bitter Passion. I am giving them the last hope of salvation; that is, the Feast of My Mercy. If they will not adore My mercy, they will perish for all eternity. Secretary of My mercy, write, tell souls about this great mercy of Mine, because the awful day, the day of My justice, is near" (Diary, 965).
While the day of God's judgment may not be here at the present moment, we should take this unprecedented opportunity to prepare our souls, for we do not know the hour or the day, neither do the angels of heaven, nor the Son, only our Heavenly Father knows (cf. Matthew 24:36). It has been 89 years since the first day of Jesus' appearance to St. Faustina. How much time do we have?
How long are you going to wait?
"Everything that exists has come forth from the very depths of My most tender mercy. Every soul in its relation to Me will contemplate My love and mercy throughout eternity. The Feast of Mercy emerged from My very depths of tenderness. It is My desire that it be solemnly celebrated on the first Sunday after Easter. Mankind will not have peace until it turns to the Fount of My Mercy"
(
Diary,
699). The question is,
do you believe this?
Jesus is asking, "Why are you afraid? Have you still no faith?" (Mark 4:40).
St. Faustina proclaims, "Oh if only the suffering soul knew how it is loved by God, it would die of joy and excess of happiness! Some day, we will know the value of suffering, but then we will no longer be able to suffer. The present moment is ours" (Diary, 963
).
At this moment in time we need to make a choice. We can choose to make the most of this rare opportunity, or let it pass us by. This moment is a gift from God, and our faith in Him is what matters most. For Jesus Himself told us that it is our faith that will save us.
Let us proclaim throughout the world, "Jesus, I Trust In You!"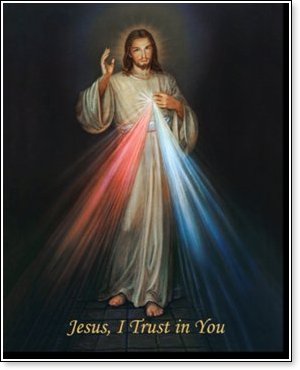 © Anna Githens
---
The views expressed by RenewAmerica columnists are their own and do not necessarily reflect the position of RenewAmerica or its affiliates.
---