Anna Githens
Can faith impact high school football?

By
Anna Githens
September 19, 2014
Humility and football: two words that don't seem to go together. But for some rather exceptional high school football teams they appear to fit just fine. These are teams that have no qualms about kneeling before a packed stadium in prayer.
Such was the case last week on September 11th at Caven Point in Jersey City when the St. Peter's Prep Marauders, the
number one team
in the state of New Jersey, coached for 27 years by
Rich Hansen
, faced the Bergen Catholic Crusaders, the state's number ten ranked team coached by
Nunzio Campanile
.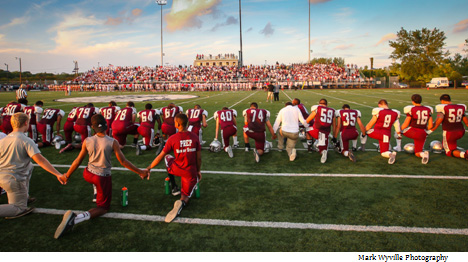 In a "Tribute to America" game, which was shown live on ESPNU, St. Peter's Prep President, Father Kenneth Boller, S.J., led a pre-game prayer for the players and coaches on both teams, for six members of the Prep community who lost their lives 13 years ago, and the "untold lives throughout the nation and the world" affected by the tragic events that day.
He then led the stadium in reciting the Our Father as the whole team knelt together on the field. Although not shown on television, this made an indelible impression behind the scenes and left a lasting impact on many in the stands. For spectators, this experience, coupled with the
"USA! USA!"
send-off chant from the student cheering section (aka "Marauder Nation") helped to revive a once unified American pastime: prayer and patriotism.
There's something very moving about seeing a 280-pound lineman kneeling in prayer to call upon support from his Almighty God, but watching an entire team pray together is extraordinary. How could this sight not inspire most onlookers? To witness young high school athletes – members of two of the nation's top high school football programs – humbly acknowledge that they are grateful to God for their gifts and talents is, in my opinion, witnessing one of life's greatest moments.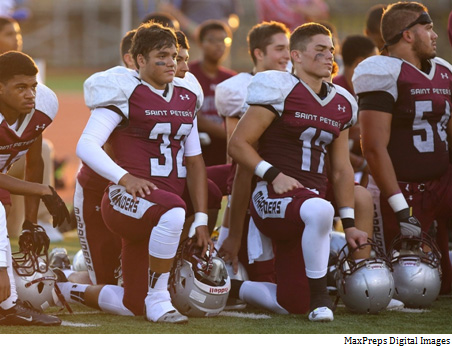 It takes humility to pray; a self-emptying submission to a Power infinitely greater and stronger than any human being could ever hope to acquire. By emptying oneself in trust to the Lord, one permits the Holy Spirit, a divine force unattainable through mere human strength alone, to enter. Yet, there is no greater force or power on earth.
Perhaps this is why these teams enjoy so much success. One cannot dismiss this possibility. Though many may believe great teams are formed only through human efforts, is it mere coincidence that many parochial school teams are consistently successful? Critics may say it's all about the money; that certain schools have superior facilities, equipment, and most of all, coaching. And that this enables them to attract student athletes from various geographical areas. But there is a reason these schools are exceptional in the first place and athletes are drawn to them: it is the consistent dedication and dependable, ongoing support from coaches, parents, students, and alumni.
To the players, it is all about the spirit of "brotherhood" they cherish and share. A mutual trust develops within the community, and their common faith in God sustains that trust. And most of the financial resources come from charitable donations, acts of kindness based on a belief in a cause greater than oneself, and in an institution formed in faith.
A great deal of successful coaches, such as Hansen and Campanile, share the same Christian ideals and values, which are illustrated in the film
When the Game Stands Tall,
currently in theatres and mentioned by ESPNU during the Tribute to America game. The movie is based on a remarkable true story of the De La Salle Spartans, and their 12-year, 151 game winning streak. The Spartan's coach, Bob Ladouceur, is brilliantly portrayed by actor Jim Caviezel. Many essential life lessons learned by the coaches and team, especially following their first loss, are highlighted throughout the film. Below are some of these lessons, (summarized by
Brian Dodd
):
The Process Is More Important Than The Result Because Results Flow From Healthy Processes


The Best Coaches Are Life Coaches, Not Just Athletic Ones


Teams Who Are Unified And Care About Each Other Perform Better


Great Assistant Coaches Make Head Coaches Better


Teams Are More Important Than Individuals


A Healthy Perspective Is Needed To Have Humility And A Grateful Heart


One Year's Success Does Not Guarantee The Next Year's Success


It's Not How Hard You Fall. It's How You Get Back Up


Little Things Done Well Make A Big Difference


Great Mentors Provide A Picture Of What A Person Could Be


Complacency, Pride And Over-Confidence Are Dangerous Threats To Personal And Team Success


Every Team Member Has Something To Add And Plays A Critical Role


Success Smells A Lot Like Sweat


Failure is Never Final

And here are some of Coach Ladouceur's notable quotes:
"Winning a lot of games is doable. Teaching the kids there's more to life, that's hard."


"This program was founded on certain ideals – perfection, commitment, compassion, brotherhood, faith."


"We were never just about winning. We were built on families."


"The streak was never our goal."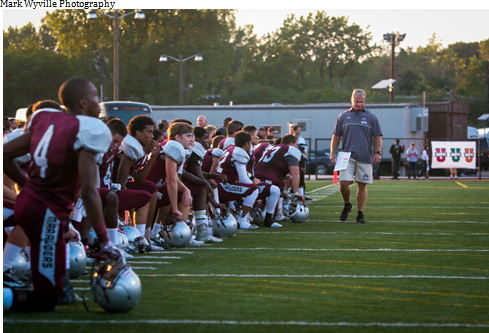 "When you get to a certain level, all the teams have talent, but chemistry is what puts teams over the top. It's the intangible that has so much to do with success." Rich Hansen, Head Coach, St. Peter's Prep
While God's hand in a team's success may never effectively be proven, it can also never be disproven. This is not to suggest that God plays favoritism, rather He is
near to all who call upon him
(Psalm 145:18)
;
for
whoever asks shall receive, and whoever seeks shall find
(Matthew 7:7).
How else does one explain the extraordinary strength of a family member, or a stranger who miraculously arrives on the scene "out of nowhere," so an accident victim is saved? Or the
106 consecutive
county games won and
15 consecutive
divisional crowns earned by St. Peter's Prep? Or the winning streak sustained by De La Salle?
Though various skeptics may say God doesn't care about football, this could not be further from the truth. God cares about anything and everything we care about. He cares about football because we do. A loving parent takes an active interest in what his children enjoy; and we are God's children. If His children love to play football, He wants to be right there with them. What better place is there to begin learning one of life's most valuable lessons, that we are called to be our brother's keeper? Certainly, the game of football provides a great place to start.
But in our quest for success, God does not want to be forgotten by us. He wants us to
acknowledge Him in all our ways
(Proverbs 3:6) so He can
strengthen us and help us
(Isaiah 41:10).
He uses any and all means possible to proclaim His greatness to the world; and He works through us to inspire others.
"For the eyes of the Lord run to and fro throughout the whole earth to show himself strong for those whose hearts are loyal to him"
(2 Chronicles 16:9), which includes football fields.
The instilling of faith in a young person's heart will provide him with the strength he needs during life's most difficult times, and will empower him to reach for the stars. Inner strength is vastly superior to any other; for this is where the Spirit dwells.
The virtue of humility, for example, although not easily attained, holds priceless value. One can surmise from the title of the article,
"Marauders Humble Crusaders,"
found on Bergen Catholic's website following their defeat, that the Crusaders, as well as the Marauders, understand this all too well.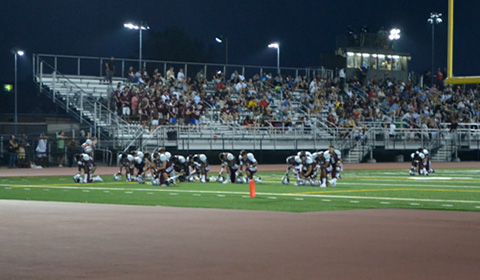 © Anna Githens
---
The views expressed by RenewAmerica columnists are their own and do not necessarily reflect the position of RenewAmerica or its affiliates.
---