Anna Githens
America's true Founding Father

By
Anna Githens
July 4, 2013
"Why do you let us wander, O Lord, from your ways, and harden our hearts so that we fear you not?" (Isaiah 63:17
).
This intriguing question asked by the prophet Isaiah grasped my attention not very long ago, enough to compel me to seek an answer. For many of us who value our freedom, a feeling of contradiction pervades this Independence Day. We light our fireworks and in tandem consistently witness the founding principles of our country sustain unrelenting blows. We celebrate our Independence while we forfeit the values that precipitated and sustained it all these years.
It is the gradual erosion of our principles over time that has left us vulnerable, directionless, and weak. We have no one but ourselves to blame for cultivating the ideal breeding ground for imposters to seize control of our once morally upright country. Many nations throughout history have fallen captive to this pattern and its dire consequences, yet we continue to follow suit.
How are we protecting our freedom? Our right to free speech is under attack, and we are currently on the verge of allowing amnesty for illegal immigrants. In what way are we just? We confine terrorists in the most expensive prisons in the world, yet our
"hands are full of blood"(Isa 1:15)
from America's unborn:
"How the faithful city
has become a harlot,
she that was full of justice!
Righteousness lodged in her,
but now murderers" (Isa 1:21).

The Book of Isaiah reveals to us God's dreadful yet necessary chastisement of His beloved Israel, His once faithful and devoted bride fatefully befallen to idolatry and pride. The legal forensic tone in the first chapter reads like an accusatory speech in a court of law, Israel being the accused. The threatening words sound as if they are coming from parents speaking to their rebellious children who have been afflicted with self-obsessed amnesia:
"Sons I have reared and brought up,
but they have rebelled against me.
The ox knows its owner,
And the ass its master's crib,
But Israel does not know,
My people do not understand" (Isa 1:2-3.)

Reading Isaiah calls to mind the now unmistakable prophetic forewarnings of our time. Vehemently clear prophecies spoken by our recent Popes describe looming consequences that would befall us if we surrendered our morals.
Back in 1968 in his utterly maligned encyclical letter,
Humanae Vitae
,
Pope Paul VI said the following:
"Who will prevent public authorities from favoring those contraceptive methods which they consider more effective? Should they regard this as necessary, they may even impose this on everyone. It could well happen, therefore, that when people, either individually or in family or social life, experience the inherent difficulties of the divine law and are determined to avoid them, they may give into the hands of public authorities the power to intervene in the most personal and intimate responsibility of husband and wife."

To public authorities and rulers of nations to commit to the responsibility of safeguarding the common good he pleaded:
"You can contribute so much to the preservation of morals. We beg of you, never allow the morals of your peoples to be undermined. The family is the primary unit in the state; do not tolerate any legislation which would introduce into the family those practices which are opposed to the natural law of God."

And last year
Pope Benedict said the following
in his Easter homily:
"The darkness enshrouding God and obscuring values is the real threat to our existence and to the world in general."

"If God and moral values, the difference between good and evil, remain in darkness, then all other 'lights' that put such incredible technical feats within our reach, are not only progress but also dangers that put us and the world at risk."

"Today we can illuminate our cities so brightly that the stars of the sky are no longer visible. Is this not an image of the problems caused by our version of enlightenment? With regard to material things, our knowledge and our technical accomplishments are legion, but what reaches beyond, the things of God and the question of good, we can no longer identify. Faith, then, which reveals God's light to us, is the true enlightenment, enabling God's light to break into our world, opening our eyes to the true light."

Pope John Paul II said that we are in the greatest spiritual battle in the 2,000-year history of the Church, but most Catholics are unaware of it. Like Paul Revere's shouts of warning in the night, the echo of their words should stir our hearts to work to revise the course of this country.
In many ways the birth and formation of America, indeed once the recipient of God's divine protection and love, parallels that of Israel. The Israelites, previously enslaved in Egypt and freed through God's intercession under the leadership of Moses, had forgotten their roots. Their sinful ways had "stiffened their necks" and "hardened their hearts." They had become a callous nation, blind and deaf to the once revered teachings of their Holy Father.
Time and again the prophet Isaiah urged his people to look the "Holy One of Israel."
In place of alliances he proposed they consult the Lord:
"In returning [to God] and rest you shall be saved; in quietness and in trust shall be your strength" (Isa 30:25).
However, their incessant pride and swelling pretension drove them to
"worship the work of their own hands, that which their fingers have made" (Isa 2:8).
Isaiah forewarned his people:
"Woe to those who hide deep from the Lord their counsel,
Whose deeds are in the dark,
And who say, Who sees us? Who knows us?
You turn things upside down!
Shall the potter be regarded as the clay;
That the thing made should say of its maker,
He did not make me;
Or the thing formed say of him who formed it,
He has no understanding?" Isaiah 29:15-16

How dare they snub God and embrace idolatry after everything their ancestors had been through! What ingrates! "It is as if [they] took out [their] eyes to look at them
,"
explained C.S. Lewis in his essay on
The Poison of Subjectivism.
Almost three thousand years later familiarity rings true. Not only have we Americans forgotten our roots, we have acted as though we are immune to history and exempt from obedience to the One who delivered us from tyranny and brought us to this great country in the first place.
I believe it is no mere coincidence that America's discovery took place shortly before religious persecution began in Europe. No sooner had Columbus' feet hit the soil before revolution and protests against the Church ensued overseas. In 1517, just twenty-five years after America's discovery, Martin Luther nailed his 95 Theses to the door of the Wittenberg Cathedral during the pontificate of Pope Leo X, which marked the beginning of the bloody Reformation followed by the Thirty Years War.
God in His divine foresight knew his children would need somewhere safe to run, and America, our present-day
"land flowing with milk and honey" (Ex 3:8)
became a safe-haven for the oppressed. For two hundred and fifty years America gave hope to a demoralized world. Once a shining city upon a hill, it is now America's freedom that is in jeopardy.
History shows that we have been on a never-ending quest for freedom from tyranny, with the hand of our loving Father to guide us. The Founders knew this, as they were steadfast to include Him in their written deeds. They knew that the door to freedom hinged upon the auspices of faith.
In a letter to Rev. Israel Evans, Chaplain in the American Army's New Hampshire Brigade, General Washington put in writing the first wish of his heart: "To inculcate a due sense of dependence we ought to place in that all wise and powerful Being on who alone our success depends."
Laus Deo! – Praise Be To God,
the inscription on top of the monument of his namesake, is a most appropriate display of homage to his wish.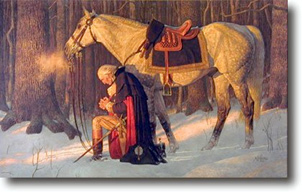 The Prayer At Valley Forge
The Lord used valiant men such as Columbus, Washington, and Lincoln to proclaim His greatness to the world and to help deliver us from the hands of evil tyrants. All three proudly and publically declared their allegiance to Him. No one will ever be able to uproot America's deeply embedded vineyard of faith if we don't allow it to happen. It was instilled by our ancestors in the hearts of every true-blooded American.
I found the answer to Isaiah's question in a book called
The Prophets.
In it Abraham Heschel explains, "It seems the only cure for willful hardness is to make it absolute. Half-callousness, paired with conceit, seeks no cure. When hardness is complete, it becomes despair, the end of conceit. Out of despair, out of total inability to believe, prayer bursts forth." St. Paul clarifies, "Since they did not receive the love of God's truth that they might be saved, God sent them a spirit of error" (2 Thes 2:10). For what is a Father to do with his wretched children when they have become so heartless and prideful? In the words of St. Augustine, "Is not sin also punishment for sin?"
Though America has forsaken the Lord, the Lord will not forsake America; He will redeem her. Although "there can be no redemption without affliction," says Heschel, Isaiah prophesied salvation for his people in which the Lord would bring healing beyond a time of punishment.
We must hold fast to faith, family, and country, in that order.
As Abraham Lincoln earnestly advised, "We must not pray that God is on our side, we must pray that we are on His side."
© Anna Githens
---
The views expressed by RenewAmerica columnists are their own and do not necessarily reflect the position of RenewAmerica or its affiliates.
---