Jenn Giroux
"Just one abortion" can take 73+ lives

A Father's Day message

By
Jenn Giroux
June 19, 2011
I have a simply amazing Dad.
I can never recall a time that he didn't do the right thing.
Even in the most difficult of circumstances, times of financial stress, or when an egregious act of injustice had occurred he showed by his example that nothing justified lying or cheating.
"An eye for an eye" was never an option.
He understood that every life was precious. He treated every human being with the same kindness and generosity regardless of a person's title (or lack thereof).
He loved unconditionally.
My Dad had the gift of counsel and a unique courage to stand up for what was right. He did this
every
time regardless of the consequences. He suffered because of it. But he never complained.
Dad's sense of fairness and prudence resulted in the highest possible peer review award of his profession.
He had the courage of a lion, the gentleness of a lamb, and the eye of the tiger when necessary.
At the most painful moments he would remind us that 'everything comes and goes except for the reign of God" and would often say "this too will pass" to ease our sadness. I didn't understand what he meant until I was much older.
It is now something I tell my own children.
From my earliest memories I recall my Dad being the lawyer who stepped forward to defend the ordinary citizens who were being arrested for simply praying on the sidewalk in front of the abortion clinics in my hometown.
He'd reach in his own pocket to literally bail out anyone.
He is famous for saying, "You can pay me back when your ship comes in."
In reality, he is the one who made the ship come in for so many.
I began to think about all the good that my Dad continues to do today even at the age of 82.
I was recently reading the latest abortion statistics and reflecting on the millions of lives lost in our American Holocaust. I thought about the potential of each precious life lost. It then hit me: "what if my Dad had been aborted?" While my saintly Irish Grandmother would have NEVER considered such a thing, here is something to ponder:
So many times when young couples (married and unmarried) are faced with an unexpected pregnancy they are seduced into believing that the 'quick fix' is to have an abortion.
"You can always have another when your life is settled"
"You don't have the money to raise a child."
"This isn't a good time"
"Just one abortion
and everything will go back to normal"
I began to think about the impact of "just one abortion."
My Dad was born as the oldest of 9 children. He grew up and married my mom (sweethearts since the second grade they tell us) and together they had eleven children who, in turn, have produced 59 grandchildren and 2 great grandchildren to date.
My Dad: 1
His Children: 11
His Grandkids: 59
His Great Grandkids: 2
Total lives lost to date if my dad had been aborted: 73
We do not often think about the generational effect of
'just one abortion'
. The taking of one single life wipes out the countless souls who would have followed in all generations to come.
On this Father's Day weekend let's pray for young fathers today that they may always do the right thing. Let's also pray that they have the courage to accept, honor, and protect the gift of every single child.
Look at your own Father and do the math.
It is breathtaking to realize how many lives are spared with the birth of 'just one soul."
(Photo below: James and Rose Condit, Sr , with grandchildren)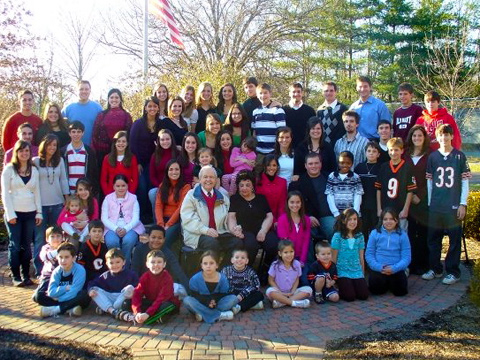 © Jenn Giroux
---
The views expressed by RenewAmerica columnists are their own and do not necessarily reflect the position of RenewAmerica or its affiliates.
---