Wes Vernon
Just so you know: Move over America? Here comes China

By
Wes Vernon
April 8, 2019
For decades, Communist China has been viewed by the U.S. with a wary eye. Recently, FBI Director Christopher Wray warned that China has been using
"nontraditional" intelligence collectors
to launch a "whole of society" threat against the United States."
A recent internet report informs us that U.S. Secretary of State Mike Pompeo has alerted European allies that Chinese
tech giants such as Huawei and ZTE
are being used as "spy assets." But all that, as they say, is just for starters. In fact, the question has been raised as to whether it is too late to hold back China's inevitable rise to predominant power in the world – to the disadvantage of the United States and hopes for a peaceful planet.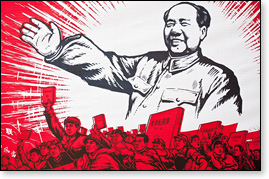 Americans generally are cited as seeing U.S. world influence fading as a result of China's rise. In fact, a recent Pew Research survey,
recently noted
by
Wall Street Journal
columnist William A. Galston, reports that sixty percent of Americans believe the U.S. over the next three decades will become less important in the world.
In what may be the beginning of that downside trend, the U.S.-European alliance is beginning to show some strain, as Italy has cut loose from that once solid U.S.-led agreement and joined China's Belt and Road infrastructure project. That is no small matter. It has been defined as nothing less than "the crown jewel in China's drive for economic dominance."
The U.S. derived some comfort in Beijing's failure to lift a finger to intervene at the time Ronald Reagan was bringing down the Soviet Union without firing a shot. We could only hope that China would then join the family of peaceful nations. Alas, we forgot that, as Dr. Frederick Schwarz put it in his book
You can trust Communists (to be Communists).
And it appeared that the Chinese failure to rescue its old partner in the Kremlin from its demise may have been motivated by a belief that – why let the Soviet Union survive to rule the world when we want to dominate the planet?
So here we are. As columnist Galston puts it, "The U.S. has wasted 20 years. [That figure, in the longer view, is arguably an understatement. But no matter at this point.] Finally we see the problem. Is it too late to solve it?" What do you think?
© Wes Vernon
---
The views expressed by RenewAmerica columnists are their own and do not necessarily reflect the position of RenewAmerica or its affiliates.
---