Wes Vernon
One man can save or end America as we know it

By
Wes Vernon
September 25, 2017
It seems weird that, at this point, one man holds the future of America in his hands.
That man is not an enemy. He is an honored United States Senator whose military record on this nation's behalf has earned him the respect and gratitude of his fellow countrymen.
In July, Senate Republicans had hoped to take a pivotal step forward in their long-promised effort to "repeal and replace" Obamacare, the socialist "crown jewel" of President Barack Obama's administration.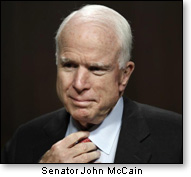 The first effort at mimicking the socialist healthcare plans of other nations was advanced by President Harry Truman. It failed to get any traction on Capitol Hill, as did Hillary-care when the Clintons were in the White House almost a half century later.
A grudge match intervenes
In July of 2017, the Republicans, then in control of both houses of Congress, with a Republican in the White House itching to sign into law a repeal and replace measure – surely with Republicans in a majority of governorships and two-thirds of state legislatures and Democrats defeated in recent special elections – surely the time was ripe to put the ex-president's failed plan where it will do no more harm. Surely, this was the time to put the ex-president's failed plan out of its misery.
A deadline
A serious squeeze imposed by the tick of the clock is a factor here. Under one of the Senate's at times arcane rules, the lawmakers have until September 30 to pass the latest Renew & Replace with a simple 51 votes. After September 30, 60 votes will be required. No way that will happen in a narrowly divided chamber.
The naysayers
Senator McCain is not the only Republican standing in the way of the new GOP-proposed Repeal and Replace legislation. There are three others:
Rand Paul, whose brand of apparently inherited stand-pat libertarian-ism is oblivious to nearly any and all circumstances


Lisa Murkowski, whose defiance of her primary loss in the race for what had been her father's Senate seat, led her to run anyway in the general balloting,


Susan Collins, a living symbol of the GOP's "scared rabbit" wing.

Get even time?
Senator John McCain shocked his colleagues in July by casting a "no" vote on the "skinny" Repeal and Replace bill. That measure would have provided the legislative framework on which an entire final new Republican healthcare legislation would be framed. But with the Arizona senator's "no" vote making the difference, the negatives prevailed and the legislation died.
You smack me? I smack back...zap!
Perhaps all but forgotten among many senators (but surely not forgotten by Senator McCain) was that the Arizonan was subjected to torture at the hands of a brutal Communist enemy.
Also not forgotten by McCain was that Donald Trump, as he was campaigning, said that he preferred military men who don't get captured.
To Senator McCain
Senator, you hold the fate of this nation in your hands. You have said that you will vote against the new Repeal and Replace bill coauthored by your friend Lindsey Graham.
If you vote against that bill, you may think you are just voting against President Trump. But you would also be voting against your countrymen. If Obamacare remains on the books, our people – whose nation was founded on liberties unknown in so much of the rest of the world – would bear the brunt. If our people are subjected to unbridled socialism, a dark era (likely irreversible) will manifest itself on a worldwide basis. Why do you want to subject your fellow Americans to that?
It comes down to which John McCain we have here. Is it the John McCain who has developed a big chip on his shoulder? Or is it the John McCain who – when offered by his captors to be released because his father was a high-ranking icon in the U.S. military – honorably refused the release unless it included the men who were captured and tortured along with him.
Senator, your country again needs your support. Don't emerge as willing to allow America to be diminished or dumped on the ash heap of history. Please don't imperil the nation because of a personal grudge. Tell us you're a bigger man than that.
© Wes Vernon
---
The views expressed by RenewAmerica columnists are their own and do not necessarily reflect the position of RenewAmerica or its affiliates.
---