Wes Vernon
Let the judge be the judge

Diluting Judge Jeanine's feisty punch

By
Wes Vernon
September 21, 2015
Eight years ago in this space, we raised the question as to whether the Rupert Murdoch media empire could possibly switch its ideological moorings from conservative to liberal.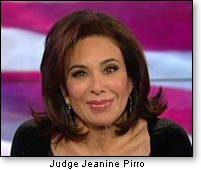 Our answer was that of course it could – as has happened with other once great media outlets that switched sides, often with the torch being passed to younger generations, who then used the same torch to burn their inherited legacies to liberal cinders. (See "
The Murdoch Empire headed for a left turn?
," August 27, 2007)
And the answer is.....
Recent news reports and a weekend Fox News show appear to confirm our worst fears. In 2007, we expressed concerns that Rupert Murdoch's son James was being groomed to begin an ascent toward the upper ends of corporate rankings at Fox News media. We were in error – um, that is if you inferred that James was the only heir to the family fortune to shoot toward the top. There is also James's older brother Lachlan. Both are moving up the ladder in the "family company" according to announcements in March of this year.
The "meaning"? Guess
The best public display that the company may be reflecting the influence of the younger Murdochs – whose outlooks are more liberal than those of their media-giant father – came just this past weekend on the immensely popular
Justice with Judge Jeanine Pirro.
For years, millions have tuned in Saturday night to hear the feisty and respected former jurist take to the airwaves and set the tone for the rest of the hour with her "take no prisoners" commentaries.
Instead, we tuned in (only 30 seconds late) to her September 19 time slot with no beginning commentary – or any commentary on any part of the show. (Her editorials had become so popular, Fox had previously started to schedule more than one of them within the hour allotted her. Her pungent comments usually lasted five to ten minutes filled with beaucoup targets every time. Right on the money.)
Instead, we were treated to uncharacteristic interviews that added very little in the way of content other than to make sure that the mainstream predictable sing-song of establishment media liberalism got in its digs.
Iran and company politics
Discussion of the terrible surrender agreement with Iran was glossed over with platitudes by a woman from the Obama administration appearing young enough to be my grand-daughter and a similar defense of the terrible deal by Juan Williams.
Now with all due respect to Juan (he is a professional broadcaster) – but he gets so much time on Fox to preach the liberal gospel, one could be forgiven for suspecting he lives at the Fox studio.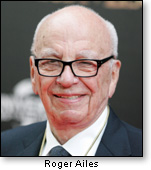 The future?
We may never know whether the younger Murdochs had any direct influence on swaying Judge Jeanine's show on its head. It very well could have been some longtime employees reading the tea leaves of a "new order" coming down the broadcast pike and figuring it was time to switch sides in the interest of keeping their job.
It's hard to believe the judge was happy with the intrusion. James Murdoch has his position apparently despite a bump in the road because of the phone-hacking/bribery scandal that plagued the Murdoch British newspaper properties.
One wonders where the conservative media icon Roger Eugene Ailes was when this upside down shift in programming was made. That programming executive has been quoted as saying he will take orders only from his long-time boss Rupert Murdoch. So where was he when this fuse was lit? We may soon learn. A lot of shoes will likely drop before all this is sorted out.
© Wes Vernon
---
The views expressed by RenewAmerica columnists are their own and do not necessarily reflect the position of RenewAmerica or its affiliates.
---