Wes Vernon
Next crisis: the all-out formal death of the U.S. Constitution--is anyone intellectually arming for that?

By
Wes Vernon
December 19, 2013
Let's accept certain basics as to what is going on and where we Americans are being led. The goal of those who do not like America or its culture is the final trashing of the Constitution of the United States.
This is not my theory. The machinery is moving forward, mostly under the radar.
It is not pure happenstance that, step by step, virtually everything of any substance in the actions and policies of this administration would be endorsed by those who want to take down this country.
This goes well beyond the point of kicking around the words "communism" (albeit with a small "c") or "socialism." Many, including this writer, have deployed such verbiage in describing the policies of the Obama White House and where they are leading us.
Call it whatever suits you, the major policy directions, edicts, mandates, proclamations (official or vocal) emanating from the White House fail to avoid the path that those who endorse Marxism, socialism, communism, or some newly coined anti-freedom "ism" would like to see imposed on this country.
It is less important whether this foreboding is precisely what the president has in mind. Mind-reading is not at issue here. More to the point is that these policies, if not stopped, would result (however gradually) in an America in chains.
Enter 2020
The 2006 book
Shadow Party
reported that wealthy "financier" George Soros, whose dollars have filled the coffers of many a socialist movement, has made
Constitution 2020
his pet project.
Recently, I asked the co-author of that book
,
David Horowitz, for an update on this movement to call a second Constitutional Convention in 2020. Horowitz, a "Red Diaper baby" turned anti-Communist, allowed as how that was "an interesting question, but that he had not tracked it in recent times. When
Shadow Party
was penned, 2020 was 14 years in the future, but now in (late) 2013, it is just 6 or 7 years hence.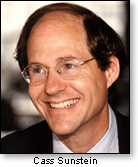 One shudders to think of the ideas that likely will be inserted into any such "second constitution," given the mindset of the crowd that would be in charge of a Constitution in 2020 convention. Start with the fact that Cass Sunstein, leading the charge with Soros's money, is as close to President Obama as anyone in his inner circle. So at the risk of being a "conspiracy theorist," let us grown-ups accept that at least not all coincidences simply fall out of the sky.
The plot?
As Trevor Loudon's well-researched
Ki Wiki
informs us, this movement is based upon the book
The Constitution in 2020, "
a powerful blueprint for implementing a Marxist version of constitutional law in the years ahead...." At the top of the list of "the so-called finest legal minds" whose contributions are included is the ubiquitous Mr. Sunstein.
"His [Sunstein's] position within the hierarchy of the [Obama] administration has earned him the non-official title of 'Regulatory Czar' and he is considered by many to be the most dangerous man in America," Loudon writes.
Others within this orbit
Sunstein's wife, Samantha Power, is the president's U.S. Ambassador to the United Nations. She has advocated "a means to protect international law," a euphemism for a world army under world authority. She has also posited a situation that might justify a mammoth "military presence" in Israel, a comment that has been interpreted as a call for the invasion of America's closest ally in the Middle East.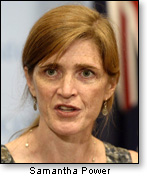 BTW: Attorney General Eric Holder "sat on the board of a Soros-funded group pushing the same 'progressive' constitution in the
Constitution 2020
movement."
Founding Fathers: not good enough?
It is difficult to believe that anyone who values the freedoms the current Constitution provides for Americans would want to tamper with the document (other than with amendments on an ad hoc basis provided within the Constitution and requiring the approval of two-thirds of both houses of Congress and three-fourths of the states. (Note presidential approval is not required. Maybe Constitution 2020 intends to change that.)
There are those who have attempted for decades to undermine the rights granted us by the Constitution. These are "progressives" who have used every means at their disposal to see to it that anyone who disagrees with their worldview pays a price personally, socially, and professionally. And those are the mildest punishments. Imagine what they could do if their proposed path to tyranny were to succeed.
Here we cite the issues specifically cited by the 2020 agenda, followed by our interpretation based on publicly-known views of the "progressives" backing them: Among the issues the Constitution 2020 movement seeks to make a part of the "new" Constitution is the "challenge of..."
New technologies
The untrammeled freedom of speech accorded citizens by the internet has caused much discomfort to dictators around the world. The Communist government of China (for example) has gone to great lengths to bar any website that is rude or insubordinate to the rulers of the world's largest nation (whose current post-World War II form of government came about through efforts of Stalinist Russia and communist agents worldwide, including in the U.S. government, especially the State Department).
Their mindset: How to rein in these impudent citizens who use this new free speech venue? Dangerous to the betterment of the state!
Presidential power
Ah yes! How many times Americans have been hounded about their elected officials who dare challenge a president's agenda. Who are these plebeians who defiantly send their kind to Congress from the provinces who refuse to obey? "We can't wait," sayeth he who rules.
International "human rights"
Here, we encounter such euphemisms for "rights" not as envisioned by the Founders or current American elected officials under our own (first and hopefully only) Constitution. Rather, "rights" as viewed by United Nations bureaucrats with dreams of world government operated by our "betters."
Religious freedom
Our current "out of date" Constitution leads its First Amendment with the words, "Congress shall make no law respecting an establishment of religion, or prohibiting the free exercise thereof...." What part of those words do our "betters" not understand or wish to change? End of story.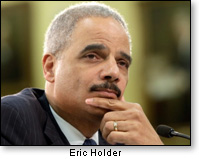 Freedom of speech
The First Amendment goes on to say
"[Congress
shall make no law]...abridging the freedom of speech of the press or the right of the people peaceably to assemble, and to petition the Government for a redress of grievances." (Notice the absence here of any mention of "freedom of speech except when politically correct dialogue is violated...." But not to worry (wink, wink), that goes without saying.
(Continuing with issues listed by supporters/writers of
Constitution 2020.
)
Voting
What will you wager that Eric Holder (who as noted, is in on all this) would have plenty of input on this particular issue? Just imagine words that strongly imply, "Anyone walking into a voting location minus registration or I.D. shall be permitted to cast a ballot and (if desired) to stand guard at the voting entrance, address duly registered voters as "crackers," and otherwise intimidate all those attempting to cast ballots while suspected of having incorrect thoughts."
Reproductive rights
Oh, sure, don't you remember? In 1776, George Washington, Benjamin Franklin, and Alexander Hamilton got into a big debate over whether "the surplus population" should be reduced by killing kids in the womb (and sometimes immediately afterward). Remember that? No? Well, we're going to fix that one, aren't we? Justice Harry Blackmun in 1973 did not quite finish the job.
Economic rights
This one is delicious. The evil "1 percent." Why don't we just shoot them? Or short of that, just apply the Marxist motto: From each according to [its] ability, to each according to [its] need." The term "its" is herein applied as per political correctese; "gender neutral" language is required. The use of the terms "his" or "her" have been banned (as of 2020) on penalty of hard labor imprisonment. Even Brother Marx had not heard of this, though he would surely be pleased
Surely this is not the full extent
Neglecting gun control?
Relax. The UN is already trying to deal with that. Confiscation begins before the ink is dry on this document.
What about illegal immigration?
Tsk! Tsk! Why bring this up? Stealth has been doing the job for us. By 2020, the requisite 10 million imported Democrats (ooops! we mean "undocumented") are already registered and voting. Wait until you see the twisted pretzel-like language our prime movers have for the question of how one defines the word "citizen."
Gay marriage?
Don't worry. The Saul Alinsky style of "isolate and destroy" has worked. "If it ain't broke, don't fix it."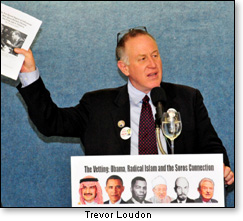 Again a comment by Loudon: "It [the 2020 list of public proposals] is a propaganda piece laid out in painstaking and alarming detail." Bingo!
The president?
It is a dereliction of duty that neither of Barack Obama's opponents in 2008 or 2012 challenged him to take a stand on
The Constitution 2020.
The Soros dream plan had been publicized by then. And by 2012, it was clear the president was surrounded by principal players in the 2020 movement. Do we have a challenging political party, or don't we?
Is all of this part of President Obama's steady, time after time, refusal to govern by the constraints of the Constitution? Once that becomes normal practice, the sense of outrage may be reduced. Maybe that's the idea.
This administration has practically begged the citizens of this country to do anything about it. Perhaps the president figures he is protected unless general political support emerges for impeachment or the judicial branch of government pushes aside any attempt for relief via that route.
Without accountability, we will be unprepared for 2020. "They" are counting on us being ripe for the kill (as predicted by Lenin) when the time arrives. Merry Christmas anyway.
© Wes Vernon
---
The views expressed by RenewAmerica columnists are their own and do not necessarily reflect the position of RenewAmerica or its affiliates.
---