Wes Vernon
'The Romney' as viewed by a Massachusetts conservative

By
Wes Vernon
December 8, 2011
The mainstream media have pounced on every GOP presidential candidate widely perceived (correctly or not) as credibly equipped to articulate conservative issues in the 2012 election campaign.
Which "top-tier" candidate is relatively unscathed by the national deciders as to what is reported and what is not? Mitt Romney — until very recently the front-runner. So why have liberal pundits not hounded him for his shortcomings?
From all appearances, Romney is the candidate favored by the Republican Party establishment, and also the GOP nominee most desired by the lions of liberalism, including the "prestige" or "legacy" media.
The leftists, of course, are for Obama. But from their point of view, if they must go through the undignified plebian exercise known as an election, they would prefer the president have as his opponent a RINO Republican perceived as less disposed to sass back Mr. Obama on substantive issues...i.e., the president's radical cultural views.
Media picking Obama's opponent?
Romney's problems with "Obamneycare" in Massachusetts have been thoroughly vetted by his GOP opponents. Some attention has been accorded his waffles on abortion. Less well-known (outside his state) are his actions on the issue of same-sex marriage.
We are told that whatever his flaws, the former governor of the Bay State has the best chance of ousting Obama.
Not so fast, says Amy L. Contrada in
Mitt Romney's Deception: His Stealth Promotion of Gay Rights and "Gay Marriage" in Massachusetts.
Record vs. image?
It's not as if the author has some longstanding grudge against the one-term governor of her state. Quite the contrary, she actively backed Mitt Romney in 1994 when he ran for the U.S. Senate against incumbent Edward Kennedy, and voted for him for governor in 2002.
She is well-educated (graduate of Tufts University, B.A. summa cum laude in history, later earning an M.A.T. in social studies from Brown University). Apparently, her hobby is (or was) making violins, a skill for which she received a diploma and later engaged in as a profession until old injuries interfered. She has also worked as a department administrator and staff assistant at Harvard, and a high school teacher.
We cite this background as a preface to the question: What would prompt a woman of no small accomplishment to turn against a candidate she had previously supported to the extent of writing a 639-page book documenting in detail his actions favoring same-sex marriage — with names, dates, places, news dispatches, and commentaries (including some from those who disagree with her point of view but whose remarks — likely not intended — bolster her case)?
"Deception?"
The word "deception," as it appears in this book's title, may seem harsh. As a political reporter, I have for years covered politicians who mouthed platitudes obviously motivated less by concern for pinpoint accuracy than conscientious attention to their political fortunes. So what else is new? Ms. Contrada, who has resided in Massachusetts for 40 years, apparently believes that even by that standard, Mitt Romney has crossed the line.
Deeds vs. "gut"
When the Massachusetts Supreme Judicial Court announced its patently unconstitutional pro-same-sex marriage decision in November 2003, Governor Romney was "hit in the gut," according to one report.
Whatever his inner predilections, Mitt Romney's record as governor of the Bay State includes an "unconstitutional implementation of gay marriage" — a serious indictment Contrada supports amply in her book, focusing not on his "gut," but his actions.
Beyond his failure to lead the charge against the court's outrageous power grab and its disrespect for the meaning of Massachusetts' constitution as understood for centuries, the governor placed feet on opposite sides of this irreconcilable divide. Supporters of traditional marriage got (much of) the rhetoric. Advocates of same-sex marriage got the meaningful action.
Before and after the court's finding, Romney was involved in strategies that entailed a series of proposed constitutional amendments whose sincere backers wanted to define marriage as between one man and one woman. Contrada believes the strategy was doomed — if not designed — to fail, thanks in no small part to Romney's role, or missteps. Next to the twists and turns of that Machiavellian exercise, Shakespeare's plots are simple. Bottom line, writes Contrada: Romney "had four opportunities to help pass an amendment, but struck out all four times."
Meanwhile, the state's legislature declined to adopt legislation to facilitate implementation of the court decision. That was not a principled act of defiance. The lawmakers simply did not want to go on record regarding the issue.
But their mere failure to act added to other reasons Governor Romney could have cited as justification for making no moves to implement an unconstitutional court order (driven by Chief Justice Margaret Marshall, who BTW was the wife of former far-left New York Times columnist Anthony Lewis). The governor could have cited his own oath to defend the state constitution. Instead, he ordered the issuance of marriage licenses to same-sex couples [of his own initiative, entirely without authorization from the court, or the legislature, to do so].

Moreover, Governor Romney blurred the issues at hand by joining others, including editorial writers, who insisted on referring to the state Supreme Court's decision as a "law."
That ignores the fact that it is not a judge's prerogative to "pass a law" in Massachusetts — whose constitution expressly forbids it. Lawmaking is the sole prerogative of elected legislators, that document makes clear. Further, the author notes that — going back to Thomas Jefferson's time — our nation has been warned of the perils and damage to our Republic inflicted by over-reaching judges whose thirst for enhanced power could lead to a de facto judicial oligarchy.
The Massachusetts activist cites Romney's political alliance with pro-gay Log Cabin Republicans and other promoters of same-sex marriage as influencing his opportunistic imposition of same-sex marriage in Massachusetts — making the state the first in the U.S. to grant marriage licenses to gay couples.
But that's not all
Add to that indictment the-then governor's support for "sexual-radical programs" in the Massachusetts schools. The book further alleges that Governor Romney failed to defend Catholic charities on the issue of homosexual couples adopting children — which the charities refused to sanction since it was against their religious teachings, but were ordered to implement anyway.
Getting away with it
Judges who overstep the constitutionally-authorized limits of their authority should be held accountable to the people who pay their salaries: the taxpayers.
In Iowa, the voters were able to vote errant judges out of office — over the same issue of "gay marriage."
It's not that easy in Massachusetts. But it can be done. And here too, Governor Romney went AWOL. Since judges in the Bay State are appointed and not elected, their removal must garner a majority vote of the state legislature and the eight-member Governor's Council, with the governor's approval. In this instance, the governor did not lift a finger to support a citizens' move in the state to set that process in motion.
Mr. Romney's inaction came about even though Chief Justice Marshall had a clear conflict of interest in the case. She had addressed the Gay and Lesbian Bar Association of the state and passionately advocated for its causes "even absent constitutional mentions." Ironically, Marshall added a warning against "legislative and executive excesses" (apparently judicial "excesses" were OK).
Through the refusal of the ethically-challenged Marshall to recuse herself and because of the illegitimacy of the ruling itself, the Massachusetts Constitution — written in 1760 by John Adams himself — was summarily trashed. By his inaction, Governor Romney was complicit.
So where does this leave us?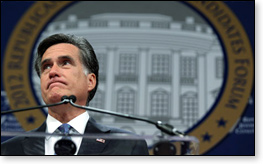 Then why is this information little-known outside Massachusetts?
Good question. The media have taken down or tried to take down every candidate who threatens Romney's frontrunner status (now in a diminished position as I write this). Why have they not shined the light of pitiless publicity on this skeleton in Romney's closet? Could it be that they want him ending up with the GOP nomination?
Perhaps they are holding back this damning information until
after
he gets the nomination and becomes the only person standing in the way of a second term for their candidate — the incumbent. To give this issue the national spotlight during the general election campaign would serve to demoralize conservative voters — the Republican Party's base. But for now, it's shhhhhh.
This column remains uncommitted to any candidate in the GOP primary. We desperately desire the exit of the Marxist revolutionary now in the White House.
It is for that reason we would argue that conservatives need to face to up this Romney issue and try to get it into the public square
now,
and let the candidate give his explanation. If the explanation doesn't hold water, better it's out now than after next year's conventions are over.
© Wes Vernon
---
The views expressed by RenewAmerica columnists are their own and do not necessarily reflect the position of RenewAmerica or its affiliates.
---