Wes Vernon
Part 2: the candidates and the debates--a candid review

By
Wes Vernon
September 26, 2011
There's a lot of money and political activism idling on the sidelines — held in abeyance by key figures amongst Republican-oriented groups and individuals. That "smart money" (in currency and political acumen) is waiting for
the
perfect candidate to take on Barack Obama.
We now have in the White House what is very widely and credibly believed to be the worst president in history. The Number 1 priority for saving this country is to see that he is dislodged. Millions believe Barack Obama is not only a failure, but a dangerous failure. He may seem brilliant in the Harvard professorial sense, but as a president, he is a community organizer whose credentials for organizing a one-car parade are in question. That is not to say he is incapable of completing his goal of making our America a socialist republic.
The Republicans continue their search for the right man or woman to lead the fight to save America. Toward that end, we continue herewith to review the current line-up with their strengths and weaknesses. (
See Part 1 — 9/22/11.
)
Mitt Romney:
Normally, a former governor with a solid background of successful business management would be the logical anti-Obama — made to order for the 2012 challenge.
Mitt Romney looks the part and projects a friendly "in charge" image, and it is not hard to imagine that in many key respects, a Romney White House would in fact be what the Obama White House is not.
The former Massachusetts governor made a good showing in his 2008 quest for the GOP nod, but Republicans — at their unimaginative best — decided to go with John McCain largely because it was "his turn."
Mr. Romney last year made the best-seller list with a de facto manifesto
No Apologies.
I gave the book a (mostly) favorable review for the
Washington Times.
He does outline a lot of good sense — on paper.
But in the White House, a common-sense book does no more for good results than Obama's rhetorical effusions about calming the winds and parting the seas.
It has been said so often that it has become a cliché: Put Romney on the ticket and Obamacare goes off the table. He strenuously argues otherwise. "Romneycare" in Massachusetts, the candidate argues, was a state issue, as opposed to the federal reach of Obamacare, and besides, the program is "popular" (in liberal Massachusetts).
First thing he will do after he's in the White House, Romney assures us, is grant all 50 states a waiver on implementing the stringent, costly, and dictatorial provisions of Obamacare. His state-level plan, the governor insists, applied only to the 8 percent in the state who previously had no insurance. Disingenuous! The plan applies to everyone in Massachusetts. Obama could make a similar distorted case for his plan, arguing that the law would apply only to those nationwide who previously had "no insurance." Romneycare applies to everyone in the state, just as Obamacare's restrictive provisions apply to 100 percent of Americans. When will one of Romney's rivals call him on that?
But does a mandate that forces citizens to purchase health insurance comport with the American way — whether imposed on the state or federal level?
The answer, according to his conservative critics, is no. Add to that...
1 — The infamous "flip-flops" on issues from abortion to gun control.
2 — An economic plan the
Wall Street Journal
calls "surprisingly timid," and we might add.......
3 — Some passages in
No Apologies
that sound the Wilsonian plea for over-involvement in nearly every far-flung corner of the earth, apparently even when American interests are difficult to discern. Between — on one hand — the absolutist, non-interventionist ideas of Ron Paul and — on the other hand — the Wilsonian war habit, our best interests are best focused on an American-centered foreign policy, period.
Romney can be faulted for tailoring his Social Security rhetoric not to the realities of the financial crisis that awaits the program, but to opportunistically adopting the Democrats' head-in-the-sand rhetoric in order to demagogue Rick Perry's statements on that issue (about which, more below).
Some establishment Republicans seem to assume that Mitt Romney deserves the nomination because it's "his turn." If the GOP in its wisdom decides to nominate the governor, hopefully it will be on the candidate's merits, not on the old monotony of his "inside the club" credentials and ability to trim his principles to the demands of the immediate political circumstance.
Rick Perry:
In his ten years as Governor of Texas, this candidate has achieved remarkable success. He has applied the first principles of free enterprise to encourage other Americans to come to his state to invest their money or to seek employment. No one can take that accomplishment away from him.
Moreover, the governor late last year wrote a book,
Fed Up,
where he presented some interesting and on-the-right-track ideas on such hot-button issues as abortion, same-sex marriage, the income tax, balancing the budget, selecting our U.S. Senators, overriding court decisions, and ending lifetime appointments to the courts. Our column (s
ee "Rick Perry — candidate of real change?" — Sept. 1, 2011)
did not agree with the Texan on all details, but did applaud his desired ends.
Governor Perry has been widely — and unfairly — criticized for his description of Social Security as "a Ponzi scheme." I've been defining it in that terminology for years. So have many others. Americans have every reason for bitter resentment at being forced to hand over gobs of money out of their paychecks to a federal government that uses the cash for multiple schemes unrelated to the retirement of those whose pockets are picked.
And all of this in exchange for IOUs that are effectively worthless. Had Americans been allowed to use that money to invest in a personal retirement plan that would give them greater control, they would have been better assured of a worry-free retirement.
The Texas governor is correct on the substance of this issue. His explanation of the details falls short of clarity and has handed Romney the gift of an opening for his demagoguery.
However, the biggest impediment to Mr. Perry's drive for the White House is his open- borders stance on immigration.
He once openly declared he was "open" to amnesty. He opposes the Arizona law; opposes building a fence on the border; says states should not enforce immigration laws, presumably even if the Eric Holder feds refuse to do so; and has implemented in-state tuition for illegal aliens.
There are those who believe Governor Perry's open borders views are a plus for the general election campaign. The dubious supposition is that this will attract a greater share of the "Hispanic vote." This is an insult to legal Hispanics, suggesting their vote can be bought with government law-breaking. It also effectively says to hell with those foreign nationals (Hispanic or otherwise) who came here legally and went through the citizenship process, complete with all the hoops and paperwork.
I don't believe that we are (yet) political prisoners to a minority supporting Mexico's drive to solve its self-inflicted economic problems by encouraging its poor souls to invade the United States.
If that assessment is incorrect, and a U.S. president cannot be elected unless he will acquiesce to what amounts to an invasion by a foreign government (read Mexico), then forget it. If it comes to that, the invasion is succeeding. We must then have a conversation as to whether we — a once-free people — are beholden to a foreign power whose aims can be defined as hostile. At that point, "unthinkable thoughts" begin to circulate. The word "sovereignty" would be out the window — just for starters.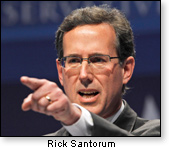 Rick Santorum:
Here is a candidate who has been largely ignored. That is unfortunate. The former two-term Pennsylvania Senator has much to offer in terms of experience and substance. His
It Takes a Family (
and not a Hillary-style "village") is a good read, and puts him on the right side of all the social issues.
No doubt, as he indicated, he has indeed forgotten more about foreign policy than some rivals have learned. However, Senator Santorum is having problems defining that point at which a justified war ends and perpetual war supposedly for perpetual peace begins. Sometimes he sounds like a neo-con adventurist. Hopefully, he will clarify.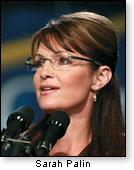 Sarah Palin:
We are now in "undeclared" territory — i.e., those talked about as candidate material, but as yet unannounced.
The vile, gratuitously hateful attacks hurled at Sarah Palin from the moment she emerged on the political scene two years ago have exposed a deep-seated off-the-charts liberal hatred (to the point of distraction) of any woman with conservative views who shows interest in attaining high public office.
Is it the same-old same-old liberal vs. conservative politics? Or — is it something else — like a trembling fear that influential conservative women can push back against the radical feminist family-destroying agenda in America?
Does Hollywood have producers unwilling to goose-step to Tinsel Town's propaganda line, and risk their careers in the process? One might imagine a movie portraying the Alaska governor's more virulent critics as consumed by an irrational hatred vaguely reminiscent of the movie-Nazis depicted for us in World War II flicks.
Sarah Palin is a Fox News contributor, where she will not "sit down and shut up." A presidential hopeful in 2012? We'll see.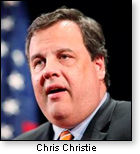 Chris Christie:
The New Jersey governor was reported by last week's
Panel Plus
(the web addendum to
Fox News Sunday
) as finally reconsidering his vow not to seek the presidency in this cycle.
In the past, Governor Christie has said he is not ready for a White House bid, preferring to complete his cleanup campaign against the big-spending sacred cows (teachers unions for example) that have thrived under previous administrations of both parties in the Garden State.
Governor Christie was able to persuade a Democrat legislature to approve his budget, proving an ability to work with his opponents without sacrificing his ultimate goals, a Ronald Reagan talent that has eluded many other Republicans.
Paul Gigot of the
Wall Street Journal
broke the story on
Panel Plus
that Republican operatives and conservative activists have told Christie he doesn't have the luxury of waiting until he's re-elected to a second term as governor — that other presidential candidates have faltered and that he is needed in the White House race. They have told the New Jerseyan, "This is your time."
If the blunt-speaking Christie does decide to join the Republican presidential race, he will immediately be put to the test as to whether his "tell-it-like-it-is" approach will work as well nationwide as it does in his state. The governor's "street-corner conservatism" has led him to tell off some pretty powerful interests to their faces on state and national television, signaling that their days of living high on the New Jersey taxpayers are at an end.
But some on the right will raise questions as to whether — deep-down — Christie's "conservatism" is substantive or merely stylistic. (His 2010 support for the "moderate" Senate candidate Mike Castle in a primary race in neighboring Delaware, for example, won him no conservative plaudits.)
If Governor Christie goes national, right away there will be an instant analysis as to whether he is the GOP's last conservative hope or — on the other hand — a "moderate" with a mouth.
Looking ahead
This column is not being coy. We identify with those who expect to oppose Barack Obama even if the Republicans nominate a horse (a fantasy intended to make a point).
Getting the incumbent out of the White House in 2012 will in fact determine whether we remain the America envisioned by the Founders, who sacrificed everything to bequeath to us a unique society based on individual initiative.
All of that will end if Obamacare and other government diktats of a straitjacketed regulation-heavy nightmare go forward, a socialist dream for decades.
It is not for nothing that we have broken our self-imposed 1400-word maximum length rule for this column (the second of two parts) to explore the pluses and minuses of those who seek to oust the current socialist regime.
The time for conservative activists to pay attention, to plan, and to strategize is now.
© Wes Vernon
---
The views expressed by RenewAmerica columnists are their own and do not necessarily reflect the position of RenewAmerica or its affiliates.
---