Wes Vernon
Yes, some children do lie

Getting away with slander

By
Wes Vernon
May 16, 2011
So some social workers tell us "Children never lie" about sexual abuse?
Garbage! Totally discredited herewith:
But first some perspective
Dr. Richard A. Gardner, a Columbia University professor of child psychiatry, is skeptical of the practice of many Child Protective Service (CPS) workers who describe their job as that of "validators."
That term, opines Dr. Gardner — whose thirty years of experience is noted on the website
ChildCustodyCoach.com —
raises questions about their objectivity.
"They, of course, hold that 'children never lie about sexual abuse,' and they accept as valid every statement a child makes that might verify sex abuse." Dr. Gardner dissents.
A case history
His doubts are vindicated in a long article in Sunday's
Washington Post,
about a 12-year-old "child" who lied through her teeth and — because she is a minor — does not have to pay a price for it.
It all started the day in January 2010 when Coach Sean Lanigan was yanked out of the phys-ed class he was teaching at Centre Ridge Elementary in Fairfax County, Va. — a part of Metropolitan Washington, D.C. — and directed to an interrogation by two police officers.
Nicey nice, then go for the kill
The (Keystone) cops at first were very nice to the coach, before they got to the point of the visit. After 25 minutes of "get to know you small talk," the lead detective Nicole Christian said, "You really have no idea why you're here, do you?"
Without meeting the accuser herself or the girl's parents, Christian had Lanigan arrested. The closest she had come to the accuser was to watch on a remote video as the student was questioned by a social worker with the Fairfax child protective services. Detective Christian and the school's investigator questioned the girl's friend who backed her up.
Character
Lanigan — 43, married father of three — had a long service as a teacher. The top-rated soccer coach, carpool driver, and neighborhood baby-sitter had to tell his children that "Daddy was going to jail and my name was going to be on the news." It was obviously heart-breaking.
Most of the kids at school (obviously with the exception of the accuser and her closest friend) loved Coach Lanigan. He had their utmost respect, as he reminded them that "your school work comes first."
Revenge
What apparently set off the animosity of one vindictive student was that she was reprimanded by Coach Lanigan after he learned the girl had been abusive to other children while she was on patrol aboard a school bus. He warned her that she would lose the privilege of being on patrol if she did not behave.
That conversation was witnessed by another school teacher who warned the 12-year old that she could lose her position as news-reader on Centre Ridge's morning TV show.
Also witnessed — as revealed in testimony at Lanigan's trial — was the girl's saying to her friend, "Mr. Lanigan's a jerk. I'm going to make him pay."
"Make him pay?" Maybe the self-absorbed little snip thinks 40 years in the penitentiary is just "payment" for the wounded pride of her "all-about-me" world.
The charges
The accuser told her parents the coach had forced her down on a mat and fondled her inappropriately. Among other things, it was clearly shown in court that the mat could in no way fit in the room where she placed it in her story.
If ever there was truth to the throw-away line that a prosecutor and grand jury "can indict a ham sandwich," this is it.
Incredibly, a
fter
the accuser and her friend recanted their stories, the Fairfax prosecutor Raymond Morrogh refused to dismiss the case.
The verdict
But in the trial that ultimately followed, it took the jury only 47 minutes to return a verdict of "Not guilty," an unheard of quick decision in a sexual abuse case.
As the attorneys made their closing arguments, juror Jacklyn West wept in the jury box. "There was no evidence," she said after Lanigan was acquitted. She added the 12-year-old "apparently had no idea of the consequences of her allegations. This poor man. That's why I cried."
Oooops! Sorry?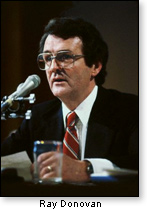 Juror West apparently was a rare decent human being in Lanigan's unjust entanglement with the local "justice" system. After vindication, he could very well have repeated the plea so famously made by former Labor Secretary Ray Donovan when he too landed in the crosshairs of a venal prosecutor — "Where do I go to get my reputation back?"
Incompetent board plays God
The Fairfax School Board — previously dubbed by one Virginia legislator as "dysfunctional" — still treats Lanigan as if he were guilty. After he asked the board to follow Virginia law and reimburse his legal fees on a charge for which he was found innocent in a court of law, the board sent him a check for $60,000 — less than half of his legal fees.
That board has been elected for only a few years. It is so incompetent that some are considering making it appointive again. Here's a better idea: What's wrong with a high-profile "Throw the bums out" campaign?
Other miscreants
Another priority should be to break up the police cover-up in the case. They will not allow lead detective Nicole Christian to be questioned by the media, instead turning them over to some flak catcher with no firsthand involvement.
This woman should be demoted or dismissed for her sloppy handling of the case. I admire the cops when they stick together against some dirtbag who wipes out one of their own or when they are unfairly second-guessed. Less admirable is the knee-jerk inclination to close protective ranks around an undeserving colleague, forgetting that they are not a law unto themselves. They work for the taxpayers in their communities.
As for the prosecutor who refused to dismiss the case even after the accuser and her friend recanted, I trust the Virginia State Bar has an ethics panel that can deliver swift justice to those of its members who abuse their positions. Disbarment proceedings should not be out of the question.
This nightmare has left Sean Lanigan and his family flat broke. Surely, as well-liked as he is by so many of his friends and neighbors, a committee can be formed to seek redress of grievances. If such cannot be imposed on the child, are we to believe that her parents' failure to raise that kid to respect people other than herself leaves the parents blameless for the wrong she imposed on the coach and his family?
Speaking of which: In extreme cases, it might be time to review and consider exceptions to the law that says the name of a minor in such a case can
never
be publicly revealed.
During her testimony, the accuser sometimes sank so low in her witness chair that the jurors could not see her. But she did admit A — she had a history of bullying younger children, B — she was mad at the gym teacher for not playing her favorite music in PE class, C — she told other kids she hated Mr. Lanigan
before
the allegations. Reform school would be a reasonable option for the brat.
Never
lie?
Finally, in dealing with the Child Protective Services' dictum that "children
never
lie" in sexual assault cases, back to the comments of Dr. Richard Gardner:
"[T]here's a network of school workers, mental health professionals, and law enforcement officials that actually encourages charges of child abuse — whether they're reasonable or not."
As
Child Custody Coach
adds: "In effect the Mondale Act, according to some professionals, despite its good intentions, created — and continues to fund — a virtual child abuse industry, populated by people whose livelihoods depend on bringing more and more allegations into the system....While it seems unlikely that most social workers and mental health professionals fit the extreme profile,...it's scary to think that even one would have those intentions."
Comment: the "Mondale Act?" Might have known some wooly-headed politician had a hand in this. Good to know, but a fat lot of good that does Sean Lanigan and his poverty-stricken family — their lives in shatters. They need to be made whole again. "Ooooops! Sorry!" doesn't cut it.
© Wes Vernon
---
The views expressed by RenewAmerica columnists are their own and do not necessarily reflect the position of RenewAmerica or its affiliates.
---