Wes Vernon
George W. Bush--a retrospective

By
Wes Vernon
February 2, 2009
I've thought long and hard before sitting down to write this assessment of the recently concluded presidency of Bush 43. Sorting it out requires considerable time and contemplation.
Up front
Before attempting a balanced verdict, we should have an understanding of the yardstick being used here:
1 — In modern history (late 20th/early 21st century), there has been only one conservative president — Ronald Reagan. By the Reagan standard, George W. Bush was no conservative. He was conservative on some things, but he was not guided by a "big picture," core conservative philosophy. He surely believed he was guided by a spiritual "big picture" (as can be said — to varying degrees — of his predecessors), and the two "big pictures" are not necessarily mutually exclusive. But this is a politically-oriented column, so we here will deal only with the political compass. And by that standard (though an improvement over his father), George W. Bush — again — was not a conservative.
2 — Thus, it follows that when some of my fellow conservatives say Bush "betrayed" conservatives, I cannot concur nor feel betrayed — since I did not see him as a true conservative in the first place. The last real conservative president prior to Reagan — in my view — was Calvin Coolidge (before my time).
We here judge White House occupants by that standard.
The GOP's political suicide complex; the tree stump presidency
Herbert Hoover paved the way for FDR's sharp turn to the socialist left, just as some critics of Bush 43 have complained that his big spending smoothed the path for Barack Obama (arguably America's first full-fledged socialist president). General Dwight Eisenhower was (politically speaking) a product of the Eastern seaboard liberal internationalist wing of the GOP, and as president he governed accordingly...During Richard Nixon's regime, conservatives got the rhetoric and liberals got the action — even though they hated him because in his earlier congressional career, he had exposed their Marxist darling Alger Hiss as a traitor and a Soviet agent...George H.W. Bush (Bush 41) did in fact betray the Reagan revolution, especially by raising taxes. Here, we use the term "betrayed" because we incorrectly assumed that — his "moderate" background notwithstanding — there was no way a vice-president could lunch with Ronald Reagan at the White House every Thursday for eight years and not learn something. Only later did it become evident that Reagan might as well have been talking to a tree stump......As for Gerald Ford — well, the less said, the better.
So, having "come from" the standards applied above, we have some decidedly mixed feelings about George W. Bush.
He has been gone for only a few days, and already we feel a twinge of nostalgia for our 43rd president — not only because Obama is living down to our expectations and then some — but because Bush 43 may turn out to be America's last free-market president. We have outlined in previous columns our belief that Mr. Obama intends to use his initial months in office to leverage a permanent pro-socialist Democrat majority in office.
This will be accomplished by the Stalinist Doctrine (aimed at yanking conservative talkshow hosts off the airwaves); the gerrymandering of congressional and state legislative districts in 2010; advanced voter fraud, including the misuse of laws on the books (the "auto-fraudo" law enacted in the Clinton years), plus Al Franken-like vote "counting" through the (sometimes criminal) activities of the likes of ACORN; socialist "health care" making more Americans dependent on the almighty government; and the effort to put some 20 million illegal aliens (and likely Democrat voters) on a "path to citizenship." There may be some pushback to this in the 2010 mid-term elections, but by then it will be too late. The seeds for the future blossoming of a certified socialist dictatorship will already have been planted.
Thus given what we now have, it's hard to be overly harsh with Bush. But we will attempt balance nonetheless.
The good
First and foremost, we can be forever thankful that President George W. Bush kept this country safe during all the years after 9/11, which earned him a relentless 24-hour-a-day battering from the "Hate America" left. He accomplished this through NSA wiretaps of conversations between terrorists abroad and animals on our soil whose aim was to kill Americans, and by tossing the worst of the worst into Gitmo. (Were it up to this column, he would have tossed the key into Guantanamo Bay.)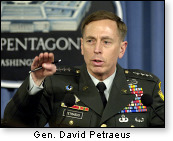 Secondly, he supported General Petraeus' Iraq surge which has worked well. Had he gone with this in the first place instead of the Rumsfeld "small army" strategy, the goals of the war would have been realized sooner, and Mr. Bush would not have had to end his presidency with approval ratings at historic lows.
Third, he enacted supply-side tax cuts. This is what brought the U.S. economy back from the depths of post-9/11. (The 2008 nosedive in the economy might well have been averted or softened had the Democrats on Capitol Hill not insisted on writing into laws dates-certain for the revival of the higher tax rates.)
Fourth, Mr. Bush lifted the ban on offshore drilling, thus providing substance to the GOP slogan "Drill, baby, drill!" — a matter of urgent national security, as well.
Fifth, our 43rd president signed the ban on partial-birth abortions.
Sixth, he refused to sign the Kyoto Accord on the worldwide fraud known as "global warming" (it went by that nomenclature until Al Gore's lectures in the midst of snowstorms gave birth to the more discrete term "climate change").
Seventh, as to what is likely his most lasting legacy, George W. Bush is always to be honored for appointing two young strict constructionist judges — John Roberts and Samuel Alito — to the U.S. Supreme Court. This assures us of some voices on the court in future decades who see the judiciary as an objective interpreter of the law and the Constitution, and
not
as a supreme legislature whose lifetime appointments entitle its members to strike down laws they don't like, or to make laws they think
ought
to be on the books whether or not the great unwashed favors them.
Eighth, Mr. Bush had the sheer guts to mow down the usual beltway peanut-minded games whereby bureaucrats undermine the appointees of presidents for whom they nominally work. President Bush ignored the backstabbing and recess-appointed John Bolton as UN ambassador. In putting this America-first patriot in place, the president bypassed the bureaucracy's midget-enablers Barbara Boxer and George Voinovich.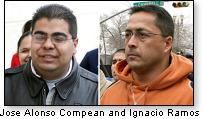 Ninth, it took him an inordinately long time to bring himself to doing it, but Mr. Bush deserves credit for commuting the unjust sentences of the border patrol agents Ignacio Ramos and Jose Alonso Compean.
Tenth, a few years from now when the Social Security system goes bankrupt, how many of the liberals in the media will recall that George W. Bush had the courage to try to tackle the problem? Or that he was blocked by street-corner demagogues like Richard Durbin who were boosted by the million-dollar ad campaign of the "non-partisan" AARP? The Bush effort failed for one reason and only one reason: It threatened the power of the almighty big government god. Can't trust the bourgeoisie with their own money, now, can we?
The bad
Alas, there is no denying the following:
1 — Under the Bush administration, discretionary spending continued to rise and thus big government ballooned. Leading to 2 — The man unfortunately vetoed only one spending bill.
3 — After eschewing "nation-building" during the 2000 presidential debates, by the time the 2005 inaugural came around, the president was talking about doing just that, saying we must work to spread democracy around the world. That is very Wilsonian.... "Making the world safe for democracy:" That mentality is precisely what led to every disaster in the 20th century (and compounded in the 21st).
4 — Despite his personal opposition and his well-founded doubts about its constitutionality, President Bush signed the anti-free speech McCain-Feingold campaign finance "reform" law. This he did in order to get John McCain off his back. That personal squabble did not justify putting on the backs of the American people a bill to shut up political dissent.
5 — In order to get his hugely expensive Medicare prescription drug program, President Bush caved in to Ted Kennedy and other socialists who wanted as much government control as possible. In a classic case of the one-way street "moderate" move at "reaching across the aisle," the president abandoned his original proposals to put the plan largely in the private sector where it belonged. This may pave the way for Obama's massive "health care" plan — likely to drive the final nail in the coffin of the unique America as we have known it.
6 — Slouching toward his father's disastrous David Souter moment, the president tried to put the unqualified Harriet Miers on the Supreme Court. That was withdrawn. I guess we need a conservative vs. Republican fight like this every now and then just to make sure the conservative movement is not comatose.
7 — While doing mostly the right things on energy and environmental policies, Mr. Bush handed liberals ammunition by echoing some of their rhetoric about "global warming" and an "addiction to oil." Also he refused to visit ANWR to expose to the world the Marxist "environmentalist" propaganda about its alleged "beauty."
8 — President Bush was unnecessarily stingy with his pardons — the opposite extreme of the Clinton policy of handing them out like sample candy-bars on a street corner.
Commuting Scooter Libby's sentence was the least he could do. But by not giving him a full pardon, the president left this loyal public servant at a disadvantage as he tries to make a living. Shabby treatment of a man who was jerked around by an Inspector Javert-style prosecutor in the phony Valerie Plame frame-up. Libby now will never practice law again. This is one (rare) instance where the president would have been well-advised to follow in the footsteps of his father who totally pardoned the defendants in the Iran-Contra witch-hunt.
Similarly, while commuting the sentences of Ramos and Compean was way overdue, the president failed to pardon them for simply doing their jobs at the border. The imperfect way in which they carried out that responsibility was the subject of Monday-morning-quarterbacking, and was worthy of nothing more severe than a reprimand.
9 — His was the most anti-rail administration in history. That short-sightedness has ramifications in many areas, including dependence on acquiring energy from parts of the world that hate us.
The ugly
The president's failed effort to ram an amnesty bill down the throats of a resistant public was a delicious victory for the millions of grassroots Americans who respect our immigration laws (the most open and generous in the world). Many of our ancestors in this "nation of immigrants," understood that the right "path to citizenship" did not begin with lawbreaking activity at the very moment they set foot on U.S. soil. What was ugly about this transgression was the "in-your-face" White House attitude. Thank God for talk radio.
Those WMDs
We have a mixed bag here. But despite his short-comings, the man who just left public service to return to his beloved Texas (where neighbors and others who know him accorded him a warm welcome home) is a decent human being.
He was right in going to war in Iraq. Of course, the reported failure to find WMDs subjected him to endless ridicule. The fact is, however, that intelligence services worldwide had concluded that Saddam Hussein had weapons of mass destruction — which, by the way — he had used on his own people. Even if no WMDs were found on our arrival, this column remains convinced that there had been WMDs in Iraq before our troops landed there. We have even cited one credible report as to how they were removed in time. Consider that in the 18-month lead-up to the Iraq War, there were well-publicized rhetorical, diplomatic, and political battles over whether we should or should not launch the attack. Does anyone believe Saddam Hussein was stupid enough to sit in his office during all that time waiting for the marines to arrive and take him captive with WMDs as evidence? They executed him anyway, but at the time, the man was doing what he could to save his skin. It is absolutely logical to believe he had WMDs removed.
Bush derangement syndrome
The pure hatred and unrestrained bile heaped upon this president may have set a record — surely in relatively modern times. Even Richard Nixon and Bill Clinton didn't attract anything like it. Here we had a president who was the subject of movies fantasizing about his assassination, plus over-the-top rhetoric comparing him to Hitler. I've lived for decades with someone who actually lived under Hitler as a kid. I assure you she can explain the difference between Hitler and George W. Bush.
On last month's Inauguration day, there were some boos and catcalls in the audience as Mr. Bush and his family left to go back to Texas. If President Obama had any class, he would have told these neurotics that we are not a banana republic, that this is America going through another a peaceful transition, that they were out of line, and that if they couldn't show proper respect, they should leave.
Writing in the
Wall Street Journal,
Hoover Institution Senior Fellow Peter Berkowitz wrote that Bush hatred was so extreme as to represent triumph of passion over reason, an intolerance for dissent that labeled anyone not joining in the sheer glow of the hatred as "contemptible and beyond the reach of civilized discussion." Their unbridled hatred even drove them to forge documents to try to prevent his re-election. These people need help.
History will judge
As to how George W. Bush will rate in the history books, a calm objective assessment is said to await at least a generation. This column would revise that with two caveats: (1) Two or three generations will simply have to die off. (2) Some concerted effort must be made to see that those who write history in future years are not merely Democrat Party activists thinly disguised as "historians." But that's an Aegean stable for another day.
© Wes Vernon
---
The views expressed by RenewAmerica columnists are their own and do not necessarily reflect the position of RenewAmerica or its affiliates.
---