Dan Popp
The box (a parable)

By
Dan Popp
March 19, 2018
I looked, and behold, an ashen horse; and he who sat on it had the name Death; and Hades was following with him. Authority was given to them over a fourth of the earth, to kill with sword and with famine and with pestilence and by the wild beasts of the earth.
(Revelation 6:8, NAS95)
Imagine that someone sets a box in front of you. He says, "We'd like you to open this box. When you lift the lid, your life will change forever. You will have joy and health and plenty – and not only you, but your family, your country, and indeed, the whole world. All you have to do is open the box." You say, "That sounds a little too good to be true. Is there anything I should know about this box before I bring about world peace with the flick of my wrist?"
"Oh...uh...well, it's just that all the people who have opened the box so far, have died because of it. And their families became impoverished and their countries devastated. Indeed, it almost stopped the world a couple of times."
"What!?!"
"Oh, but we
know
it will work this time. Just open the box and finally, all will be made right."
Question: Do you open the box?
You might say, "Well, I'm a Scientist! I want to know why the box hasn't worked correctly; I'm going to open it so I can repair it." But if you were really a scientist you would already have ample empirical evidence that opening the box always leads to death. Anyone with normal cognitive abilities would say that, no matter how big the potential benefit, it would be suicidal to open this box.
Of course, the box is Marxism. It's been given another shiny, new coat of paint, and labeled "UBI," and "Universal Basic Income" and "Packed with Compassion by the People Who Really Are Not Responsible For The Tens Of Millions Killed So Far." And then, in small print: "Trust Us."
The idea behind a guaranteed income for everyone is the same idea behind Communism and Socialism. But it's older than Marx. In fact the Pilgrims in the New World ran what may have been the purest experiment with communal-ism, and it almost killed them all. This deadly ideology goes back to the first murderer, Cain, and indeed, all the way back to Satan. (Alinsky was honest enough to acknowledge that.) Lucifer found that the glory of heaven was distributed unequally, and he sought to overthrow his "oppressor" (in Marxian terms). Here's how things went down:
"How you have fallen from heaven, O star of the morning, son of the dawn! You have been cut down to the earth, you who have weakened the nations! But you said in your heart, 'I will ascend to heaven; I will raise my throne above the stars of God, and I will sit on the mount of assembly in the recesses of the north. I will ascend above the heights of the clouds; I will make myself like the Most High.'

"Nevertheless you will be thrust down to Sheol, to the recesses of the pit. Those who see you will gaze at you, they will ponder over you, saying, 'Is this the man who made the earth tremble, who shook kingdoms, who made the world like a wilderness and overthrew its cities, who did not allow his prisoners to go home?'" (Isaiah 14:12-17)

Notice how it's not just the devil who suffers for his weaponized covetousness: the earth is trembling or perturbed, the civilized world is razed to a wilderness, prisoners die in gulags. Everywhere Satan's doctrine of "good robbery" goes, a bit more hell comes to earth.

Nor is this phenomenon something that just happened long ago and/or far away. Kids die in America every day because the state has replaced fathers, so young men don't have the proper discipline and role models, so they join gangs and kill each other. A bit overly-simplified, yes, but the point is that socialist policies are causing death right now in America.
I'm no longer interested in
why
the contents of the box are fatal to humans. To quote a fading Marxist, "What difference, at this point, does it make?" The experiment has been tried and retried. At some point you have to stop believing that the antidote to poison is more poison. FDR's Ponzi scheme can no longer be propped up, Johnson's Great Society has collapsed on the heads of those it was ostensibly built to help, Obamacare was so poisonous it deformed itself even before it saw the light of day.
What do we do about the horror that these boxes continue to unleash? Why, open another one, of course!
If you do what the devil did, you will get what the devil got. Every time.
Kids, here's how socialism ends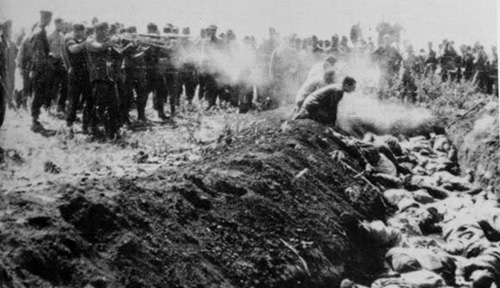 © Dan Popp
---
The views expressed by RenewAmerica columnists are their own and do not necessarily reflect the position of RenewAmerica or its affiliates.
---