Tom O'Toole
The Santorum forum pt X: 'Rick Rocks' the 'Heights' but where's the 'Hail Mary'?

By
Tom O'Toole
March 27, 2012
A liberal, a moderate and a conservative walk into a bar, and the bartender says, "Hello, Mitt!" — a joke from a Santorum campaign ad
Romney is running to win the White House. Rick is running to win back the country. — Foster Friess, Santorum's biggest Super Pac supporter, on why he still contributes to Rick's cause
Whether it's winning big in Louisiana or losing to the GOP bigwigs in Illinois, Rick Santorum continues to grab the headlines (and sound bites) if not always for the right reasons. As Mr. Friess (himself not a stranger to a controversial headline or two) continued when interviewed (after Santorum's, if-it's-Romney-we-might-as-well-stick-with-Obama comment, but before his BS response to a "twisted" NY Times reporter), "[b]ecause Rick speaks off the cuff and from the heart and not from a script like Mitt, sometimes the words don't come out quite right. But people also see he speaks from conviction, and that is why so many [regular] folks support him." Although that support was most evident in Santorum's "Louisiana Landslide" victory, which took place on the feast day (according to the pre-Vatican II calendar) of St. Gabriel, God's archangel messenger who heralded the coming of His Son (as well as the namesake of the Santorums' son in heaven), both the glory and the gory of the Santorum campaign were in evidence in Illinois, especially at Santorum's raucous rally in Arlington Heights. And, as this was the only Santorum forum that this "Rick Rocks" writer has personally witnessed so far, I thought a look back would both summarize the ups and downs of Rick's campaign to date and crystallize what lies ahead for his long-shot presidential bid.
Just as I (as many devout Catholics) like to tie Rick's victories with the feast days of angels and saints, it was not without irony that I noted Rick's most notable appearance in the Land of Lincoln took place at Arlington Heights' Christian Liberty Academy on 3-16, which is, if not the most noted verse (John 3:16) in Bible history, is certainly the most quoted one in connection with sports and competition. And, after an opening prayer by the academy's Rev. Calvin Lindstrom (which stressed God's protection against the slanderous onslaught on Rick and his family), it was interesting to hear Santorum tell how, in perhaps the only presidential campaign in history where nearly all of the candidate's supporters tell their man not that they're pulling for him but are
praying
for him, that his campaign not only started with a prayer — but nearly ended from lack of one.
"Back when the president first got Obamacare passed, I was looking at the potential field of Republican candidates and kept thinking to myself, none of these guys can really take on this thing...from a moral standpoint, so I finally asked [my wife] Karen to pray for me whether or not I should run. And she replied, 'WHAT! Are you CRAZY? No, I will NOT pray for you to run!!!'" After the audience laughter died down, Rick continued. "But then she thought about it, changed her mind, and did pray. She continued to pray through the days before Iowa when polls showed me getting three percent of the vote. But then those voters began to pray and many of them changed their mind, and we stunned the pundits and won Iowa, and are hoping to pull off another upset here."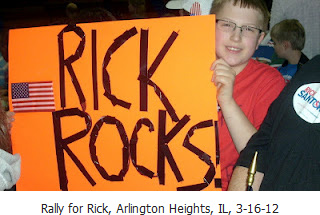 Indeed, if it was up to the people in the crowd that night, Santorum would have romped in Illinois as well. Judging from the "Rick Rocks" (my wife's favorite), "We're Tebowing for you, Rick," and "Home Schoolers for Santorum" banners, I'd judge the partisan crowd of over 2,000 that packed that gym to be about 80% Evangelicals, 20% Catholics, and 1% everything else, which led to not only an uncanny connection between the crowd and Santorum, but an unsavory connection to would-be detractors. As for the first, I've never seen a crowd so able to say exactly the right thing to affirm their guy's speech as the Arlington Heights group of that night. Commenting on the Obama promises, Santorum joked, "He said that the sea would recede and the sun would always shine. Remarkably, all these predictions have not come true. What we need is not Obama's 'Hope and Change,' his promise that the government will always take care of us, what we need is..." Rick paused for a second, searching for just the right word, when someone shouted out "FAITH!" "In a word, yes!" Rick smiled in confirmation. And when speaking of Gov. Romney, and reminding the crowd of how Romneycare was the blueprint for Obamacare, the same phenomenon occurred. "We don't need someone who is just a little bit different on the issue than Obama," Rick reminded. "We don't need another person who doesn't tell the truth. We need..."
"We need RICK!" another voice cried.
"On that note, let me tell you what
I'll
do for the country," Rick laughed, and then continued.
Still, despite this harmony, it was "the protest," or rather, the "kiss of protest," that most media members remembered. A little later in the talk, two teenage boys in the bleachers stood up, and, after saying something obscene, engaged in a publicity-seeking, MTV-esque kiss before being escorted out to crowd chants of "U.S.A.! U.S.A.!" Unlike with the previous call-outs, Santorum said nothing about their comments, probably realizing that they really knew nothing about his policies, let alone about love itself. This thought was confirmed to me when, after the rally, I saw a small group of gay-rights protesters outside shouting "God loves everyone! God loves everyone!" — not realizing this was
precisely
what Santorum's campaign was about.
For if these boys had opened their eyes, or the protesters had wandered inside, they would have found a truly joyous crowd unlike any that Party-favorite Romney draws, and far more diverse than the divisive Obama attracts. For not only were there white and black, Hispanic and Asian, women and men, there were also children,
many
children...and, even more shocking, sometimes more than one or two of the children belonged to the same parents! But if there were more children than in the Romney or Obama crowds, there were
far
more of the "unfortunate," with walkers, wheelchairs and special needs folks as far as the eye could see. And, by their mere presence, the young, the old, and the lame also spoke of the mystical presence of
all
those aborted, a group who, by his unwavering support, Rick proved that (like God) he truly loves
everyone.
Indeed, the only group that seemed under-supported was the rich and self-righteous. Of course, if I were Rick, I wouldn't feel too bad about that, for Christ's crowds were low on the very same demographic.
Still, as heartwarming as the night was, we know that in a land where a Christian candidate is outspent not seven to one but seventy times seven to one, that the downtrodden rarely rule the day, and those who
always
support the unborn haven't been in charge in nearly forty years. After being beaten in the Bayou, an anonymous member of Romney's camp smugly remarked that Santorum's celebrating his Louisiana victory was like football fans cheering a fourth-quarter field goal when their team was down by five touchdowns. A bit of an exaggeration to be sure, but the fact remains that Romney still has twice as many delegates as Santorum, and with New York, New Jersey and other big liberal states fast approaching, if the fourth quarter isn't here, it cannot be far off.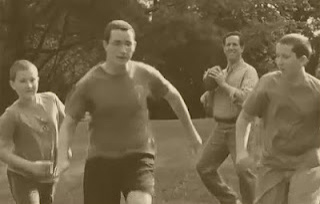 Unlike most Santorum supporters, Fighting Irish Thomas has urged this candid candidate to show more, rather than less Catholicity, and at the time of the game when the "Hail Mary" may be the only option, I ask Santorum not to be afraid to throw it. Heck, he already has more Evangelicals praying for him than Huckabee ever did, not to mention all the sick, such as
Cheryl McDonough
, who offer their sufferings for him, or all those with medical problems like
Summer Hurst
, who support him because of his daughter Bella. While it is true that most people who call themselves Catholic don't follow their faith, it's now time for Santorum to call all Catholics, devout or not, to pray for him. Just as there's something about Mary that always leads people to Jesus, there's something about Rick (or his wife Karen or daughter Elizabeth) acknowledging the faith by openly asking Catholics and other believers in his time of need to pray the Rosary or "Aves" for his candidacy — knowing full well that the MSM will mock him for it, that simultaneously brings both the greatest risk from the worldly and the greatest reward from God. Perhaps by seeing his courage in asking for prayers, a few open souls will have the courage to answer them. Either way, I say that just as Santorum's campaign began with a prayer, it should also end with one. Then, when the final gun is sounded, whether Santorum has his hands around the ball or not, we'll know that Jesus (through Mary) truly had His Hand in Rick's quest.
—
For a Jeanette O'Toole video of the Arlington Heights rally, click
here
.
© Tom O'Toole
---
The views expressed by RenewAmerica columnists are their own and do not necessarily reflect the position of RenewAmerica or its affiliates.
---