Tom O'Toole
The Santorum forum pt IV: why "brave-hearts" must speak out

By
Tom O'Toole
January 3, 2012
For Zion's sake I will not be silent,
for Jerusalem's sake I will not be quiet,
Until her vindication shines forth like the dawn
and her victory like a burning torch. -Isaiah 62:1 (the opening verse of the First Reading at Christmas Eve Mass)

It is interesting to note that...our evangelical Protestant brothers and sisters are often quick to mention Jesus as the force behind their athletic success [while] Catholics have been reluctant to credit Christ when the mikes are on and the cameras are rolling...Perhaps therein lies the source of the dilemma; although Catholic athletes do see — and readily accept — the reality that sports figures are role models, their humility also reminds them of the far greater truth, that they are not yet saints. -from the Introduction of my book Champions of Faith: Catholic Sports Heroes Tell Their Stories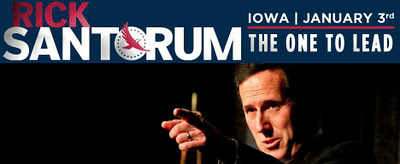 On New Year's Eve, my colleague (and friend),
Matt C. Abbott
, and I both ran political columns on the Iowa primary; mine unabashedly for Rick Santorum, Matt neutral as usual. Now before I state my case for "not being silent," I have to admit there are many solid journalistic (and even Christian) reasons for not taking sides.
Matt, with his neutral journalism, is far more likely to get a paying job (neither Spero News nor RenewAmerica offer any financial compensation for our efforts) at the fewer and fewer media outlets that compensate columnists, while my prophetic, burning-bridges style of writing makes my hire far less likely. And, not only could a neutral Abbott do a world of good at, say, the Chicago Sun Times, in the meantime I'll wager he gets far less nasty letters and cyber threats. Also, by taking the neutral stance, Matt doesn't have to worry if a candidate messes up, for whether it is praising an athlete or endorsing a candidate, any misstep by your "hero" drags your name down a little too. And finally, Matt's Catholic humility reminds him that unless or until he
himself
is a saint (and can see into a man's soul) how can he (especially in the light of three prominent pro-life Catholic priests falling from grace in just the past year) possibly recommend another's integrity...especially when promoting them as the leader of the Free World? And yet, as persuasive as these arguments once were, at a time when we must elect someone who must not only defeat, but reverse the policies of a man Catholic novelist Michael D. O'Brien called "the spirit of the anti-Christ...the most effective advocate of the murder of the unborn ever in America," they must no longer keep us from speaking out.
Knowing Matt as a journalist who does his homework, I have no reason to doubt him when he calls the twelve subjects in his recent column "orthodox Catholics." However, judging from the comments of the majority of these interviewees, if the knowledge of their faith is as low as their grasp of the issues, we will soon be a country dominated by Mormons and Muslims. At least Peter Crumley admits he is "not...well nuance[d]" about the candidates' pro-life positions when he falls back on the old mainstream media practice (as opposed to a decision based on Catholic doctrine) of picking the lukewarm "lifer" Romney because "he has the best chance to beat Obama." On the other hand, Carlos Casa-Rosendi's cynical "I [actually] hope both parties lose" endorsement of Perry is both un-Christian and un-informed considering the several candidates who have come out in defense of the unborn. Meanwhile, William Grossklas must be watching too much pro-Paul propaganda (as opposed to reading encyclicals) if he believes the "mad doctor's" deserting our human rights allies (such as Israel) or abandoning the unborn to "states rights" (no doubt Dr. Paul would have allowed the South to secede over slavery) is in line with Papal teaching.
Still, I reserve my harshest criticism for Judie Brown. As the president of the American Life League, I suppose she, like the bishops, cannot endorse a specific candidate for fear of losing her organization's tax-exempt status. Although like Randall Terry (the radical convert-to-Catholicism who has been in the pro-life battle as long as Brown) I now think it best for the Church to junk its TE status so they can
really
tell the faithful how to vote instead of beat around the "Bush" (pun-intended), Brown still should know better than to answer Abbott's question by her cop-out endorsement of "God and his power versus the partisan rhetoric and gobbledygook that is undermining" the right to life.
Does Brown not realize, given her status as a pro-life leader, that if she doesn't at least say something to the effect that "there are several fairly good pro-life candidates" instead of lumping them all into the moralless morass of "partisan rhetoric gobbledygook," she is not only opening the way for less informed Catholics to vote for the lukewarm-life Republicans, but even the pro-abortion Obama, whose smooth "I, too am for fewer abortions" rhetoric convinced thousands of confused Catholics to vote for him in 2008? Say what you will about Rick Santorum, but his authoring and sponsoring of the "Born Alive Infants Protection Act" was not "partisan rhetoric," and his opposition to all abortions, as demonstrated by Rick and his wife Karen "authoring" and raising seven wonderful children, including the severely handicapped but extremely happy Bella, is far from "gobbledygook."
I guess this is the point in my article where I make my "Braveheart" speech, the one in which William Wallace asks Robert the Bruce (played for the moment by colleague Matt Abbott) to unite the clans to fight for Scotland — or stand up for Santorum as the current quest for freedom calls for. The reasons why
not
to are legion; even my Spero News editor, Martin Barillas (based on his time working the GOP), says he doesn't think Santorum can win, although (based upon his experience with me) added "[b]ut [perhaps] the point [is] to fight even if we don't believe we can win, if only to be a witness." THANK GOD we (despite the interference of the present administration) still have forums like RenewAmerica and Spero News where we can openly witness to the faith...and its champions. All the more reason to champion our champions on these sites while there's still time.
I presented my athletic "champions of faith" as "imperfect heroes still striving for the heroic virtue that will make them champions on the next level, that is, heaven." Even Santorum's relatively few mistakes compared to the other candidates were made in this striving — including Rick's controversial support of Arlen Specter (not unlike Wallace's for the Bruce) which was based on a (false) premise that Specter's promise to support Bush's pro-life Supreme Court nominees — which he did — would carry over to the rest of Bush's pro-life agenda — which it did not.
Meanwhile,"winner" Mitt Romney's whole campaign, the Kennedy-esque promise that his faith won't influence his policies, is based on a false premise; either Mormonism isn't meaningful to him, as he always stated it was, or his quirky religion
will
influence his decisions, and his motto becomes a lie. It is too soon to know if Newt's new-found Catholicism will keep him from his former pattern of adultery, and too late for Paul's outer-space theories of governing to return to earth. If Bachmann and Perry can stop belittling Santorum (and each other) and unite behind the people's choice of Christian conservative, the former Senator from Pennsylvania still has a shot at Pennsylvania Avenue. And if the Catholic abbots (and Abbotts) of the world would only endorse him, I'd say Obama's pro-death agenda no longer stands a chance.
© Tom O'Toole
---
The views expressed by RenewAmerica columnists are their own and do not necessarily reflect the position of RenewAmerica or its affiliates.
---