Tom O'Toole
Was Holtz hoodwinked? My Christmas letter to Lou

By
Tom O'Toole
December 19, 2011
Dear Tom,

Thank you very much for your letter. I really appreciated the article you sent. It is easy to see why you are successful, because you pay great attention to detail and let absolutely nothing slip by you. I consider you a true friend.

Sincerely,
Lou Holtz [a letter to the author from Holtz shortly before he resigned as the head coach of Notre Dame in 1986]



---


Dear Alumni, Parents and Friends,

Before you read any further, please know that this letter will ask you to be a loyal son or daughter of Notre Dame. We think it...so important [to] tell you why. We truly understand the pride and love Notre Dame's loyal sons and daughters share for their alma mater.

As parents, we have been blessed to have three of our four children earn degrees from the University...and this year Lou finally got one himself. His honorary doctorate from Notre Dame is something [we] will always treasure, maybe as much as the statue of him...that the pigeons roost on outside Notre Dame Stadium.

As donors, over the years we have chosen to support many worthwhile Catholic schools and...medical institutions...and know from personal experience that sometimes [they] can have an impact very close to home. Some of you may recall Beth's serious and recurring struggles with cancer. At one point Beth was diagnosed with stage IV cancer, and only given a 10 percent chance of survival...if not for the cancer research by leading academic institutions such as Notre Dame, we might never had the opportunity to celebrate our 50th wedding anniversary last July. Thank goodness for the doctors...scientists, researchers — and donors who gave us [this] chance...

We assure you, Notre Dame is one of the places we support with pride and confidence...[it] has an unmatched spirit and commitment to excellence. Now more than ever, it is also a place where innovative and potentially life changing research activities further its vision to be a force...in the world...we encourage you to support [this] vision by making a gift today...to change many lives tomorrow.

In closing, Lou often says there are three things you need to know about a person: Are you committed to excellence? Can I trust you? Do you care about me? A gift to Notre Dame answers all those questions.

God bless...and go Irish!

Beth and Lou ('11) Holtz [Notre Dame's 2011 Fall fund-raising letter]

Lou Holtz
ESPN Plaza
Bristol, CT 06010
Dear Lou (and Beth),
I've now read and re-read your Notre Dame Fall fund-raising letter a dozen times, and although it was not addressed to me personally as the one you wrote shortly before you resigned as head football coach at Notre Dame (a letter which, though I've read it hundreds of times, rarely fails to bring a tear of joy to my eye, as it was the first time you counted me among your friends), I "now more than ever" feel, as both a loyal son of Notre Dame and a loyal friend to you, compelled to respond to your "confidence" and trust in your new alma mater.
You see, Lou, although the University of Notre Dame has taken many subtle (and, recently, not so subtle) steps away from being obedient servants of the Catholic Church over the last forty years, Notre Dame president, Fr. John Jenkins, knows that to reach his "vision" for Notre Dame, he still needs the money of those alumni and subway-alumni who are faithful to Rome. In this vein, he is also cunning enough to use prominent orthodox Catholics like yourself to appeal for funds to those who think Notre Dame is still the Catholic university (and team) it once was. As you may know, Jenkins asked Coach Brian Kelly to write this fund-raising letter last year, only to find Kelly's pro-choice voting record (not to mention his mediocre 8-5 football record) yielded less than stellar returns from the pro-life, pro Fighting Irish alumni. Thus, he now turns to you, the living Irish coaching legend himself. I'm sure President Jenkins believes getting the devout Catholic (and even better, honorary ND doctorate holder), Lou Holtz, on board to give his research-cash pep-talk this year is almost as huge as getting the pro-death (and
also
honorary Notre Dame doctorate holder) President Barack Obama to give the 2009 Notre Dame Commencement speech — which is exactly why I am warning you to withdraw both your verbal and financial support of Jenkins' new "vision" for Notre Dame.
While Fr. Jenkins' securing President Obama to give the 2009 ND Commencement address (not to mention awarding him an honorary doctorate) is neither Notre Dame's latest or greatest disregard of Catholic doctrine
,
it
was
in such brazen disobedience to the US bishops' 2004 letter "Catholics in Political Life" (which forbade Catholic universities from honoring pro-choice celebrities) it proved the final straw as far as the average Catholic blindly backing ND. As both the young (the student pro-life groups and
The Irish Rover,
the alternative pro-life student newspaper) and old (prominent ND professors such as Ralph McInerny and Charles Rice, plus the prestigious Sycamore Trust
,
a group of distinguished Notre Dame alumni heaven-bent on reviving Notre Dame's religious reputation) fought this invasion from within, nearly ninety bishops and a half a million laymen (the amount of signatures collected on an online petition started by the Cardinal Newman Society) voiced their outrage from without.
Still, the devious Reverend Jenkins stubbornly stuck to his underhanded plan, proclaiming to insiders that Obama's arrival was not a day of dissent but dialogue. He assured the faithful that Mary Ann Glendon, the saintly former ambassador to the Vatican and current Harvard law professor whom was to receive the Laetare Medal at the same ceremony, would give a "Culture of Life" acceptance speech that would serve as counterpoint to Obama's culture of death commencement. This talking point proved to be news to Glendon also, and when she found out how Jenkins was jerking around her good reputation to justify his evil intention, she refused the medal (indeed, the Laetare Medal whose motto ironically is "Truth is great and it will prevail" was left unclaimed in 2009) reminding him that this was supposed to be "a joyous day for graduates, not the right place...to defend the serious problem raised by Notre Dame's decision to disregard...the settled position of the United States bishops," and Jenkins was left to justify himself. But flash forward to 2011, and the divisive president of Our Lady's university has seemingly once again snatched his wicked victory from defeat, by tricking the newly honored Holtz into his duplicitous den.
It is interesting to note that your fund-raising letter does not promote Notre Dame as you (and the school) once did; a place that witnesses to the Catholic faith, but instead as a premier research institution — which coincidentally is exactly how Fr. Jenkins promotes it! Certainly, there is nothing wrong with scientific and medical research; as you correctly noted, cutting-edge cancer treatment contributed to saving your wife's life. But it
was
curious that in telling the story this time, you failed to mention as you did previously with me that when the doctors had all but given up on her, Beth made what even they considered a miraculous recovery on December 12th, a miracle you attributed to Our Lady of Guadalupe, whose feast day it was that day...and also the day Our Lady told me to write this letter. Because it now stresses research over faith (instead of faith guiding research), Notre Dame has not only seen its faculty slip from 85% Catholic in the 1970s to just over 50% today, it currently supports a faculty whose motto is "The University [of Notre Dame] should not compromise its academic aspirations in order to maintain its Catholic identity" — instead of the other way around!
But if the Catholicism of the general ND teaching population is bad, Lou, that of its research wing is worse.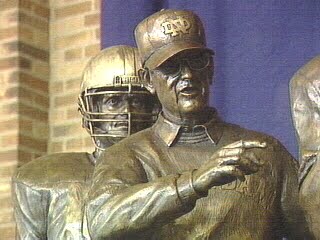 While 48% of the science faculty (less than the University mandate of 50%) was Catholic in 1998, the percentage was down to 37% in 2007 — the last year the University would release these figures. If such secrecy seems fishy, consider this tidbit: for the last several years Jenkins has been lobbying hard for Notre Dame to join the Association of American Universities (AAU) which consists of 61 premier research universities, nearly all of which aggressively pursue embryonic stem cell research and cloning...but none of which are Catholic. I don't doubt that a Lou Holtz clone could have done a better job coaching than some of the clowns they hired since you resigned (in fact, I've sometimes thought your
statue
could have done a better job) but any time science (or religion) somehow convinces itself it must destroy life in order to save it, it has not only lost touch with God, but with humanity as well.
True, Lou, Fr. Jenkins has done some good things (if only due to political pressure) at Notre Dame since the Obama fiasco, but he continues to make many rather shady moves as well. For example, Jenkins has allowed the Notre Dame Center for Ethics and Culture to launch "Project Guadalupe" (a name Beth would no doubt approve of), an ambitious set of courses and hands-on experience that would not only culminate in a masters degree, but train students "to become the next generation of pro-life leaders." On the other hand, Jenkins has not only given an outstanding leadership award to General Electric, one of the most pro-choice leaning companies in the country (and one of Notre Dame's biggest donors) but allowed the appointment of Roxanne Martino to the University's Board of Trustees — despite her long history of financial support to some of the most strident pro-abortion organizations in existence. Fortunately, pressure led by the Sycamore Trust has since led Ms. Martino to resign, but I think you get the point. Players who "selectively" followed your rules when you were coach never remained on your team long, and neither should a president of a Catholic university who selectively follows the Catholic faith.
In summary, Lou, let's see how Jenkins fares given your "three things you need to know about a person" test.
It's true that Fr. Jenkins is committed to excellence (in research if not religion) but I'm sure in their own way the research scientists of the Third Reich strove for excellence too. As for the "can I trust him" maxim, when 83 bishops, 500,000 conservative Catholics, and every orthodox priest and professor from Notre Dame echo the words of former South Bend bishop, Bp. John D'Arcy, that Jenkins "chose prestige over truth," and Jenkins' (a man who graduated from Oxford and Berkeley after studying at ND) only defense is that he misunderstood the US bishops' directive, a document the average 5th grader could discern, I'd say it's difficult to give him the benefit of the doubt. Lastly, I
can
say that Jenkins
does
care about me, but only when my articles expose his hypocrisy and the president's men are once again forced to deflect my rhetoric. So unless you personally hand your donation over to Professor Carter Sneed at the ND CEC and tell him to earmark it for Project Guadalupe, I'd say its better to donate to those who are saving Notre Dame such as the Sycamore Trust
(
besides exposing Martino
,
they have also stopped the University from hosting
The Vagina Monologues
and the Notre Dame Queer Film Festival) or
The Irish Rover
(whose goal is to reverse the trend of a student body that is 31% pro-choice when they enter Notre Dame but 43% pro-choice when they leave) than to put it in the hands of the man whose researchers are more likely to laugh at the faith than practice it.
Lou, I now know you were too busy coaching and commentating to realize the crimes committed against Our Lady by the so-called leaders of Notre Dame since Fr. Hesburgh signed the Land o' Lakes document back in 1967, but now that you know the Truth, anything you can do to help Her TRUE loyal sons and daughters in this battle for the faith at ND would be greatly appreciated. I realize you would probably lose your job at ESPN if you seconded Ralph McInerny's comparison of Fr. Jenkins to Julian the apostate...but it would make such an impact in restoring Christ-like leadership to this nation's once and future flagship Catholic university, I bet a grotto statue of St. Louis Holtz would someday bookend the Stadium statue of Coach Lou Holtz if you did. All the best to Beth and the kids, and may your son Skip one day succeed you as coach of the Fighting Irish, so you will never again be forced to pull for your son at the expense of your Mother, as you did this year when Notre Dame played South Florida (again, not a good day for Fighting Irish fund-raising). Forever I remain...
Your true friend of Notre Dame,
Tom O'Toole ('81)
© Tom O'Toole
---
The views expressed by RenewAmerica columnists are their own and do not necessarily reflect the position of RenewAmerica or its affiliates.
---