Tom O'Toole
Is God gay? George's "sash-y" Pentecost protest sermon

By
Tom O'Toole
May 20, 2010
"I think Jesus was a compassionate, super intelligent gay man who understood human problems" — Elton John.
"Have you not read that from the beginning the Creator "made them male and female" and said, 'For this reason a man shall leave his father and mother and be joined to his wife, and the two shall become one flesh'? Therefore, what God has joined together, let no human being separate" — Jesus (Matt 19:4-6).
"They exchanged the truth of God for a lie...therefore, God handed them over to degrading passions. Their females exchanged natural relations for unnatural, and the males likewise gave up natural relations with females and burned with lust for one another. Males did shameful things with males and thus received...the due penalty for their perversity" — St. Paul (Romans 1:25-27).
It's funny how the more you seek to avoid confrontations, the more they seem to find you. For back in Chicago, we find our beleaguered Francis Cardinal George, fresh off his refusal to publicly refute the heretical Easter homily of the archdiocese's personal plague, the Rev. Michael "Flim-Flam" Pfleger, is now faced with the daunting task of withstanding the full frontal assault of the city's most dangerous and destructive Gay Gang, otherwise known as the Rainbow Sash Movement. The difference is that this time, with the possible confiscation and desecration of the Holy Eucharist at stake, the man this radical group calls "one of the generals in the war against gay families" knows that there is no turning back.
Personally, it seems to me if the Sash-ers really wanted to receive communion and hear sermons about a god who not only encouraged, but ordained, those who practice gay sex, they need only go to the local Episcopalian or Methodist church that endorses such doctrines. In reality, it is not the humble worship of God they seek, but (like Pfleger) the lust for publicity and power that comes from taking on mass media's only formidable opponent, the Roman Catholic Church. Of course, it doesn't take a theological scholar to see the contradictions between the statements by RSM's executive director Joe Murray; "Our purpose is to try to put out dialogue in a very respectful way. Our presence [at mass] you wouldn't know if we weren't wearing the rainbow sash," with their Web site's recent declaration, "We will directly challenge Cardinal Francis George in Holy Name Cathedral at the 11 a.m. Mass on Pentecost Sunday, May 23, 2010, along with other bishops who highlight their homophobia;" "challenges" which in the past have included shouts, shoves, and attempts to steal the sacred hosts. Similarly, you need not be a canon lawyer to find the group's claims that George would deny gays their "rights to employment or housing" to be utterly false, unless of course you take that to mean their right to be priests and live in the rectory with him. Finally, you don't need to be a literary critic to find something tragically ironic about the group's comment, "There is something bipolar about a church who will not give [openly gay] members of the Rainbow Sash Movement...communion while at the same time elevating men to the office who placed the reputation of the Church ahead of innocent children who were sexually victimized," when most of the priests who did the victimizing were themselves practicing homosexuals.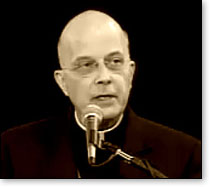 If you read my last article on the
George/Pfleger situation
, you'd probably guess I'd advocate the Catholic Special Forces to take out the Rainbow Sash Movement before the Pentecost Mass even started. And, while I do like the idea of the CSF becoming the, shall we say, "personal ushers" of the RSM, I think the best way to solve this so-called "respectful dialogue" is to not only let the Sash-ers sit in on the service, but give them their own homosexual homily. "Is God Gay?" could start out with Elton John's (above) recent controversial quote, which George would consider in Thomistic fashion before rejecting. Then, starting with Matthew 19, George would show that Jesus, far from advocating gay unions, not only upheld but strengthened the traditional definition of marriage and family, before proceeding to Romans Chapter 1 to show there was absolutely no wiggle room in Jesus' teaching on this Sacrament, let alone the Fourth Commandment. Finally, George could compare the "senseless, faithless, heartless and ruthless-ness" (Romans 1:31) of those gay Romans who exchanged "the Truth of God for a lie" with the similar behavior of "the dragon and its angels" in Revelation who were cast out of heaven only to be thrown down to earth to become the "accuser of our brothers" and the "pursuer of the woman" there (Rev 12:4-13). Noting the identity of the one whom Christ called "the father of lies" (John 8:44) George should conclude by saying, "Is God Gay? No, but I believe the devil is."
Certainly, George could then nuance this proclamation by saying that just as Our Lord is present in the least of the brothers (Matt 26:31-46) so Satan is also present in every unrepentant adulterer, abortionist, or democrat (okay, a
slight
exaggeration, but it certainly holds true for the Pelosi, Kerry and Biden crowd) but I'm afraid at this point the protesters' fury would be such that the CSF would have to escort the RSM out of Holy Name to another location. Still, the Sash-ers would be given options. Those whom the Holy Spirit called to true repentance would be driven to St. John Cantius, a beautiful "old school" Chicago Basilica that not only celebrates the Latin Mass but has continuous Sunday confessions. Those who did not repent but still claimed they were Catholic would be sent to the city's Missionaries of Charity House, where Mother Teresa's nuns could show them the true meaning of service and self-giving. Finally, the Sash-ers still hell-bent on disruption and destruction would be sent to jail. And yet, even these lost souls could be shown leniency; we'll place them not in foreboding holding cells of Cook County, but rather send them to South Bend. I hear that, due to Notre Dame's Obama-friendly president, they treat Catholic gay protesters rather well there, and judging from experience, Father Jenkins will no doubt have them out well before he frees the
Notre Dame 88
.
© Tom O'Toole
---
The views expressed by RenewAmerica columnists are their own and do not necessarily reflect the position of RenewAmerica or its affiliates.
---