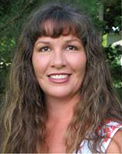 Gina Miller
Grateful to God in Obama's dictatorship

By
Gina Miller
December 25, 2014
Listen to an audio version of this column
Today in America we stand in a place few, if any, of us ever dreamed we would see in our lifetimes. There is no overstating the wicked nature of this terrible place. The United States of America has been overthrown by communist enemies within who have waged a decades-long, steady infiltration of every area of power and influence in our nation. I say "decades-long," but we can look back and see that the cancer began at least a hundred years ago, and it really kicked into high gear in the 1960s. It has now metastasized, and I don't know that there is any treatment to which it will respond, short of righteous, bloody revolution, with no guarantee that such a thing could even be pulled off today against the awesome firepower and technology the state wields.
Nevertheless, I understand how desperate and outraged many millions of us are right now, how astonished and aghast we are at our "representatives," who take our votes and stab us in the back. The so-called Republican leadership in Congress has abandoned any pretense of opposition to the unindicted political criminal in the White House. Instead, John Boehner and the gang are fully cooperating with him in protecting the interests of his hell-born agenda. Barack Obama (or whatever his name is) is clearly a Godless enemy of the United States. He is a man on a mission. His mission is to destroy this nation, and he is doing it. No one will stop him.
There are things the Republicans could do to thwart him and his lawless cabal of anti-American subversives, simple tactics they could employ if only they would. David Horowitz, the founder of the valuable research site,
Discover the Networks
, published an outstanding book this year, "
Take No Prisoners: The Battle Plan for Defeating the Left
." In it, he does a stellar job of explaining who and what the members of the radical Left are, the tremendous damage they have done to this nation and the very people they claim to support, and the stark contrast in worldviews that exists between the leftist extremists and conservatives. He prescribes solid methods for turning their own guns on them, turning their lies back in their faces to defuse their deceptive assault on the foundation of this nation. After all, the entire agenda of the Left, every aspect of it, is based on lies, and lies are all the Left has to propel its schemes. But, none of the plans in Mr. Horowitz's must-read book will help anyone if Republicans are unwilling to fight these people who are destroying our Republic.
I am far from alone in realizing what big trouble we're in. Millions of us are awake and aware of how dire our situation is. We are watching lawless, evil reprobates wreck our freedoms, our culture, our economy, our borders, our military and national defense, our health care system, our education system, the stability in our streets and so much more – every aspect of our constitutional Republic is under assault by these extremist vermin, and we are powerless to stop it. We are seeing our money and jobs flying away, our food and energy prices "necessarily" skyrocketing, all because of the evil policies of the radicals running our nation. The middle class is being eliminated to drive the majority of us into poverty, where we are more easily controlled.
Thanks be to God, however, that those of us who are in Christ have everything for which to be grateful. We who are sealed for God through Christ Jesus can cling to the peace that passes all understanding and choose to remain calm through the evil storms that are here and those to come. It is a constant battle to not allow ourselves to be swept down in despair when we regard the constant bombardment of bad news, the chaos in our streets and government, but the Lord does give us His peace if we will let Him. It is as important as ever that we not allow ourselves to be crushed by the reality of an America gone under. As painful as it is to see, we must remember this is temporary. In no way do we ever intend to quit fighting against the evil forces that are taking down our nation, but we need to keep in mind that Jesus warned us that these things would come to pass.
Ultimately, there will be a global government under Satan that prevails for a short time, and that will include the United States. We happen to be living in a time where we are watching our nation fall to Satan's vicious hand tools. As I said, of course we will continue to resist, to speak out against this, to do what we can to stop people like Obama, John Boehner and the rest of the enemies of our country, but in the end, we know the fall is coming.
I am not saying this to discourage you but to put the truth in the starkest of terms. This battle in which we're engaged is an eternal one. The fall of our nation, while unspeakable to us, is nothing compared to the fall of a single human soul into Hell. God made a way for us to avoid that fall. Jesus came to earth fully God and fully man – the true meaning of Christmas – and He lived without sin and gave His precious life as the perfect sacrifice for each of us, for all of our sins. Jesus is the bridge, the only way, for man to be reconciled to God.
As we celebrate Christmas and its truly awesome meaning, let us cling to the hope we have in Jesus and strive to keep our eyes on the prize of life eternal with Him, while doing the work He gives us here in this world.
If you do not yet belong to God the Father through Jesus, please seek Him today while you can still find Him. The days are going to get unimaginably darker, and God is our only source of hope, strength, peace and salvation in this lost and dying world.
© Gina Miller
---
The views expressed by RenewAmerica columnists are their own and do not necessarily reflect the position of RenewAmerica or its affiliates.
---