Lloyd Marcus
Lloyd Pondering: his wonderful life

By
Lloyd Marcus
December 15, 2010
Hi Guys and Gals, Right now I am feeling like, George Bailey, the lead character in the classic Christmas movie, "It's a Wonderful Life." George had big dreams of leaving his small town, attending college and becoming an architect. George put his dream on hold to work in his father's struggling Building and Loan which served the struggling community.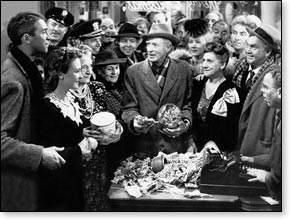 Now middle-aged and never pursuing his dream, George felt like a failure. A catastrophe happened in George's life. The whole town came to George's rescue in an extraordinary outpouring of love, respect and support letting George know his life was not a failure.
Eight years ago, God lead me to accept the volunteer position of president of a
dead
arts center. Over the years, numerous people have come on board as saviors and/or board members with hidden personal agendas. They all eventual went away.
Recently, several unexpected expenses arose. Thus, the arts center became three months behind in our mortgage. Frustrated, I thought my wonderful wife Mary and I would have to once again, bailout the arts center from our personal finances.
Around 9pm, the other night, we received a call from the arts center,
"The toilet is backed up and the bathroom is totally flooded."
Mary awoke me with the bad news. Half asleep, tired and frustrated, I gathered the shop-vac, mop and bucket and went to deal with yet another "arts center issue."
Upon Mary and my arrival, there was a recording session in progress in our recording studio. The Sutton family, six of them, were there to sing as a choir on a client's song. They all yelled excitedly,
"Lloyd is here. Please sing with us, it will make this song really special!"
When I said,
"Yes"
. They all cheered.
While in the recording booth, I looked through the sound booth glass window. I could see our art gallery through the window in the wall of the recording studio.
The view was beautiful. In front of the room is our spectacular Christmas display which took Mary and I a week to install in preparation for our annual community Christmas party. The rest of the gallery walls were covered with the paintings of our featured artist of the month.
The vibe of the recording session was awesome; warm, friendly and cheerful with much laughing, joking and everyone having a great time.
Suddenly, it dawned on me, this is what this arts center is all about. This is why Mary and I do what we do and have sacrificed so much to keep the doors open.
After fixing the toilet and cleaning up, Mary and I headed for home. Mary said,
"someone handed me, what they called, an "Anonymous Santa" check for the arts center."
The check was written for the exact amount needed to cover the arts center's back mortgage payments. Mary and I both fought back tears. God is awesome. Mary and I are truly living Wonderful Fulfilled Lives.
Two years ago, a developer donated plans and architectural renderings for a new arts center which will impact Central Florida. The estimated cost is 25 million dollars.
I gathered the architectural renderings from their forgotten home on the wall in a dimly lit area in back of the room. Upon dusting off the drawings of our dream facility, displaying them on a prominent wall in our gallery and illuminating them with a spotlight, the drawings appeared to beam boldly with pride proclaiming,
"We are alive and well!"
"Y'all have a very Merry Christmas and a Happy & Blessed New Year!
Lloyd Marcus, Proud Unhyphenated American.
A New feature at LloydMarcus.com!

Lloyd Pondering:
regularly updated to inspire, encourage and keep you goin'.
© Lloyd Marcus
---
The views expressed by RenewAmerica columnists are their own and do not necessarily reflect the position of RenewAmerica or its affiliates.
---