Lloyd Marcus
Remembering Lloyd Marcus

By
RenewAmerica staff
July 28, 2020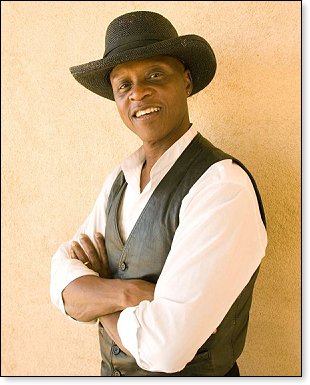 Lloyd Marcus came to RenewAmerica in 2009 as a politically active Alan Keyes supporter and eventually became one of RA's most popular writers.
His first piece, Obama's first 100 days from a black's perspective, was published May 2, 2009. Since then, we've published over 800 of Lloyd's articles, covering events from his Tea Party Express years and, in recent years, his stalwart activism in support of President Trump.
At the time of his passing last week, Lloyd had 5,190 RenewAmerica subscribers, the most of our writers. We always looked forward to his heartfelt commentary and inspiring reports of his latest activism.
So we were shocked to learn on Saturday that Lloyd passed away Friday, July 24, after being admitted to the ER. We were deeply saddened.
We learned of his passing from the Facebook message below from Lloyd's wife, Mary:
Hello Everyone, It's me, Mary, Lloyd's wife...

With my sad, heavy, and deeply broken heart, Jesus suddenly came and reclaimed our Lloyd Marcus, The Unhyphenated American.

Loved by many all over the world with his warm smile, optimism, hearty exuberance, his wise written words in columns, songs, videos, artworks and books, Lloyd Marcus is deeply missed.

His family and dear friends are stunned at the sheer quickness and absoluteness of God's hand as he was plucked from us to be with his beloved Lord and Savior in Heaven above.

As I continue my life without his all-encompassing human love of me, his adoring, and steadfast wife, I thank you all for your loving compassion.

Patriots, I want you to know he loved each and every one of you. Reading and responding to your letters of encouragement, questions, and well wishes, he loved you all and spoke of and wrote about many of you. I and he have always thanked you for your gifts through the years in helping him "Spread the Truth."

Thanking you in advance for your heartful giving, I leave you with Lloyd's words:

I'm NOT African American—I'm Lloyd Marcus, AMERICAN!

God instructed Pharaoh, "Let my people go."

God instructs us, "Let my people know." Spread truth.
God bless Lloyd Marcus—a true patriot. He will be greatly missed.
© RenewAmerica staff
---
The views expressed by RenewAmerica columnists are their own and do not necessarily reflect the position of RenewAmerica or its affiliates.
---