Jake Jacobs
The schlockumentary "Citizen Koch" should win an Oscar for lies and deception!

By
Jake Jacobs
August 18, 2014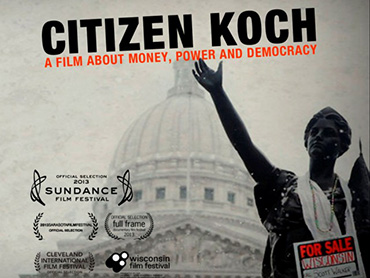 At the beginning of every history, government, and current events classes that I teach I put in capital letters on the board
PC vs. HC
which stand for "Political Correctness vs. Historical Context." I also write on the board and stress to my students
"CONTEXT is KING!"
Context is essential in communication. Far too often in the world of political debates and differences a person will be quoted out of context with the intent to distort the meaning of his or her words. This is done in an attempt to misrepresent their position, refute their argument and make their opponent look and sound extreme or simplistic.
In this hyper politically correct day and age in academia, media and
politia
the bastardization of context is commonplace. When a text or script is written without a context or taken out of context it creates a pretext that leads to a false-text or narrative. Closed totalitarian societies are infamous for this practice in the extreme and any one who calls them out on it are usually imprisoned and or eliminated.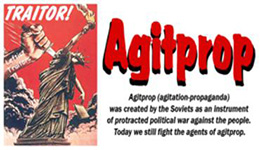 The Russian word
agitatsiya
or
agitprop
means "political propaganda, especially in art, literature and cinema." Soviet Socialist Russia along with Nazi Socialist Germany are two classic examples of the utilization of Orwellian agitprop that through the manipulation of language distorts and perverts words by taking them out of context to create a false narrative in an attempt to dupe the people and advance their corrupt cause. Soviet Russia and Nazi Germany agitprop practitioners used this "art form" in documentaries, movies and the news as one of their KEY tools in fooling and intimidating the masses into submission.
I have always taught my students that historical context and correctness will help them immensely in discerning political correctness that often relies on agitprop for its purposes of advancing lies and deception. I never thought that one day I would be the victim of agitprop at it's finest or should I say at it's worse.
About a year ago an ex High School student of mine who was a film major at the University of Wisconsin-Milwaukee contacted me saying she was surprised to see me in the documentary Citizen Koch. I was surprised too. She told me I was in it for about a minute and that I had about three sentences on "something political." I was curious so after a little research found out that the documentary Citizen Koch was done by far left wing filmmakers Tia Lessin and Carl Deal "concerning the political influence of American plutocrats such as the Koch brothers" on Wisconsin Governor Scott Walker, Americans for Prosperity and Tea Parties.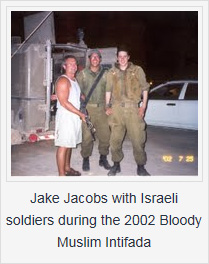 Tia Lessin helped co-produce the "King of American agitprop" Michael Moore's Capitalism: A Love Story and Fahrenheit 911 and was the supervising producer of Bowling For Columbine. Lessin and Moore are notorious for creating
"Schlockumentaries"
whose definition is:
"A documentary, program or film regarded as schlock or junk, typically due to its content being deemed sensationalistic, propagandistic or factually inaccurate."
Tia Lessin's Citizen Koch is all the above and then some and so full of inaccuracies it should be labeled a
Fictionmentary.
It was early June when I received a call from The New American magazine writer Tim Eddlem who asked me if I had seen Citizen Koch? At that time I said no. He then explained that as the film unfolds the Koch brother's support of Tea Parties and of Wisconsin Governor Walker during the battle between taxpayers and government unions portrays me as an anti-Semite.
As many of you know I travel all over Wisconsin and America defending Governor Walker and Conservative principles. About two plus years ago Lessin's film crew filmed one of the Tea Party conferences I was speaking at and took a few sentences I spoke
out of context
to make me appear and sound like I was a Jew hater.
IN context I was teaching on my book MOBOCRACY and explaining to the audience about the flight of Marxist Jewish intellectuals from Nazi Germany to American universities in the 1930's. I explained that these German Jewish intellectuals were atheists who rejected Judaism and Christianity and created the so-called "Frankfurt School of Neo Marxist Social Theory." Marxism by its very atheistic nature is anti-Judeo-Christian. Lessin in cherry picking fashion cut and paste, sliced and diced and took my words out of context labeling me a "John Birch Society educator" and depicted my three sentences in the film as anti-Semitic.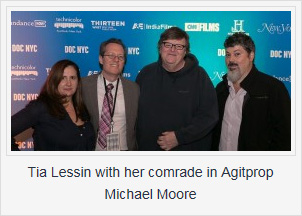 Ironically Lessin's LIES fly in the face of the reality of my record and my love for Israel, Judaism and Jews. I lived in Eretz Yisrael (the land of Israel) many years ago learning Jewish history, Hebrew and participating in a number of Zionist events. During the Intifada of 2002 I was one of the few Americans visiting Israel giving moral support to my Israeli friends. My Graduate Degree is in Judeo-Christian Studies as my mentor was Dr. David Rausch author of a number of books on Jewish History, Judaism, Israel and the Holocaust. I have taught Holocaust Studies at the College level for twenty years and I have incorporated Holocaust Studies into my World War II curriculum at the High School level for 25 years. Additionally on many occasions I have participated with Holocaust Survivors, Israeli and Jewish Scholars at a number of Seminars and Conferences on the evil nature of Jew hate throughout world history.
Tia Lessin did not do her homework and did not care to do her homework. Shame on her! Tia Lessin's Citizen Koch is schlocky-lefty agitprop in the tradition of totalitarians like Joseph Stalin and Joseph Goebbels. Lessin's "Moore-ish" work is a pathetic discombobulated tragedy and comedy full of decontextual material that is a perversion of things as they truly are. Citizen Koch reflects the defective character of its producers who are more concerned about perpetuating poppycock, claptrap and balderdash than advancing Truth.
While Tia Lessin lost an Academy Award nomination for her film Trouble the Water she should win an Oscar for the LIES & DECEPTION in Citizen Koch.
© Jake Jacobs
---
The views expressed by RenewAmerica columnists are their own and do not necessarily reflect the position of RenewAmerica or its affiliates.
---