Murder incorporated in the Kremlin

By
Toby Westerman
February 28, 2015
It looked like Murder Incorporated was back in business in Moscow as a car swept passed a leading political opponent of Russian president Vladimir Putin and unleased seven to eight shots, four of which found their target in the back of leading Putin opponent Boris Nemtsov. One bullet reportedly hit Nemtsov's heart. From all accounts, Nemtsov had to go, he knew too much and was organizing his fellow Russians to fight back against a ruthless political elite.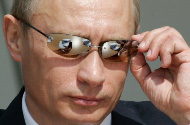 Nemtsov, 55 and a former deputy prime minister under Boris Yeltsin in the 1990s, was in the process of blowing the cover off of the official Kremlin line that Russian troops were operating in eastern Ukraine. Even more dangerous to Putin and the Kremlin elite, Nemtsov was organizing a political demonstration that could have ignited anti-Kremlin sentiments across Russia.
Referred to as the Spring March, mass protests were planned for March 1 in Moscow and 15 other Russian cities. Nemtsov and other opposition leaders were hoping that the demonstrations would reinvigorate protest movement which had weakened in the face of the patriotic fervor raised by Putin's acquisition of Crimea and Moscow's support of pro-Russian rebels in eastern Ukraine.
Nemtsov was preparing to lead protests against the economic hardships which Russians are encountering after the imposition of Western sanctions on Russia, but he was also in process of writing a detailed account of Russia's direct military involvement in eastern Ukraine, showing Kremlin statements denying such armed intervention to be outright lies.
Nemtsov's report, "Putin and War," would have clearly shown "the participation of the Russian military and Russian soldiers in the Ukrainian conflict," according to a close friend of Nemtsov and fellow opposition leader, Ilya Yashin, quoted in a
Telegraph online article.
A few hours before his murder, Nemtsov gave a radio interview in which he denounced Vladimir Putin's "mad, aggressive" policies.
Despite near-record polling numbers, Putin is in a very dangerous situation for himself and the political circle around him. Putin took the risk of grabbing the Crimean peninsula, which had been given to Ukraine during the Soviet era, and sending Russian troops into eastern Ukraine for one extremely important reason: Moscow could not permit the democratic movement in Ukraine to succeed and threaten the Kremlin power circle.
In February 2014, pro-democracy demonstrators in Ukraine drove out the country's president, Viktor Yanukovych, a favorite of Moscow. An earlier "Orange Revolution" in 2004 prevented Yanukovych from becoming president after charges of wide-spread voter fraud. Yanukovych had remained in Ukrainian politics and was elected in 2010 until his removal four years later.
The Orange Revolution had shaken the Russian elite, and the 2014 removal of Yanukovych has caused serious alarm.
Ukraine had been an integral part of the Tsarist Empire, and Communist-controlled Ukraine was one of the founding members of what became the Soviet Union (Soviet Russia being one of the other original members). Russia inherited close economic, commercial, cultural, and social ties with Ukraine.
Putin has long planned to reestablish a "re-formed" Soviet state, and Ukraine was one of the important parts.
The pro-democracy movement upset Putin's neo-Soviet plans. The traditionally close relationship between Ukraine and Russia ensures that political events in Ukraine quickly penetrate the border between the two nations.
Honest government and fair elections directly threaten the Kremlin ruling elite.
The result is that Russian military hardware and personnel are in eastern Ukraine supporting pro-Russian rebels.
Statements by pro-Russian rebel leaders indicate that they may attempt to expand their area of control, and Yanukovych has even suggested that he may soon return to power in Ukraine.
One of the demands of the now aborted March 1 demonstration was an immediate end to Russia's involvement in the war in Ukraine. Nemtsov was the most prominent of the protest leaders against the Russian war in Ukraine, and he paid for it with his life.
The "Spring March" will now be a funeral procession.
© Toby Westerman
---
The views expressed by RenewAmerica columnists are their own and do not necessarily reflect the position of RenewAmerica or its affiliates.
---