Chavez and the ideology of Russian missiles

By
Toby Westerman
December 10, 2009
Venezuela's Marxist leader, Hugo Chavez, is receiving "thousands" of reliable, accurate, and very portable Russian ground-to-air missiles as part of a military buildup supposedly in anticipation of a U.S. assault. Chavez knows that there is no chance that the Obama administration will launch an attack against his regime. The real reason for Chavez's missile purchase and his military buildup in general remains hidden and disturbing.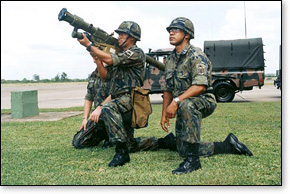 Chavez states that he is enraged that neighboring Colombia is permitting the United States to use six bases on Colombian territory. The troops had been stationed in Ecuador, but were expelled from that nation's pro-Chavez president, Rafael Correa. The mission of the U.S. troops involved drug traffic detection and interdiction.
A war with Chavez is not likely, since U.S. president Barack Obama is already tied down in Afghanistan, and much of the Obama administration is sympathetic to Chavez and his Communist "Bolivarian Revolution."
In reality, Chavez's weapons shopping has more to do with his two top priorities: the establishment of a continent-wide Marxist state, and the development of a military force capable of both protecting and spreading his "Bolivarian Revolution."
The main obstacle to Chavez's ambitions is the United States.
As the missiles deliveries began, Chavez boasted that Moscow ignored U.S. pressure not to sell the missiles to Venezuela, but quickly delivered the weapons ordered only in September. "They [the missiles] are here already," Chavez declared.
T-72 Russian battle tanks are also on the way.
On the surface it is clear that Moscow has no problem arming a Marxist dictator who is actively, and so far successfully, spreading his "Bolivarian Revolution" across Latin America.
Chavez understudy, Marxist Evo Morales, was just reelected to a second term as president of Bolivia — helped in large measure by Chavez oil money. Chavez ally Rafael Correa rules in Ecuador, and long-time Marxist guerrilla Daniel Ortega controls Nicaragua.
Chavez also receives political support from Brazil's Lula da Silva and Christina Fernandez de Kirchner (wife of former president Nestor Kirchner) of Argentina. Chavez is reported to have contributed generously to the presidential campaigns of both da Silva and Fernandez.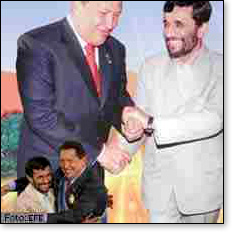 Chavez's Bolivarian Revolution also finds support from the Islamic Republic of Iran and various Islamic militant groups. The Marxist Chavez and the fundamentalist Islamic militants have one common enemy: the United States.
Venezuela, once a U.S. ally, is now openly evolving into an arms depot, supplied by $4.5 billion in Russian arms alone, with additional purchases coming from several other nations.
The latest delivery consists of Russian IGLA-S shoulder-launched anti-aircraft missiles, and Russia's RPG-7 useful against attack helicopters and enemy tanks. The IGLA is thought to be highly accurate, and its Russian manufacturer claims that the IGLA can be fired at night and is nearly immune to electronic jamming.
This most recent round of weapons acquisition comes after earlier deliveries of Russian attack helicopters, 24 advanced Sukhoi fighters, 100,000 AK 103 assault rifles, and a license for Venezuela to manufacture the sophisticated small arms.
While Chavez has stated that he believes that South America should develop a modern, united military force, he is also a supporter of the regions most powerful guerrilla force, the Revolutionary Armed Forces of Colombia. Known by its Spanish acronym, FARC, the guerrilla army has waged a forty year campaign against the government of Colombia in a struggle which has taken tens of thousands of lives.
Chavez's alliance with the FARC gives him first-hand experience in asymmetrical warfare and an already existing means to strike at any opponent using guerrilla tactics. The FARC has already stated that it would help defend the Chavez regime against a U.S. attack, and Chavez is known to be providing the FARC with refuge in Venezuela.
The FARC finances much of its revolutionary activities with the sale of illicit drugs — often through Chavez's Venezuela. The FARC also is training drug cartel paramilitary forces. The FARC has helped train the Mexican drug cartels in weapons and tactics, and FARC drug trafficking personnel are known to be operating in the United States.
There is no reason to suppose that FARC would hesitate in any respect to organize armed bands in the United States itself, if the opportunity presented itself. U.S. domestic criminal gangs already cooperating with FARC drug dealers could will certainly be approached by FARC political officers for ideological cultivation.
When viewed as part of a continent-wide strategy, which includes both established nation states and guerrilla operatives, Chavez's arms purchases become understandable and dangerous. Nations friendly to Chavez's Marxist vision and Communist guerrilla bands — possibly even in the U.S. — could participate in the Venezuelan arms bonanza.
Moscow is assisting in the linking of arms sales and ideology. Russian arms now protect Marxist regimes, Communist guerrilla forces, and the narcotics traffic which helps to fund them.
Russia's ex-president, current Prime Minister, and probably next president, Vladimir Putin, has called Chavez "friend." Both Putin and Chavez regard Communist Cuba's regime as an important ally, with the Castro brothers being regarded with great honor. Moscow has referred to Communist Cuba as a "key ally," and Chavez regards Fidel Castro as his political "guide."
The recent delivery of Russian missiles, and the preceding billions of dollars worth of weaponry, is not just a question of the transfer of military equipment, but much more about the fast changing ideological map of Latin America and Moscow's unacknowledged role in that change.
CHAVEZ AND HIS FRIENDS ARE A THREAT THAT THE MEDIA IS NOT REPORTING — BUT WE ARE. READ:
LIES, TERROR, AND THE RISE OF THE NEO-COMMUNIST EMPIRE: ORIGINS AND DIRECTION.
TO ORDER FROM AMAZON, CLICK ONTO: LIES, TERROR, AND THE RISE OF THE NEO-COMMUNIST EMPIRE: ORIGINS AND DIRECTION
WHAT REVIEWERS SAY
: "FAST-PACED AND HIGHLY READABLE"; "PROVIDES A BROAD, ENCOMPASSING PANORAMA..."; "IF YOU ARE INTERESTED IN HOW WE GOT TO THE POINT WE ARE TODAY...THIS IS THE BOOK YOU MUST READ."

LIES, TERROR, AND THE RISE OF THE NEO-COMMUNIST EMPIRE: ORIGINS AND DIRECTION,

By Toby Westerman.

The author reveals the origins and direction of the terror alliance between militant Islam, resurgent neo-communist nations and revolutionary groups. This work focuses on questions the media dare not ask, including:
Who controls Russia? Did the Cold War really end? Is it possible to negotiate with radical Islam? How does radical Islam work with neo-communist nations and rebel groups? What does history teach us?
Westerman's book is essential reading for these times.
© Toby Westerman
---
The views expressed by RenewAmerica columnists are their own and do not necessarily reflect the position of RenewAmerica or its affiliates.
---