Jim Simpson
SEALs capture notorious terrorist -- SEALs arrested!

By
Jim Simpson
November 25, 2009
First we had Congressman John Murtha accusing US Marines of atrocities in Haditha, Iraq — a blatant lie based on
false information supplied by the enemy
. Those Marines had to face an arduous multi-year trial despite the obvious fabrication of evidence, and it is still not over for some. Next we have the Obama administration seeking to soothe Muslim fears about "backlash" after a Muslim Major commits the
first successful act of terrorism
on our soil since 9/11, while they withhold evidence about the case from Congress and do lmore to suppress than investigate the nature of the attack. Now we have the spectre of seeing
three U.S. Navy SEALs arrested
because the terrorist they captured claims he was punched!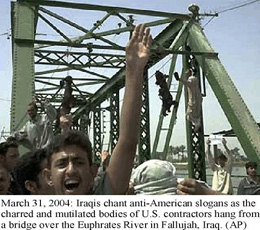 Who is the enemy here? Four SEALs captured Ahmed Hashim Abed, codenamed "Objective Amber" on September 3rd. Abed was the ringleader of the group who ambushed four security contractors in Fallujah in 2004, and hung their burned bodies on a bridge. One of the four,
Scott Helvenston
, had been a Navy SEAL himself for twelve years.
But now Abed is claiming he got a bloody lip. Boo hoo! And the Navy is prosecuting! These people are
insane!
Give the SEALs a medal for a dangerous, thankless job well done, and suggest that Abed get on his knees and thank
God
he wasn't captured by someone else.
Read more...
© Jim Simpson
---
The views expressed by RenewAmerica columnists are their own and do not necessarily reflect the position of RenewAmerica or its affiliates.
---