Victor Sharpe
Perfect gift for young children and grandchildren for Christmas and the Holidays

By
Victor Sharpe
December 14, 2019
Dear Friends,
Please allow me to promote my new children's story and coloring book, Dragon Rake.
Since it was released on October 1, by the publisher, Waldorf Publishing, many parents and grandparents who have bought copies tell me how much the children are enjoying it.
Here is the promo I put together:
Book review and info. of Victor Sharpe's new story and coloring book: Dragon Rake.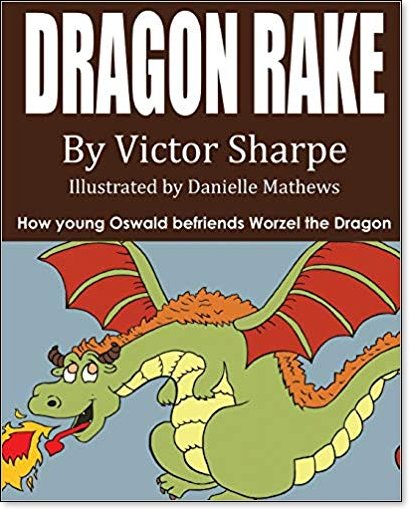 Author, Victor Sharpe
Dragon Rake Paperback – Released on October 1, 2019
5 out of 5 stars rating

Kindle $ 3.95

Paperback $12.95

This is the magical and touching story of Worzel, the last dragon in the world, and how a young boy called Oswald befriends him. Worzel is very lonely and becomes angry at times, especially because the people in the village below, especially the grumpy mayor, Mr. Mobius, would like to chase Worzel away. How a young boy called Oswald becomes great friends with Worzel, and how a huge magic rake called the Dragon Rake becomes the means to make Worzel happy again is what makes this story so much fun for young children. With its illustrations of funny dragons and with such a delightful tale, young children will want to look at the pages and read this charming book again and again. They will also love to enjoy it as a coloring book.

Here is the Waldorf Publishing URL: https://www.waldorfpublishing.com/collections/2019/products/dragon-rake

Folks may click on this URL in order to purchase Dragon Rake. It is also obtainable on Amazon and Barnes & Noble.

Dragon Rake

$12.95

Review by Amy Raines of Victor Sharpe's Children's story and Coloring book:

Amy Raines

Review Rating:

5 Stars – Congratulations on your 5-star reviews!

________________________________________

Reviewed By Amy Raines for Readers' Favorite.

Dragon Rake, written by Victor Sharpe and illustrated by Danielle Mathews, is the story of a dragon, the last of his kind, who likes his back to be scratched every day. The villagers in the valley below had to decide who should scratch Worzel's back each day, selecting only the bravest person to do the task. Worzel blew fire and made sounds that scared the villagers so much that the mayor decided to have a meeting about the scary monster and what they should do about him. A young villager named Oswald volunteered to scratch the dragon's back with the specially built magic rake because he had a lot of questions for the dragon. Would the mayor accept Oswald's request? What does the young boy want to know? Will the dragon answer Oswald or just get angry? Is the dragon the mean and angry monster the villagers think he is?

I loved Dragon Rake by Victor Sharpe. The plot is smooth and easy for children to comprehend and enjoy as they read about the angry, itchy dragon and the villagers. The characters are fun and easy for kids to relate to as Oswald asks the questions that nobody wants to help him with. The illustrations by Danielle Mathews are adorable as they help tell the story by leading children through their own imaginations. I love how Sharpe addresses the issue of judging others based on appearance and minor behavior problems by portraying an age-old monster with temperament issues who seems to bully the villagers. I recommend Dragon Rake to anyone who has children of any age. There is a lot to learn about compassion, communication, and friendship from this story.

© Victor Sharpe


---
The views expressed by RenewAmerica columnists are their own and do not necessarily reflect the position of RenewAmerica or its affiliates.
---