Victor Sharpe
The Black flags of Death

By
Victor Sharpe
October 9, 2014
Let me quote the words of Jerome Roos, writer, filmmaker and PhD Researcher at the European University Institute in Florence, who wrote the following on October 4, 2014 in
TeleSUR English.
"As Kurdish forces put up a heroic fight to save the democratic stronghold of Kobane, the US-led coalition seems content to let ISIS commit a massacre."
Here we have a moral crisis affecting what is left of the free world. Will the approximately 12,000 Kurdish men, women and children left in Kobane be allowed by the Obama administration to succumb to the horror that is the Islamic State?
Reports from the beleaguered and all but surrounded Kurdish city claim that a Kurdish female fighter blew herself up with a grenade rather than be captured and face a cruel and pitiless fate at the hands of the ISIS Islamo-Nazis.
Already, the ISIS black flags of death have appeared on some of the buildings in Kobane and there is great fear of a frightful massacre in the city if the Kurdish fighters cannot hold back the ISIS hordes. At this time of writing, pictures have appeared of ISIS thugs holding the severed heads of what they say are female Kurdish fighters.
Meanwhile, the hapless Kurds are – for some unaccountable reason – not being supplied by the Obama administration with 21st century weapons to defend themselves against the well-armed Islamo-Nazis; terrorists who possess highly sophisticated arms and tanks they looted from overrun U.S. supplied Iraqi army bases.
Turkish forces have prevented Turkish and Syrian Kurds from joining the fight primarily because they – like the Syrians, Iraqis and Iranians – have always denied the Kurdish people a sovereign, independent state of their own in Kurdish ancient and ancestral lands; territories that happen to straddle modern Arab, Turkish and Iranian territories.
The question must be asked of the Turkish government – run by the Islamist President, Recip Tayip Erdogan, who has taken Turkey deep into a sharia compliant Islamic state – why has it allowed ISIS terrorists to freely cross its border with Syria and even enable ISIS to sell oil stolen by it from captured Iraqi oil wells?
At the same time, why has it prevented thousands of Turkish Kurds from crossing that same border to aid their embattled compatriots in the defense of Kobane?
The answer is simple and stark. Turkey is at war with Kurdish aspirations for an eventual autonomous region leading to centuries overdue Kurdish statehood.
Thus a moral crisis is looming in the second decade of the 21st century, a century that may well eclipse in human degradation and inhumanity even that of the dark centuries that comprise the last two millennia.
Let me also quote from the words of Dante Alighieri:
"The darkest places in Hell are reserved for those who maintain their neutrality in times of moral crisis."
Notice how the mainstream media, like its shameful treatment of Israel's cause and struggle against the same Islamic evil – Hamas – mostly plays down the fight for survival of the brave Kurdish resistance and refrains from criticizing President Obama's policies. There is that same shameful neutrality again.
Rami Abdulrahman of the Syrian Observatory for Human Rights said recently. "There are many questions as to why the US-led coalition is not fully attacking ISIS now as they are easy targets." Why, indeed?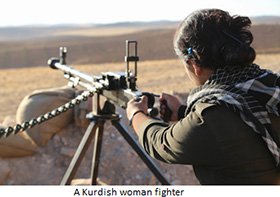 Jerome Roos also suggests that the apparent refusal by President Obama to inflict meaningful and punishing air strikes against ISIS is because the U.S., "shares Turkey's preference to have ISIS and the Kurds battle it out to death. This cynical approach confirms just how little interest the US and its allies truly have in promoting democracy across the region."
This may or may not be true, but Mr. Roos also quotes a spokesman from Kobane, Ismet Sheikh Hasan:
"... the US-led coalition needs to strike ISIS targets before it's too late. ISIS is not only a threat for the Kurds, but for the entire world... If a massacre takes place, the international community will be responsible."
Was this not in part echoed by Israel's Prime Minister, Binyamin Netanyahu, during his recent U.N. General Assembly speech? He said of the Hamas Islamo-Nazis in Gaza:
"Hamas is ISIS, and ISIS is Hamas."
He also reminded the few delegates who remained during his speech and who sat in stony silence, that Israel's war against radical Islam is not only Israel's struggle but, looking steadily at the delegates in that baleful U.N. building, he also said, "it is yours."
© Victor Sharpe
---
The views expressed by RenewAmerica columnists are their own and do not necessarily reflect the position of RenewAmerica or its affiliates.
---