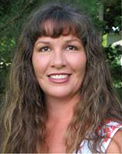 Gina Miller
Talking to a liberal on election eve

By
Gina Miller
November 6, 2012
On Sunday evening I called a dear relative that I have not seen for a number of years. He lives several states away, and we have not had the occasion to be together due to our busy, divergent lives. I love him and miss seeing him, although he is a die-hard liberal who fully supports Barack Obama (or whatever his name is).
When I called my loved one, so close to this critical election, I knew I did not want to discuss politics with him, because there is no agreement in our worldviews. I would have studiously avoided any mention of politics, but he broached the subject right away by asking me what I think of the upcoming election.
So, it began. I gently tried to point out to him (if there
is
a "gentle" way to point out) that Obama has distinctly communistic (or socialistic, if you prefer) policies of centralized government control of society. The conversation was fruitless. I refrained from citing a laundry list of the lawless, impeachable, even treasonous actions by this administration and only mentioned a few, which he refused to accept.
He had the leftist talking points down pat: blaming President Bush for everything; claiming opposition to Obama's policies is due to racism; denouncing government subsidies for oil companies; denying that the federal government now has an ownership stake in General Motors after shafting the bondholders; declaring that homosexuals only want marriage "equality;" and insisting that conservatives are uninformed — especially those of us who question Obama's mysterious past and his possible ineligibility to hold the office of President.
It is difficult, even heartbreaking, to have a conversation with someone who sees the world with such radically different eyes than you do. It is even harder when the person is someone you love and you wish could be free of leftist mind shackles. It was useless to state the facts of Obama's record to him, because he honestly believes that conservatives do not know truth and facts, so wedded to his leftist ideology he is, and he simply denies that what Obama has done is wrong or in any way dangerous to America. He seems to believe the lies of the Obama administration and the lies about conservatives that the Democrat lapdog media feeds into American televisions and computers.
How could I tell him that since Obama's installation in the presidency, conservatives have been rudely — and thankfully — jarred awake and are now among the most informed people in the nation? Well, I could say it, but he would not believe it. How do I know conservatives are among the most informed? Look at the Tea Party movement. Look at the massive Tea Party turnouts around the country in 2009 and 2010. Look at the blowout, mid-term elections of 2010. Look at the astonishing number of supporters who showed up for Chick-fil-A Appreciation Day back on August 1st. These are examples of people who are watching with eyes wide open, who see what is happening with a lawless, anti-American administration in Washington. These are people who have made it a priority to be informed, to stay aware of what Obama and his minions are doing.
Counter that with the other side. Just look at all the depressing "man on the street" interviews of brainwashed kids at college campuses and clueless citizens on big city streets, or unwitting, guest players of Glenn Beck's "Moron Trivia." Look at "Obama Phone Woman." Look at the deranged thinking displayed by the Occupy Wall Street idiots. I know these are anecdotal, but you still see many people are void of even the most basic knowledge of what is happening in the world around them, much less in federal, state and local governments.
The stark contrast between conservatives and liberals is the nature of their worldviews. The fundamentals of conservatism are godly values. The fundamentals of liberalism are godless platitudes. Conservatism is a worldview that cherishes our nation's Christian foundation. It seeks the best for everyone, not equality of outcome, but equality of opportunity. Conservatism cherishes our God-given freedoms which are necessarily joined with personal responsibility. Conservatism demands good stewardship in our leaders, and it seeks to turn back the nearly unrestrained spending and power-grabbing by those in Washington in recent years.
Liberalism looks at government as god, while it denies God's place in our nation. It thrives on envy. It seeks to "equalize" outcomes, which inevitably leads to the lowest common denominator becoming the standard. Liberalism is herd mentality; it shuns individualism and self-initiative. It seeks to shake off the healthy restraints of moral absolutes and sound reason. The policies of liberalism ultimately lead to tyranny.
I realize I am preaching to the choir here on the sites that carry this column, and I do not have to tell you how crucial it is that we get this anti-American, junior tyrant out of our White House on this Election Day. But, it remains that there are many people in our nation with the mindset of my dear relative, who do not perceive the real nature of liberalism, who support its horrendous goals of wealth "redistribution," all-powerful, monstrous government and the silencing of those who speak against liberalism's tyranny. These people do not look back in history, even recent history, and see the atrocious track record of liberal policies that fail everywhere they are imposed.
I pray, as I have for many years now, for my loved one to be free from the deception of liberalism. And the next time I talk with him, I will try much harder to keep the conversation away from politics and on, say, football and barbecue.
© Gina Miller
---
The views expressed by RenewAmerica columnists are their own and do not necessarily reflect the position of RenewAmerica or its affiliates.
---