Lloyd Marcus
Joe Biden is a vile little man

By
Lloyd Marcus
July 30, 2014
Words can not express my disdain for the reprehensible behavior of VP Joe Biden and his Democrat co-conspirators. At a gathering of mostly black civil rights leaders Biden strategically launched a nasty false narrative for the sole propose of ginning up racial hate and division.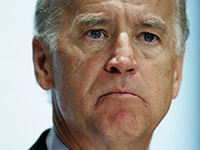 Republicans are requesting that Americans show an ID to vote, which is only common sense. This vile little man, Joe Biden, characterized the Republicans' identification requirement as racial hate and an attempt to block blacks from voting.
As my late mom would say, adding yeast to his lie, Biden claimed Republicans have tried to curtail voting rights 83 times this year.
http://cbsn.ws/1ujPkOc
Biden's accusation is absurd; a self-serving evil lie conceived by a deviant mind. Insidiously, Biden's game plan is to rip open and pour enough salt into old 1960s civil rights movement wounds to motivate blacks to flock to the polls in November to vote against their perceived white racist enemies.
I refuse to give Biden's "hate speech" a pass by chalking it up to politics as usual. Stoking the flames of racial hatred for political gain, polarizing Americans along racial lines is serious business, irresponsible and extremely dangerous.
Biden and his fellow Democrats cavalierly throwing "race grenades" whenever it serves their political purpose is a slap in the face to Americans, black and white, who suffered, sacrificed and died to bring us to where we are today; a black man occupying the Oval Office.
My 86 year old black dad, Dr. Rev. Lloyd E. Marcus was very active in the early civil rights movement. Dad knows the price that was paid to win blacks the right to vote. Upon my four siblings and me reaching voting age, Dad stayed on our case.
"Today is election day – make sure you vote!"
Dad instilled in us that voting is a duty and a privilege of being a citizen.
And yet, Dad's Democratic party people are attempting to devalue the right to vote by giving it away to anyone they believe will vote Democrat, regardless of their legal status. The Democrats' propensity for voter fraud cheapens the value of every American's vote . This is why Biden and the Democrats vehemently oppose voter ID.
Meanwhile, rather than challenging the Democrats' absurd claim that Republicans are trying to keep blacks from voting, political know-it-alls advise Republicans to concede the point. They say Republicans must convince blacks that they are not racist by lightening up on requiring blacks to show an ID to vote. Surrendering to the Democrats' ridiculous claim and and pandering in accordance to it is sickeningly immoral and cowardice.
By the way, as a proud American who happens to be black, I am extremely insulted by the Democratic Party's entrenched bigotry of lowered expectations. While Americans are required to present an ID to complete a plethora of daily transactions, Democrats are saying presenting an ID is too challenging for us blacks. We're special...a bit slower than other Americans. With friends like the Democrats, blacks do not need any enemies.
In regards to national race relations, America has come a long way, baby. Older Americans have powerful memories, deep scars and countless stories of Americans behaving at their best and worse in our struggle to achieve Dr Martin Luther King Jr's dream. I am talking much blood, sweat and tears.
And yet, Biden and the Democrats have callously tossed hard-fought national race relations on the alter into the fire to be burned as a sacrifice in worship of Obama and furthering their socialist/progressive agenda.
There is talk of Joe Biden running for president in 2016. The last thing America needs is another vile little man in the Oval Office willing to fuel the flames of division and racial hate, pitting Americans against each other for political expediency.
As my patriot brothers in New Jersey would say, "So you wanna be president Joe? Forget about it!"
© Lloyd Marcus
---
The views expressed by RenewAmerica columnists are their own and do not necessarily reflect the position of RenewAmerica or its affiliates.
---