Lloyd Marcus
State of the Union Address: instigator on jailhouse steps

By
Lloyd Marcus
February 14, 2013
Obama is the ultimate bully armed with the ultimate bully pulpit. He is an extremely smooth vindictive instigator. Obama speeches are thinly veiled "hit lists" targeting the rich, Republicans and Conservatives for destruction, retribution and revenge by his low-info minions. Obama is the movie cliché loudmouth guy in westerns who stands on the jailhouse steps and works town folks into a frenzied mob. The rabble-rouser yells,
"If I were you guys, I would not allow them to get away with it!"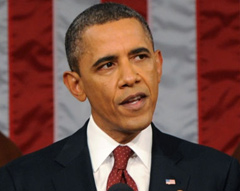 In response, the angry mob breaks into the jail, overtakes the sheriff, drags out the terrified prisoner and hangs him without a trial as they are too enraged to wait for the judge to arrive on the morning train.
Obama uses his jailhouse-steps-instigator tactic to destroy his opposition, thus, winning him every policy debate. Beginning with his 2008 presidential campaign, the message of every Obama speech and supportive marketing is Republicans are selfish racists who want you poor and/or dead. If I were you guys, I would not allow them to get away with it!
A prime example is team Obama's irresponsible blatantly lying Medicare ad showing Republican Paul Ryan murdering granny by pushing her over a cliff. The truth is Ryan's Medicare reform proposal did not affect people over 55 years old and simply gave citizens more options and control of their health care.
http://www.youtube.com/watch?v=OGnE83A1Z4U
Republicans/Conservatives misjudged the effectiveness of team Obama's over-the-top crazy absurd lying rhetoric. Little did we know that low info voters (TMZ, late night talk show and Two and a Half Men viewers) were perceiving it as the gospel truth.
Occupy Wall Street was nothing more than an instigator Obama and company's created mob. OWS so-called 99 percenters politically dragged out the one percenters and politically lynched them in the public square without a fair trial or anyone speaking the truth about how prosperity is achieved.
A wise man said there is nothing worse than a small person in a powerful position. Tragically, America has elected a lying deceitful small man who viciously targets achievers; a bully armed with the ultimate bully pulpit committed to destroying any opposition to him transforming America into his fantasy socialistic utopia.
My analysis of Obama's State of the Union Address – shameless lies, more lies and propaganda designed to woo low info voters.
My fellow Americans, here is the link to a one minute video exposing the real State of the Union.
http://bit.ly/127147U
© Lloyd Marcus
---
The views expressed by RenewAmerica columnists are their own and do not necessarily reflect the position of RenewAmerica or its affiliates.
---