Tabitha Korol
The art of war

By
Tabitha Korol
December 30, 2015
York University, a public research university located in Toronto, Ontario, is Canada's third largest university, with 52,800 students, including 5,462 international students, and 7,000 faculty and staff. The Mission Statement is grandiose and appealing, claiming "excellence in research" with a goal of cultivating "the critical intellect." There are assurances that the University is "open to the world: we explore global concerns," accompanied by ensuring "social justice" and a commitment to teaching "social responsibility." The President's Message further confirms that the University is "proud to be one of Canada's most socially responsive and engaged Universities," yet the president, Dr. Mamdouh Shoukri, is unwilling to test those very ethics.
If the University welcomes the diversity from 157 countries, it should be prepared to suppress conflict and injustice. If it prides itself on social responsibility, it should discourage irresponsible behaviors and the incitement to isolate one people, one country. If excellence in research is encouraged, then it may be time to thoroughly research both the irrational Islamic hatred and culture of violence and the validity of the Jewish bond to the Land of Israel.
Affixed to a wall in the Student Centre is a mural that features a Palestinian youth preparing to throw two rocks at an Israeli structure. More than 4,000 incidents of rock throwing against Jews are reported each year in the West Bank, causing serious injury and death. The "art" expresses the Arab demand for a Palestine that includes Israel along with Gaza, Judea and Samaria (Jordan's West Bank), without border definitions, without compromise. The violent elimination of the State of Israel and the Jewish people define the words beneath "Justice" and "Peace."
Having initiated four military wars against Israel, suffering utter humiliation with each loss, the Muslim Brotherhood chose the course of psychological warfare, propagating lies on which to base another intifada (uprising), days of rage or boycott, and it is on Israel specifically that Muslim students maintain their focus – for the time being. The mural is propaganda meant to provoke; to deny Israel her 3,000 year history of Jewish presence (Muslims appeared in the 7th century), and the legal deeds held by the Jewish state since 1948. The mural supports the invented history of Jordanian, Lebanese, Syrian, Saudi and Egyptian Arabs who deceitfully took the Latin name of Palestinians to fabricate a bond between themselves and the area they invaded, which they lost in 1967. The concocted history and accusations of "occupation" are part of the Islamic aggression against the world, one of many battles in which Muslims are engaged – in Africa, Asia, Europe and the Americas – to establish a global Caliphate.
Yet despite voiced disapproval by students and citizens alike, University President Dr. Mamdouh Shoukri assures us of their commitment to a safer environment, but that this instance is off campus and beyond his jurisdiction. The claim to be cultivating "critical intellect" in the students and "social responsibility" rings hollow, for these are York students, and the building is the York University Student Centre. Is there no responsibility to maintain an apolitical, non-threatening environment? The mural is encouraging violence, perhaps worthy of emulating, climate permitting. Dr. Shoukri knows such incidents in American universities have resulted in terror and bodily harm inflicted on Jewish students. Who is charged with overseeing student welfare, or is this disengagement meant to perpetuate the narrative? Is this being considered "free speech" until legally challenged, or slander and incitement to violence? It is certainly advocating one political viewpoint while suppressing another.
Therefore, to fulfill his aim of "social justice," I would ask the president to consent to five more murals to enhance the Palestinians' objects of glory or mission on one wall, and an equal number of similarly sized murals to express the objects of Israel's glory or mission on the opposite wall. Thus both groups could legitimately present their ideas of justice and values to students, faculty and staff, and allow "critical intellect" to decide.
A second Palestinian mural should show the stoning of Islamic women who are accused of adultery or something as simple as owning a cell phone.
Siddqa,
19, was dressed in a full blue burqa, buried up to her waist in the ground, and pelted with stones. When she collapsed, covered in blood but still alive, a Taliban fighter shot her three times in the head with an AK-47. This photo is of her 19-year-old lover who was trying to flee, was captured and stoned to death. Justice was equally served.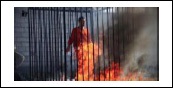 The third is the Jordanian pilot from the US-led Coalition,
Muath Al-Kassasbeh
, who was deprived of food for five days, displayed in front of armed terrorists, caged, soaked with petrol and set afire as an offering to Allah. Watching and listening to the screaming and melting is considered justice to the "religion of peace."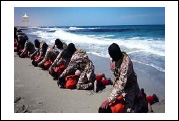 The fourth, death by decapitation, is not as commonplace as stoning or being buried alive and left exposed to the elements.
Beheading
, mentioned twice in the Koran, instills fear into those who watch, and it attracts more publicity than car bombings and suicide bombings. The killers achieve a sense of justice. Children are
taught to behead
at an early age, using dolls and live animals.
Next is a recognized Australian
victim of rape.
In Saudi Arabia, rape victims would receive 100 lashes for committing adultery, followed by incarceration for a year. Australia lacks such rules of "justice."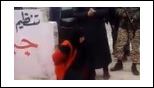 The sixth is justice for women. The Muslim woman, mother of three, was walking in the street, stopped, and pronounced guilty of wearing a
red jacket
over her black burqa. She was told to kneel and was summarily shot in the head.
This new discovery is worthy of inclusion because of the enormous pride and occasion for celebration.
Samir Kuntar, Palestinian superhero, smashed the head of a four-year-old Israeli girl with the butt of his rifle.

The opposite wall should also display a like number of murals to acknowledge the interests and commitments of the Israelis.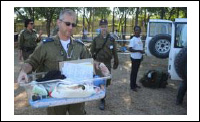 Haiti's devastating earthquake of 2010 attracted many rescue teams, including from Iceland, China, Qatar, South Africa, Columbia, Cuba, Japan, Florida, and New York City's experienced 9/11 personnel. Israelis brought a rescue team of 200 and a field hospital. An Egyptian-Jewish Haitian supplied his factory's grounds and trucks to bring in tents, medical equipment, communication hardware and all supplies. Within eight hours, the field hospital was set up and operational, and became the model for the future. Israelis performed surgeries and births, treated broken bones and traumas. The first baby born was named Israel Michel.


An Israeli company's water purification systems deliver safe drinking water from almost any source, including contaminated water, seawater and urine. Following a major earthquake in Taiwan in 2009, Israeli humanitarian aid workers brought locally made WaterSheer products to ensure a steady stream of potable water for the survivors and wherever it was needed. Within 48 hours, Taiwan had 4,227 gallons of pure water per day.


Dr. Amit Goffer, an Israeli, developed ReWalk Robotics, an exoskeleton system that enables the paralyzed to walk. Facilitated by computers and motion sensors, it allows independent, controlled walking. It helped Clair Lomas to complete the marathon course at the London Paralympics in 2012, and recently assisted a groom to walk down the aisle. It also provides dignity, mental health, improved cardiovascular health and bowel function, loss of fat tissue, and building of lean muscle mass. Users have less pain, take fewer medications, and require less hospitalization.




Israel has become the fastest growing laboratory for innovative technology, following US and China in creativity and entrepreneurial leadership. Some innovations are responsible transportation using batteries, not oil; drip irrigation that allows farmers worldwide to grow 40% more crops using half the water. Tahal Group has technological solutions to make wastewater treatment processes more efficient and relevant. LifeStraw is the water filter chosen by leading NGOs for humanitarian relief worldwide since 2005, which meets or exceeds EPA standards for efficacy. It removes almost all the waterborne bacteria and parasites and it filters a maximum of 1000 litres of water, enough for one person for one year.



Israel's breakthroughs are too numerous to mention. Here are a few recent one: * Researchers at the Hebrew University of Jerusalem developed a molecule (NT157) that targets metastatic human melanoma and colon cancer. * Israel's Oramed gives China the right to its oral insulin capsule to treat the large, growing numbers of diabetics in China. * A new arthritis treatment reduces high blood pressure. Japan turns to Israeli tech to treat radiation disease. A new voice technology Voice ITT translates speech of people with communication disabilities. Israel's Enopace performed first implant operation to treat patients with congestive heart failure. Israel developed a plastic material that repairs itself. For weekly updates on Israel's achievements, send your request to: michael.goodnewsisrael@gmail.com.

It is insufficient and irresponsible for the University to blithely state that it is concerned with "social justice" and yet to be unprepared to put all sides of this issue on the table and allow the unprejudiced "critical intellect" of the students to make their assessment. I welcome hearing from Dr. Mamdouh Shoukri, that he will be re-aligning himself and the University with the pursuit of true "excellence in research" combined with intellectual honesty and fairness.

© Tabitha Korol


---
The views expressed by RenewAmerica columnists are their own and do not necessarily reflect the position of RenewAmerica or its affiliates.
---