Jake Jacobs
Battle of the Bulge, music & tyrants at Christmas!

By
Jake Jacobs
December 18, 2017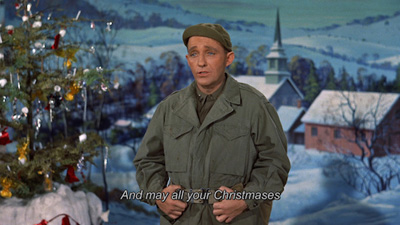 73 years ago on December 16, 1944 began the
Battle of the Bulge
. It was Adolf Hitler's final gamble, the last major German offensive on the Western Front during World War II. The surprise attack caught the Allied forces completely off guard. American forces bore the brunt of the attack and it was the largest and bloodiest battle fought by the United States in the war. 19,000 GI's were killed. 61,000 wounded.
As a kid my Dad who fought against the Japanese during the War, had a friend of his, Andy, tell me about his job in Patton's 3rd Army as a tank buster and how they marched in the freezing snow 100 miles in 3 days to fight the Nazi Army.
You see a little bit of the
Battle of the Bulge
depicted in the 1954 Hollywood classic "White Christmas" where Bing Crosby is singing the #1 all time Christmas song
White Christmas
on Christmas eve 1944, to American GI's taking a break from the war as the miss home, family and friends.
White Christmas
written by the Jewish composer and lyricist Irving Berlin, who also wrote the wonderful song,
God Bless America
, became the biggest selling single in world history, reaching the #1 spot on the Billboard charts of 1942, 1945, and 1946. Due to it's popular demand by our GI's during WWII, the US Army released a special V-disc of
White Christmas
and
I'll Be Home By Christmas
in 1945 as our "Warriors of Liberty" longed to be home with family and loved ones.
My Dad, Joe Jacobs, a true GI JOE came home to Iron Mountain, Michigan, February, 1946.
It's fascinating when you study the relationship of music to armies, Nations and culture. In the 1930's the Nazis outlawed American "Swing Music" as it was considered degenerate Black and Jewish music that was anti-Nazi and non-Aryan-Germanic. Young German "hipsters" in Hamburg would buy smuggled American music and dance to American hits like African-American Duke Ellington's
It Don't Mean A Thing: If It Ain't Got That Swing
or Jewish-American Jake Jacobs'
Bay mir bistu sheyn
made popular and a #1 hit by the Andrew Sisters
in 1938.
Most people understand the
anti-Judeo-Christian
worldview of the National Socialists or any Big Brother Socialism for that matter. But many people are puzzled why tyrants censor something as appearingly innocuous as music. To tyrants non-sanctioned music represents freedom and creativity outside of the State or Government. Tyrants by their very nature are control freaks and they want to control ALL aspects of life from cradle to grave and from culture to politics. It is why we must always fight to protect our 1st amendment God-given rights of freedom of Religion, Speech, Press, Assembly and the right to Petition our government!
It is not a coincidence that Soviet Socialism outlawed all music and culture that was in their estimation "anti-Communist." They even frowned upon their youth listening to "degenerate" Rock N Roll especially the Beatles. Author and former British spy, Leslie Woodhead writes in his book
How The Beatles Rocked The Kremlin
that the Beatles played a key role Beatles in undermining communism and winning the cold war.Even Soviet Premier Mikhail Gorbachev stated that
: "More than any ideology, more than any religion, more than Vietnam or any war or nuclear bomb, the single most important reason for the diffusion of the Cold War was... The Beatles."
While I find both
of
those assertions an exaggeration as I give more credit to President Reagan, Prime Minister Margaret Thatcher and Pope John Paul II
-
it is true that the Beatles did plant in the hearts and minds of Soviet youth a desire to be free from Communist control.
Even Cuban Socialism had its hand in banning jazz and the Beatles for a while as it was seen as a decadent bourgeois art form from the imperialist United States. Fidel Castro went so far as to ban the saxophone as it was invented by Belgian music inventor Dr. Sax and the Belgians fought commie rebels in the Congo.
As we celebrate our Christmas holiday season this 2017 singing
White Christmas
,
Joy to The World
and many other wonderful Christmas songs let us remember the words from Irving Berlin's other classic song,
God Bless America
:
"Let us all be grateful for a land so fair, as we raise our voices in a solemn prayer
God bless America, land that I love
Stand beside her and guide her
Thru the night with a light from above
From the mountains to the prairies
To the oceans white with foam
God bless America, my home sweet home"
This is Jake Jacobs and until next week always remember the truth will set you free.
© Jake Jacobs
---
The views expressed by RenewAmerica columnists are their own and do not necessarily reflect the position of RenewAmerica or its affiliates.
---