Jake Jacobs
GI JOES: ANGELS of LIBERTY! Battle of the Bulge, White Christmas 1944 & more...

By
Jake Jacobs
December 16, 2015
December 16, 1944, was the beginning of the Battle of the Bulge as Adolf Hitler made a desperate attempt to split the British and Americans Armies in Belgium, France, and Luxembourg.
As we celebrate the Christmas of 2016, my historic and nostalgic heart is drawn back 71 years to the Christmas of 1944. Bing Crosby's rendition of White Christmas is playing throughout America, Wisconsinites are celebrating another Green Bay Packer Championship season, and Americans are mourning the loss of the magical musician Glenn Miller, whose plane crashed en route to Paris, France, where he was going to broadcast his "1944 Christmas Special" for our troops around the world.
My thoughts are with our Freedom Fighters young and old alike, those of 1944 to those of 2016. Images of yesterday and today flash through my mind's-eye as I see our GI's fighting for freedom on the blood-soaked beaches of Normandy, France, Anzio, Italy, and Okinawa, Japan. I see GI's marching through the frigid fields of France and enduring the blizzards of Belgium at the Battle of the Bulge. I see the glorious raising of the American flag at Iwo Jima. I see the kissing and hugging of American GI's throughout the liberated lands of Europe and Asia.
I see Army, Navy, Marines, and Air Force in today's World War against militant Islam destroying those who would destroy all that is good and decent. I see the shackles of oppression being torn asunder by the valor of a righteous American army. I am proud of my father's World War II generation, and I am just as proud of today's generation – they are the marvelous mettle of tempered American might, and their dedication to life and liberty is second to none!
It's their feckless Commander in Chief that has let us down....
When Bing Crosby toured Europe during the fall of 1944, the #1 requested song was "White Christmas" as its melody and words filled our soldiers' hearts with hope of home, the homes they left to go to a far away land, to secure life and liberty for millions of homes throughout the world. As many of our "Kilroys" longed to be with loved ones, longed for peace, they knew that many of them would never "be home by Christmas" and that many would never see home again. Our boys, our brave young men, soaked the soil, sand, and snow of Europe and the Pacific Islands with the sacrificial blood, sweat, and tears of Freedom.
FDR expressed it eloquently in his June 6, 1944 D-Day Prayer when he said:
"Almighty God: Our sons, pride of our Nation, this day have set upon a mighty endeavor, a struggle to preserve our Republic, our religion, and our civilization, and to set free a suffering humanity.These men are lately drawn from the ways of peace. They fight not for the lust of conquest. They fight to end conquest. They fight to liberate. They fight to let justice arise, and tolerance and good will among all Thy people. They yearn but for the end of battle, for their return to the haven of home.
Some will never return.
Embrace these, Father, and receive them, Thy heroic servants, into Thy kingdom. And for us at home – fathers, mothers, children, wives, sisters, and brothers, of brave men overseas – whose thoughts and prayers are ever with them – help us, Almighty God, to rededicate ourselves in renewed faith in Thee in this hour of great sacrifice."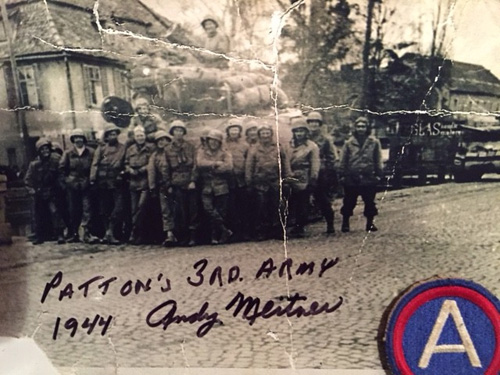 My Dad Joe, was a GI Joe during WWII vs. Japan. His friend Andy used to come to my house all the time when I was a kid and he'd tell stories about being in Patton's 3rd Army as a Nazi-tank buster. He was in the Battle of the Bulge. I asked him @ the nursing home if he had any pictures from WWII. He gave me a small, worn and torn up picture. I blew it up and he signed it for me a few months before he died.
As we gather around our Christmas trees this Christmas of 2016, and cozy up with our families and friends by our fireplaces watching
It's A Wonderful Life,
enjoying our egg-nog, wine, peace, and prosperity, let us not take for granted the gracious abundance of this wonderful land and those that make it secure, and let us pray for our military, our "Angels of Liberty." Please God, bring our guardians home to us, bring them home to their mothers and wives, to their fathers and husbands, to their brothers and sisters, to their children, to our fellow Americans, and to our nation under You!
Semper Fi! Merry Christmas!!!
© Jake Jacobs
---
The views expressed by RenewAmerica columnists are their own and do not necessarily reflect the position of RenewAmerica or its affiliates.
---