Jake Jacobs
4 Englishmen & Karl Marx: "God bless us everyone!"

By
Jake Jacobs
June 29, 2015
John, Paul, George & Ringo. 4 Englishmen known as the
Fab 4
. This read is not primarily about them, but about their fellow countrymen and the impact England or Great Britain had on Western Civilization, in fame and infamy. From the development of the University to Parliamentary democracy, to Charles Darwin and Charles Dickens, the United Kingdom's DNA is felt worldwide in many good, bad and ugly ways.
I could have tilted this article,
100 Englishmen
, but I'll be lucky to keep your attention for 100-96. We could cover Alfred The Great, the Christian King, who incorporated the Scriptures into English common law, laying the foundation for the battle of life and liberty. We could discuss William Wilberforce, the christian member of Parliament who dedicated his life to the abolition of slavery. It would be easy to pontificate on the amazing evangelist George Whitefield, who thunderous proclamation of the Gospel in the American colonies, initiated the Great Awakening, where thousands of Americans gave their hearts to Jesus Christ, preparing the way for the Black Regiment and Sons of Liberty to defeat English tyranny.
Charles is a common English name given to many noble and notorious Englishmen. King Charles I, whose unconstitutional rule, wound lead to his head being severed by a Parliament that wanted to terminate his tyrannical body. And of course, we all know of the despotic King George III, of American Revolution fame, who called our 1776 War for Independence "a Scottish Presbyterian rebellion." The United Kingdom or U.K. =
Scotland, England, Wales & Ireland contributors to the advancement of western civilization.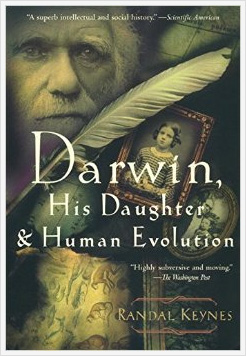 There are 2 famous Charles that were contemporaries & I love to compare and contrast their lives in my World History classes.
Charles Darwin, 1809-1882, and Charles Dickens, 1812-1870.
Darwin suffered a dark night of the soul, when the apple of his eye, Anne, died at the age of 10 in 1851. Her death caused Darwin to conclude that the God of the Scriptures, was not loving and just. To Darwin, Jesus was a myth and science proved that the reality of those not fit to survive was the essence of life and death. There was no Kingdom of Heaven. Darwin's daughter and all of humanity were ultimate natural victims of life's brutishness and destined to be dust and nothingness. Please read,
Darwin, His Daughter & Human Evolution
by Randall Keynes and discover how philosophical and personal, Darwin's science really was. About the time Darwin's
Origin of the Species (don't get me going about the full title)
was coming out in 1859, the other Charles, Charles Dickens was finishing up on his classic book,
A Tale of Two Cities
,
"It was the best of times, it was the worst of times."
In contrast to Darwin's conclusions about Christ and Christianity, Charles Dickens had a passionate connection to Christ and a conviction to convey authentic Christian principles in the various characters he incorporated into his classic prose. The great English-Catholic teacher, philosopher and writer G.K. Chesterton declared,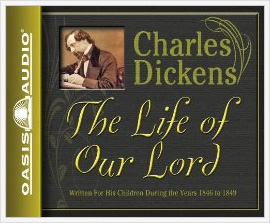 "If ever there was a message full of what modern people call true Christianity, the direct appeal to the common heart, a faith that was simple, a hope that was infinite, and a charity that was omnivorous, if ever there came among men what they call the Christianity of Christ, it was the message of Dickens."
Englishmen George Orwell's essay,
"Charles Dickens,"
echoes the words of Chesterton, as did the Russian writers, Tolstoy and Dostoyevsky, who called Dickens one the greatest Christian writers in the Western world. Due to the politcal correctness on my college campus in Arizona back in the day, I was never taught about Dickens Christianity. However, when one reads Dickens works, his Christian worldview self-evidently pours out of the pages, like the falls of Niagara. Besides his obvious classics like
David Copperfield
,
Great Expectations
,
A Christmas Carol
,
A Tale of Two Cities,
please read his wonderful work,
The Life of Our Lord. (OK maybe I listened to it on tape, but in my "book" that counts too)
I also, highly recommend Gary L. Colledge's book,
God and Charles Dickens: Recovering The Christian Voice of a Classic Author
Another contemporary of both Charles Darwin and Charles Dickens, was the father of modern Communism, the English transplant from Germany, Karl Marx who lived in London from 1849 until he died and was buried there in 1883. Marx vociferously and bombastically rejected all Gods, especially the God of Charles Dickens, the God of the Scriptures, Jesus. Marx wrote one of the most evil books in the history of the world, the
Communist Manifesto
, in a London pub. As Dickens wrote of the Ghosts of Christmas past, present and future to remind us of our Christian duty to love our neighbor and to help redeem human souls, Marx called for a blood-thirsty dictatorship of the proletariat, a militant atheistic philosophy that is responsible the death of over one hundred million souls.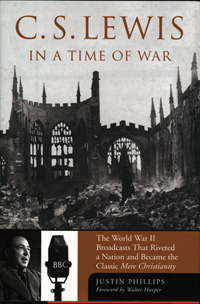 During the dark days of WWII, when the demon Nazi's where bombing Great Britain, an atheist turned Christian, through the influence of the great Catholic author J.R.R. Tolkien, C.S. Lewis, gave a series of BBC broadcasts that helped Brits deal with the pain and suffering that was inflicted upon them by Hitler's madness. Out of those broadcasts came the classic book,
Mere Christianity
. Please read one of the greatest books ever written in the 20th century! From this classic is is one of the greatest statements on Jesus ever penned, memorize it:
"I am trying here to prevent anyone saying the really foolish thing that people often say about Him: I'm ready to accept Jesus as a great moral teacher, but I don't accept his claim to be God. That is the one thing we must not say. A man who was merely a man and said the sort of things Jesus said would not be a great moral teacher. He would either be a lunatic – on the level with the man who says he is a poached egg – or else he would be the Devil of Hell. You must make your choice. Either this man was, and is, the Son of God, or else a madman or something worse. You can shut him up for a fool, you can spit at him and kill him as a demon or you can fall at his feet and call him Lord and God, but let us not come with any patronizing nonsense about his being a great human teacher. He has not left that open to us. He did not intend to."
I also recommend the excellent book,
C.S. Lewis In A Time Of War
.
As Nazi-War bombs dropped all around a Liverpool hospital on October 9, 1940, a baby christened,
John Winston Lennon
,
came into the world. John Winston created a band we all know as,
The Beatles
. Lennon did not experience the loving Christianity that Dickens wrote of, but a harsh-legalistic expression that caused him to reject the Gospel. In his excellent book,
The Gospel According To The Beatles
, Steve Turner, who knew John Lennon, creatively covers the music, philosophy of Beatles' songs and their soul searching for "the Truth."
I love Lennon's classic song
IMAGINE
, but I cannot imagine life without
Our Father Who Art In Heaven
. Great tune, sad imagining. John's song
GOD,
declares that "God is a concept by which we measure our pain" is thoroughly painful to listen to, knowing he rejects Jesus and relies on only himself and Yoko Ono to get through life. Only God knows where John and George are, let's pray the living Beatles, Paul and Ringo seek God's Kingdom and come to experience the joy of knowing Him. LOL: If, George Harrison's Hinduism was right, he could come back as a BEETLE. (OK bad joke-but I couldn't resist)
By the way, in Larry Schweikart's book,
7 Events That Made America Ameirca
, there is a brilliant Chapter titled,
A Steel Guitar Rocks The Iron Curtain
, it describes how the Beatles and Rock N' Roll music played an important roll in the down fall of the Soviet Union. Dr. Schweikart's documentary
Rockin The Wall
very colorfully covers how, "A Steel Guitar Rocks The Iron Curtain." I use it in the classroom. My students love it.
4 Englishmen or Brits. 4 different lives, with 4 different life experiences, and different conclusions about origins, purpose and destiny. A 5th Englishmen, Roger Waters, of Pink Floyd, in the classic rock album,
Dark Side Of The Moon,
wrote a song called
Time,
where he says the following:
You are young and life is long and there is time to kill today.
And then one day you find ten years have got behind you.
No one told you when to run, you missed the starting gun.
So you run and you run to catch up with the sun but it's sinking
Racing around to come up behind you again.
The sun is the same in a relative way but you're older,
Shorter of breath and one day closer to death.
Every year is getting shorter; never seem to find the time.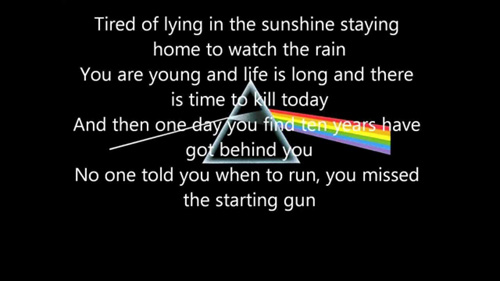 Waters, an atheist who rejects Christianity, hated the famous English atheist turned Christian evangelist , Malcolm Muggeridge and ridiculed him in the first live concert of
Dark Side
in Brighton, England in 1972. (Muggeridge would later debate Monty Python over the movie
Life of Brian
) Rogers concludes his song
Time
with an attack on Christianity where he writes,
"Far away
Across the field
Tolling on the iron bell
Calls the faithful to their knees
To hear the softly spoken magic spell.....
That
"magic spell"
is the Gospel that Charles Dickens loved and wrote about, it is the Good-News of our Lord Jesus, rejected by Charles Darwin, Karl Marx and many Englishmen and women, but was wonderfully expressed by George Whitefield, William Wilberforce, C.S. Lewis and millions of other Englishmen and women.
Please,
take the
Time
to explore His message, and the glorious news of Christ's redemption for mankind and experience the joy of knowing Him.
Did you ever notice that the British Union Jack has 3 Christian Crosses. Christianity & the UK, a Blessing....
God Bless Us Everyone.....
© Jake Jacobs
---
The views expressed by RenewAmerica columnists are their own and do not necessarily reflect the position of RenewAmerica or its affiliates.
---