Jake Jacobs
Mother should I trust the government? Part II

(part III will be the final part and the introduction of the book)

By
Jake Jacobs
September 30, 2014
Historically Anarchists were cousins to Communists and shared many of the same ideas that rejected and repudiated our Founders
republican limited government
worldview. They parted with the Marxist dialectic known as the "dictatorship of the proletariat" where the Socialistic State would destroy republicanism, private property, free enterprise as a social and economic system, and religion; as revealed in Judaism and Christianity. Anarchists also rejected the absolute idiotic Marxist concept that The State would magically "whither away" someday thus creating a pure, lovely, peaceful Communist one world government-less society. Anarchy's idiocy of no government ever could never join with Karl Marx's idiocy of an all-powerful totalitarian State withering away.
Our Founding Fathers did not deal with godless man-centered pie in the sky utopic theories that had no anchoring in the real world of sinful fallen man who was also fearfully and wonderfully made in the image of God. Our Founders not only studied Greek philosophy in Greek, Roman republicanism in Latin but many of them studied government and the human condition in Hebrew and Greek as understood in the
Torah-Tanach
and
Brit Chadashah
or what we call the Old and New Testaments.
Unlike Enlightenment, French revolutionary, Communist and Anarchist thinkers our Founders' political worldview was not only influenced by the Greco-Roman world it was profoundly shaped by the Judeo-Christian and Anglo-Saxon world that was solidly imbedded within a Biblical paradigm. This Classic Christian Western Civilization education was taught at Christian universities such as Cambridge, Oxford, Paris, and Padua and then transplanted by our forefathers to Harvard, Yale, William and Mary, Brown, and Princeton created an understanding of man that clearly understood that "if men were angels there'd be no need for government." Unlike anarchists America's founders realistically concluded that since men were not angels government comprised of men must be by it very nature:
LIMITED, checked, balanced, separated, republican and watched like a hawk forever!
Our Founders understood that since government was made up of flawed sinful human beings, with the potential to be just and lawful, it was imperative to reinforce a moral persuasion upon the character of government leaders to reinforce the temperament of limited balanced government.
Their constitutional formula was a delicate balance of enough State power to protect the citizen's unalienable God given life and liberty while not allowing too much State power to harm the citizen.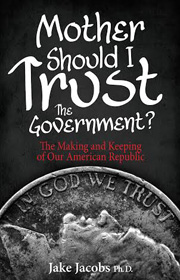 Our Founders as students of history saw that most government or State rulers such as Kings, Queens, Lords, Nobles, et.al. were usually not looking out for the best interests of their subjects and subjected them to abuse in perpetual servitude and serfdom. As couple of classic examples of this is in the stories of the Scotsmen William Wallace has seen in the famed 1995 Oscar winning film
Braveheart
and the classic tale of the Englishmen
Robin Hood
of Sherwood Forrest.
In
Braveheart
the main character William Wallace represents the people of Scotland who have been oppressed by the English Monarchy for centuries. As a young lad Wallace knows that the King of England, Edward I has murdered Clan Chieftains and his family and after returning home after many years away all he wants to do is live his life in liberty in his
"thatched roof Castle"
free from government control. Despising and defying the King's decree of sharing one's wife with the King and his Nobles Wallace has a Christian marriage in secret. When the King's occupying government soldiers attempt to rape his wife Wallace defends his family and as revenge a Noble of the King executes her. The rest of the story is the saga of the ago old battle of an oppressed people crying out "give me liberty or give me death!" And many Scotsmen did die understanding that Liberty to them was freedom from government oppression while all along simply wanting to be left alone in their
"thatched roof castles."
This concept of a free citizen's
thatched roof castle
was:
THE fundamental idea of Life and Liberty
that developed in Western Christian Civilization leading up to the 1776 Declaration of Independence versus once again, a tyrannical King of England. The Founding Father, James Otis the brilliant lawyer, orator and member of the Massachusetts Assembly stressed over and over again in his legal argumentation against the King of England:
"One of the most essential branches of English liberty is the freedom of one's house. A man's house is his castle."
This work is not an indictment on all of England's rulers, way of life or on all government at all times. Many of our Founders ideas came from English and Scottish political theory and there were Great Christian Kings like Canute The Great and Alfred The Great who helped establish God's law as the foundation of English Common Law which developed into Parliamentary Law which in turned influence our
republican form of government
. I love England and I love our "English republican" roots. I travel there all the time to see my many dear English friends, I have taught there, went to University of Brighton for a semester and received my Ph.D. in London. However like our Founders it's English tyranny I despise as I do when our Government is tyrannical.
Another example of
thatch roof castle
oppression is in the classic English story of
Robin Hood
. We are told over and over again by liberal pundits who love the class warfare argument on the rich in America that Robin Hood stole from the rich and gave to the poor thus justifying the Federal government progressive-punitive the "more you make the more we take" taxation. They conveniently leave out the most important component of the story:
Part III to follow
© Jake Jacobs
---
The views expressed by RenewAmerica columnists are their own and do not necessarily reflect the position of RenewAmerica or its affiliates.
---