Jake Jacobs
Wisconsin Warriors fighting for our Republic!

By
Jake Jacobs
August 15, 2012
As I travel Wisconsin and America doing my Tea Party and Republic-under-God speeches, I speak with many hardworking Wisconsinites like Wisconsin Federal Senator Ron Johnson, or Wisconsin State Senators Frank Lasee, and Glenn Grothman, Representatives Michelle Litjens, Andre Jacque, and Jim Steineke, and Lieutenant Governor Rebecca Kleefisch, and Wisconsin's great Governor, Scott Walker.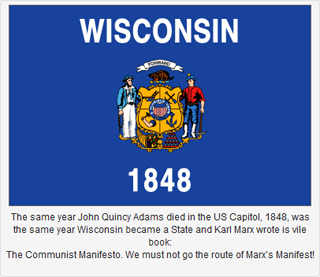 OK I have to admit as a Wisconsinite Cheesehead I have a bias here but a bias based in Fact and Action to save our Republic! I am impressed with my fellow Wisconsinites integrity, work ethic, and understanding of our Founders' vision for our republic and their dedication to fight for limited constitutional republicanism. The same mobocratic big-government battle that was being waged at the state level in Madison, Wisconsin, attempting to destroy Governor Walker's constitutional republican actions is being fought at the federal level in Washington, D.C.
Wisconsin conservative warriors like my high school friend Congressman Reid Ribble left his very successful business due to his concern over the explosion of the federal government and its superfluous spending and tyrannical taxing. Reid, along with the majority of republicans in the House of Representatives, is fighting daily for republican virtue, fiscal responsibility, and traditional values.
Another Wisconsin conservative warrior is Congressman Paul Ryan and hopefully next Vice President of the United States. Ryan calls for recapturing the "American Idea." Ryan was named Conservative of the Year by Human Events magazine and during an interview with its editor-at-large Jason Mattera, he articulated his Founding Fathers' vision:
[The election] is a referendum on the American idea, not on Barack Obama and his handling of the economy.... It is, Do you want to reclaim the founding principles that made us exceptional and great, an opportunity society with a circumscribed safety net? Or do you want the cradle-to-grave welfare state? It's really a choice of two futures.... We owe it to the country to let them choose what kind of country they want to be and what kind of people they want to be...the debt crisis can't be stressed enough. To put in perspective just how much of an anvil this Administration's polices are to the economy, Obama has tacked on more to the national debt than the first 41 presidents combined (George Washington to George Bush), and he's done so in a mere 32 months.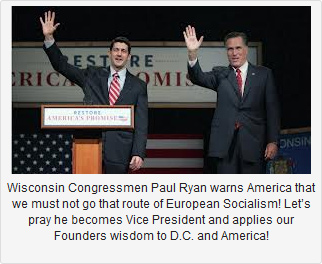 Wisconsin Congressman Paul Ryan and hopefully America's next Vice President concludes his interview by saying:
"The next two years will make it or break it: whether we go back to our limited government [and] economic freedom or a European social democracy."
Freedom or European social democracy!

That is what this cultural and political war to destroy our Republic under God is all about.

What cultural and political philosophy will we leave our children and our children's children?

Will freedom and constitutional republicanism continue in America or will European social democracy and its variant offshoots of big-government socialism, cultural marxism, and secular progressivism prevail in the end? Will we heed the warnings of our Founders or will we go the way of nations that have come and gone?

America is dying because America's children are not being taught VERITAS, or the truth, in our classrooms. When America's culture gives credence to the Whoopi Goldbergs, Sean Penns, Susan Sarandons, Michael Moore's and Matt Damons of the world who think communism is a great concept on paper as they cross their fingers hoping that the "right" leader comes along to implement it properly, you know we are on a slippery slope to socialism. When Americans ignored all the warnings of Barack Obama's socialist ties and ways, you know our Republic under God is on the precipice of survival. When the favorite symbol in the "Walker is Hitler" and Occupy rallies is the socialist Days of Rage clenched fist, you know it is becoming more and more difficult to keep our republic in peace. When our President's advisers are card-carrying communists like Van Jones, or admirers of Mao Zedong like Anita Dunn, or red-letter Marxists like Obama's "spiritual" advisor Jim Wallis, you know our days of trusting in God are diminishing as the people turn to government as their God and Savior. When Republican VP candidate Paul Ryan mentioned in an interview a few day ago that our Life and Liberty come from our Creator the elite media when crazy with disdain for Ryan's articulation of our Founders Judeo-Christian worldview.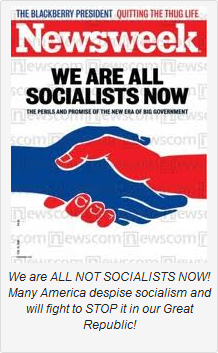 Back in my college days in Arizona, I once bagged Sandra Day O'Connor's groceries at the Safeway grocery store where I worked. Ironically, it was the same store where Nancy Reagan's parents used to shop. When President Reagan appointed Judge O'Connor to be the first woman on the Supreme Court, I was blessed to congratulate her on her historic appointment in the Safeway parking lot.

That was thirty-one years ago and since then we have taken a hard-Left turn for the worse as we follow the path of European socialism. As bleak and dismal as it may seem, there is hope!

We are Americans. Freedom is wired in our DNA. Our veins pump with the blood of liberty, and our hearts are willing to fight tyranny in its many manifestations.

We must match our hearts with our minds!

Anti-republicanism can be stopped through knowledge and education on the wonderful miraculous origin of our great constitutional Republic under God!

Thirty-one years later retired Supreme Court Justice Sandra Day O'Connor spoke in late December 2011 to a number of high school students at the Ronald Reagan Presidential Library in Simi Valley, California. She spoke on how disturbed she is over the "lack of public knowledge" Americans have about American history, civics, and constitutional republicanism. In 2006, Justice O'Connor launched iCivics, an online program aimed at educating middle-school students on our republican form of government. Thanks to technology, more and more alternative educational programs, schools, and organizations are available as more and more citizens are frustrated with the direction of politically correct, left-wing indoctrination that is being manifested in America's public schools and institutions.

John Adams has been called the "voice of the Declaration of Independence." He was America's first vice president and second president. He was a great Founding Father who passionately hated slavery of any kind. From African slavery to the slavery of socialism, Adams dedicated his whole life to speaking out against the stealing or coveting of property as we see expressed today by big-government socialism. In 1787, John Adams wrote in his book, A Defense of the Constitutions of Government of the United States of America, the following:

The moment the idea is admitted into society that property is not as sacred as the laws of God, and that there is not a force of law and public justice to protect it, anarchy and tyranny commence. If "Thou shalt not covet" and "Thou shalt not steal" were not commandments of Heaven, they must be made inviolable precepts in every society before it can be civilized or made free.

John Adams' son, John Quincy, was equally a champion of life and liberty, and in his 1839 discourse, The Jubilee of the Constitution, he wrote this:

Fellow-citizens, the ark of your covenant is the Declaration of Independence. Your Mount Ebal is the confederacy of separate state sovereignties, and your Mount Gerizim is the Constitution of the United States. In that scene of tremendous and awful solemnity, narrated in the Holy Scriptures, there is not a curse pronounced against the people, upon Mount Ebal, not a blessing promised them upon Mount Gerizim, which your posterity may not suffer or enjoy, from your and their adherence to, or departure from, the principles of the Declaration of Independence, practically interwoven in the Constitution of the United States. Lay up these principles, then, in your hearts, and in your souls — bind them for signs upon your hands, that they may be as frontlets between your eyes — teach them to your children, speaking of them when sitting in your houses, when walking by the way, when lying down and when rising up — write them upon the doorplates of your houses, and upon your gates — cling to them as to the issues of life — adhere to them as to the cords of your eternal salvation. So may your children's children at the next return of this day of jubilee, after a full century of experience under your national Constitution, celebrate it again in the full enjoyment of all the blessings recognized by you in the commemoration of this day, and of all the blessings promised to the children of Israel upon Mount Gerizim, as the reward of obedience to the law of God.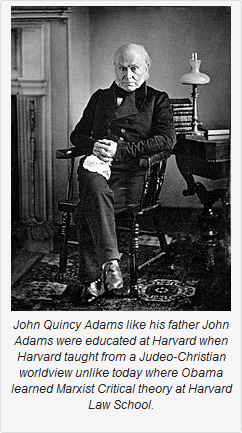 Notice how both Adamses invoke the Judeo-Christian law of God and how our sixth president, John Quincy, with profound biblical symbolism, talks of laying the principles of the Constitution in our hearts and our children's hearts and souls 24/7/365.

Americans are waking up, as they have grown tired of succumbing to the NEA, ACLU, union mobsters, the social Democratic Party, and to secular progressive and socialistic machinations, which with socialist clenched fist held high, cry out in defiance of our republican form of government:

"This is what democracy looks like!"

We are NOT a democracy! We love not the MOB that demands from the producers free stuff for the lazy, indolent non-producers. We are a Republic under God and we must never forget that. We must teach that to our children and our grand children so they can become responsible citizens that love freedom, work and life, all of life!

"A republic, Madame, if you can keep it." Benjamin Franklin's departing words at the 1787 Constitutional Convention echo down the corridors of American history.

Franklin's words beckon us to go beyond "sunshine Patriotism." The Greek word Nike means victory. Fellow Americans, for us to be victorious we must get off the couch, put on our running shoes, and "Just do it." Our republic calls out to all of us who love life, liberty, and limited government under God. It is time to organize, mobilize, and educate across our great land in 2012 and beyond to STOP Obama's army of cultural and political big-government mobocrats before it is too late.

We need to elect and keep in office in Washington, D.C. — in the White House, the Senate, and the House of Representatives, and in State Capitol's and Governor's authentic republicans, authentic conservatives who truly believe in and abide by our constitutional Republic under God.
© Jake Jacobs
---
The views expressed by RenewAmerica columnists are their own and do not necessarily reflect the position of RenewAmerica or its affiliates.
---