Rev. Mark H. Creech
Are you keepin' em straight in Raleigh?'

By
Rev. Mark H. Creech
June 29, 2019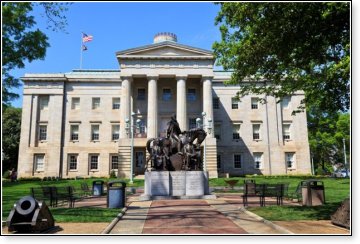 As a clergyman and registered lobbyist in the North Carolina General Assembly for the Christian Action League, a question put to me over and again in my travels across the state is: "Reverend, are you keepin' em straight in Raleigh?" My answer is always humorously the same, "Well, if that's the standard, then I'm an utter failure."
In the struggle to turn our wayward state and nation back to God, there are glorious wins along the way, but there are also many battles lost. In fact, it seems that there are more battles lost than won. Many people have also asked me how I deal with the defeats. My answer to that question is always the same, "I have unwavering faith in the sovereignty of God."
The biblical doctrine of God's divine sovereignty teaches that God "works all things according to the counsel of his will" (Eph. 1:11). From start to finish, nothing ever escapes his full control. Jesus said that even a sparrow doesn't "fall" apart from God's will (Mt. 10:29). The word "fall" is the translation of an Aramaic word which is referring to the way the sparrow lights or moves upon the ground. It's not simply that God marks the way the bird dies; it's more that God marks its every hippty-hop across the field. In other words, God's sovereignty doesn't exclude the smallest of life's details.
Of course, some have great difficulty with this principle and argue that it negates human responsibility. Actually, the Bible simultaneously affirms both divine sovereignty and human responsibility. There is no way our finite minds can possibly understand such a magnificent thing. But I like the way the great biblical expositor, John MacArthur once explained it, saying:
"We see those seemingly contrasting truths of divine sovereignty and human responsibility repeatedly, in every part of God's Word. But Scripture never attempts to ease the apparent tension. There's no inspired explanation that spells out their complex relationship. Therefore, we need to be careful in attempting to conform God's divine decrees to our own feeble sense of fairness. We need to remember that it's not our job to hold God to whatever standards our meager minds might suggest. He Himself is the standard of true righteousness, and He never acts in a way that would contradict His righteousness or justice."
God's sovereignty doesn't mean that he is the author of sin, but then again God wouldn't be God if he wasn't able to work both the evil and the good together to accomplish his purposes. He is never caught by surprise at what happens, and from eternity past, everything has been within his direction and management.
In his wonderful book,
Earth Restored
, author John Barber gives a wonderful example, one that involved politics.
"In I Kings 12, Rehoboam, King of Judah – already blinded by power – rejects godly counsel from the elders who served Solomon, his father, and instead takes the advice of ungodly, less qualified men. The issue revolved around alleged abuses under Solomon, including excessive taxation and the relief people sought from the new king. Rehoboam's rejection of godly advice in the matter was disastrous, leading to the loss of his throne and a divided kingdom. Jeroboam became king in Israel and Rehoboam became king in Judah. But then notice what happens? Rehoboam has a son named Abijah, who becomes king in Judah, who has a son named Asa, who also becomes one of Judah's kings. It is Asa who brings reforms to the nation of Judah, and, along with Rehoboam and Abijah, becomes a major figure in Jesus' family tree (cf. Mt. 1).
"Do you see how God used a bad situation to produce good? God used Rehoboam's sin to move him out of Israel into Judah, where there his grandson, Asa, would bring revival and also become a major link in the history of redemption leading to the birth of Christ. God proved himself sovereign throughout – even in Rehoboam's sin! Indeed, 'the world and all that it contains is subject to the eternal purpose and plan of God.'"
Certainly, both God's sovereignty and human responsibility are seen in the crucifixion of Jesus. Before Judas betrayed Christ, Jesus said of that act, "For the Son of Man goes as it has been determined, but woe to that man by whom he is betrayed!" (Lk. 22:22).
In his sermon at Pentecost, the apostle Peter told the crowd, "This man [Jesus] was handed over to you by God's deliberate plan and foreknowledge; and you, with the help of wicked men, put him to death by nailing him to the cross" (Acts 2:23).
Think about it! What could have been more tragic than the betrayal of the Son of God, and his unjust trial and execution? But God overruled every aspect of it to secure the salvation of the world.
Judas was held responsible for his sin, hanged himself, and lost his soul. The nation of Israel's rejection of the Messiah has cost them greatly up to modern times. But God's program of redemption, and ultimately his making all the wrongs of the world right, continues moving forward, and can never be defeated.
Hymn writer, William Cowper, put it this way:
God moves in a mysterious way
His wonders to perform;
He plants his foot in the sea
And rides upon the storm

You fearful saint, fresh courage take;
The clouds you so much dread
Are big with mercy, and shall break
in blessings on your head.

Judge not the Lord by feeble sense
But trust him for his grace;
Behind a frowning providence
He hides a smiling face.

His purposes will ripen fast,
Unfolding every hour;
The bud may have a bitter taste,
But sweet will be the flower.

Blind unbelief is sure to err,
And scan his work in vain;
God is his own interpreter,
And he will make it plain.



This is the perspective I fall back on when experiencing some serious legislative defeat. I fight with everything within me, but the results are God's and not mine.
Stuart B. Babbage wrote, "Historically, the doctrine of divine sovereignty has moved Christians to the highest heights of spiritual endeavor and moral achievement. It was said of the Scottish Covenanters that they abased themselves before God and put their feet on the necks of kings."
You know, the way I see it, I really don't have to keep 'em straight in Raleigh. I don't even have to win most of the battles. I only need to be faithful to what God has instructed me to do. God's got me. God's got the legislators. God's got all of what happens, and in the end, he wins!!!
© Rev. Mark H. Creech
---
The views expressed by RenewAmerica columnists are their own and do not necessarily reflect the position of RenewAmerica or its affiliates.
---